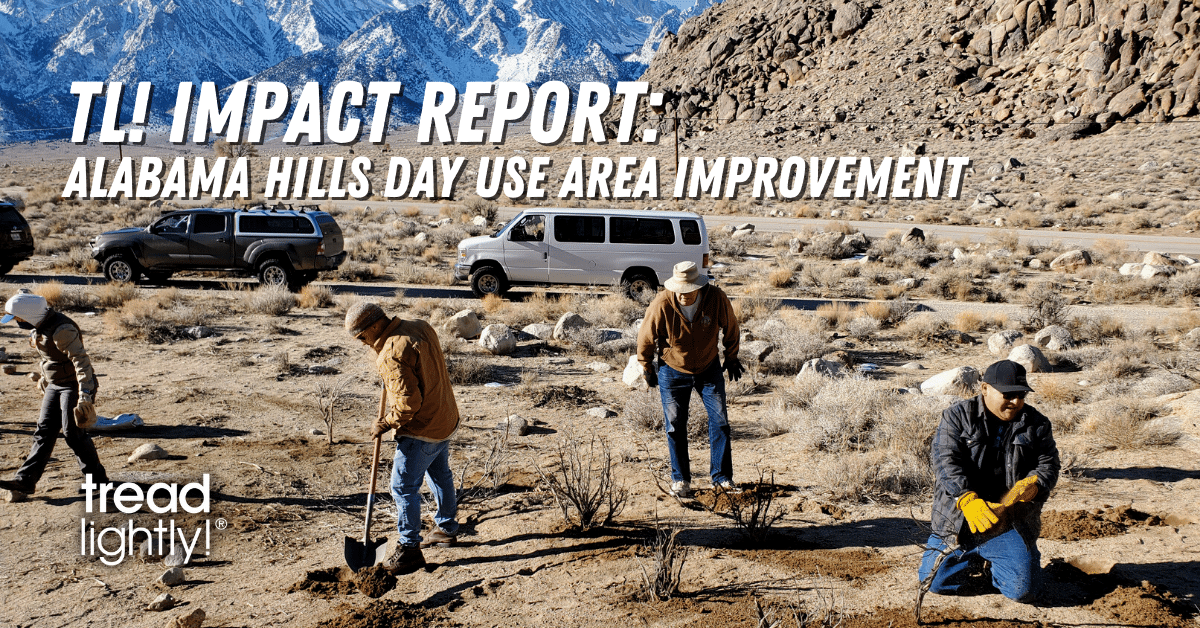 26 Jan

Tread Lightly Impact Report: Alabama Hills Day Use Area Improvement Project

Project: Alabama Hills Day Use Area Improvement Project
Location: Alabama Hills National Scenic Area, Bishop, California

Description: On January 8, 2022, Tread Lightly! and Eastern Sierra 4 Wheel Drive Club partnered with Bureau of Land Management (BLM) Bishop Office and Eastern Sierra Interpretive Association (ESIA) to restore dispersed camping and improve day use areas. By removing 10 fire rings, volunteers were able to delineate day-use areas from dispersed campsites. Volunteers also removed trigger trash, totaling a removal of approximately 1,000 lbs of trash from the area. Twenty educational signs were installed in the area.
Thank you to the BLM Bishop Office, ESIA and Eastern Sierra 4 Wheel Drive Club for partnering to improve this area.
"We wanted to thank all our partners, the BLM, Tread Lightly, the Eastern Sierra 4×4 Club, and the Alabama Hills Stewardship Group for joining us out in the Alabama Hills for a productive work day. We were able to clean out fire rings, designate campsites, and remove multiple bags of trash from a part of the Hills. Work days such as this help us to preserve the natural scenic beauty of the Alabama Hills for all visitors."-Nichole Villanueva, Eastern Sierra Interpretive Association
Want to get involved in your own Tread Lightly! project? Find upcoming activities, events and grant opportunities at treadlightly.org.