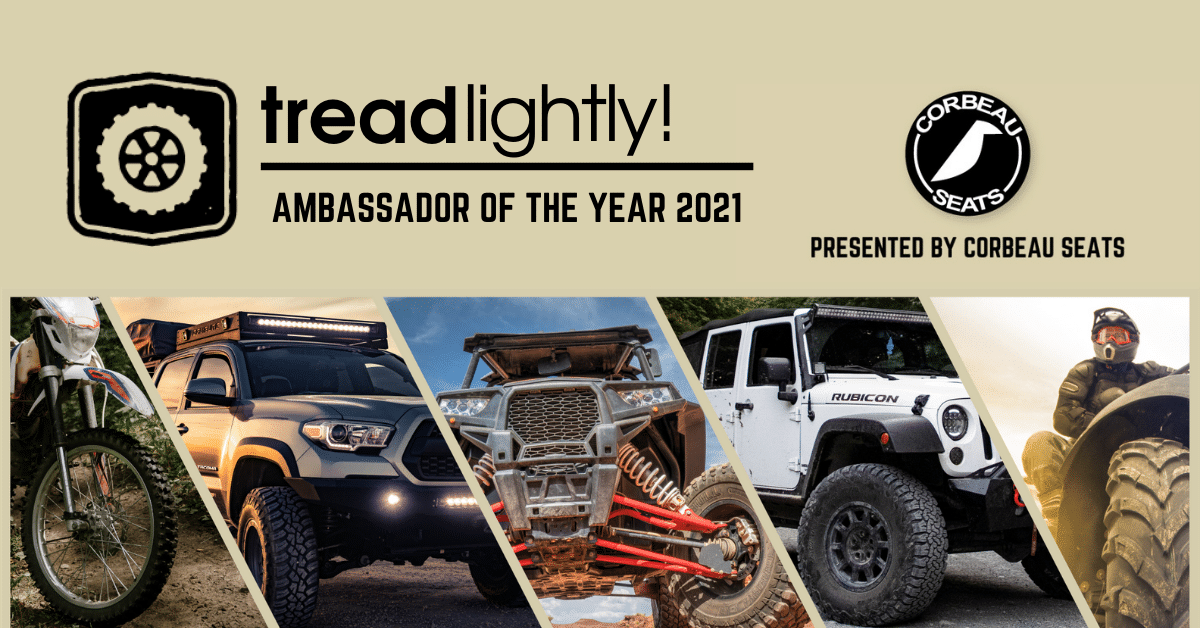 14 Jun

Tread Lightly! announces Ambassador of the Year program presented by Corbeau Seats

CENTERVILLE, UT. (Jun 14, 2021)— Tread Lightly!, a U.S.-based nonprofit dedicated to promoting responsible outdoor recreation through stewardship and educational programs today announced a new Ambassador of the Year program sponsored by Corbeau Seats to honor a volunteer who has gone above and beyond to improve off-road trail access.

"There are so many amazing volunteers who support the off-road community by working tirelessly to keep off-road trails open, healthy and beautiful all over the country," said Matt Caldwell, Executive Director of Tread Lightly!. "The Ambassador of the Year concept has been an idea for years and we'd like to thank Corbeau Seats for their support and allowing us to make this idea a reality."

Tread Lightly! will accept nominations through October 15, 2021 and announce the first annual Ambassador of the Year during the first week on November 2021, SEMA week. The winner will be awarded a custom Corbeau seat, office chair; an Ambassador of the Year plaque and a $500 grant to support a future trail project of their choice. Tread Lightly! plans to honor a new volunteer annually moving forward.

"Corbeau is honored to support Tread Lightly! and the recognition of an outstanding trail steward in the off-road community," said Spencer Bond, Corbeau USA Manager. "We believe in Tread Lightly!'s mission of keeping trails accessible for years to come through stewardship and education efforts and we feel it's important to recognize individuals that embrace this mission as well."

To submit a nomination, go to https://www.surveymonkey.com/r/GB5PBMC through October 15, 2021.

About Tread Lightly!

Tread Lightly! is a national nonprofit organization with a mission to promote responsible recreation through stewardship programs and ethics education. Tread Lightly!'s educational message, along with its unique training and restoration initiatives are strategically designed to instill an ethic of responsibility in outdoor enthusiasts and the industries that serve them. The program is long-term in scope with a goal to balance the needs of the people who enjoy outdoor recreation with our need to maintain a healthy environment. Tread Lightly!'s award-winning materials, programs and services are solutions to some of the nation's most pressing recreation issues. Individuals and businesses can commit to Tread Lightly! and protect outdoor access by becoming a member at www.treadlightly.org.

About Corbeau Seats

For over 50 years Corbeau Seats has been the worldwide leader in aftermarket seats for street, race, off-road, and classic cars. Corbeau prides itself in providing automotive enthusiast with the greatest selection of seats, harness belts, and custom bolt in brackets in the industry. For more information on Corbeau visit www.corbeau.com or contact Corbeau at contact@corbeau.com or 801-255-3737.