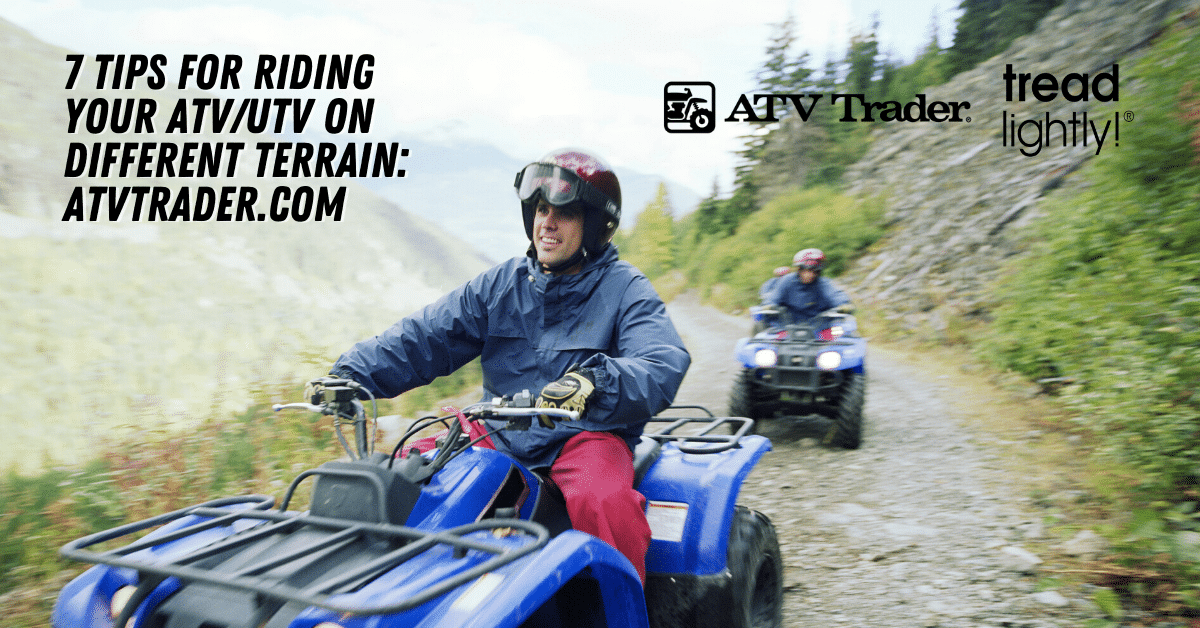 07 Mar
7 Tips for Riding Your ATV/UTV on Different Terrain
Your ATV or UTV gives you power and speed when riding, and the ability to conquer different terrain like mountains, forests, and deserts. With large tires to give you traction, ground clearance, improved suspension, and a strong engine, you can ride your vehicle for fun or to get work done. To help you get a better idea of the ground you're covering with your quad or side-by-side, ATV Trader is partnering up with Tread Lightly! to provide you with seven tips for riding your ATV or UTV on different terrain.
1. Mud and Dirt
If you're setting out either as an experienced rider or a rookie looking for some thrills on the best ATV and UTV trails for beginners, getting your vehicle dirty is one of the best parts of the off-road experience. Your vehicle will give you ground clearance and large tires with thick tread to handle mud and dirt, but you should still know how deep a mud hole is before riding through it. Make sure your tires aren't entirely submerged, and be careful not to ride through high water to prevent vehicle damage. In the event you get stuck, bring a vehicle winch, tow straps, or shovel to remove your off-roader from thick mud.
2. Rocks
Rolling over rocks is one way to test your driving skills, especially if you're looking to take on off-road obstacles. However, ensure you've got a powerful off-roader that's ready to take on the task of getting around rock scrambles and boulders. If you're going out with your family or have little ones riding kids' four-wheelers, don't take on any rocks that are too large or unstable on the ground. Be careful you're not kicking up pebbles, wear protective gear, and stay alert of fellow riders that are close to you. Stay alert for trails with signs that indicate loose or tumbling rocks to remain safe and prevent destruction in a riding area.
3. Sand and Desert
Get ready for riding on sand, whether you're out on the dunes or flat straightaways on the desert. You want a vehicle that can handle packed sand and get you up hills with no trouble, like a dune buggy. If you're riding on a desert, pack the necessary gear and supplies to stay safe, hydrated, and protected from the sun. Be careful of dust and shield your eyes and face when you ride, and stay aware of dry, rocky conditions that could damage your vehicle or otherwise be a hazard. Always check local riding laws or regulations to avoid destruction of protected zones, as many sand dunes are off limits.
4. Hills and Mountains
Hills and mountains prevent a challenge for some riders, but when you get the hang of them, they're part of the joys of off-roading, giving you speed and views. As always, follow these safety tips for recreational ATV riders so you can take on any type of tough terrain. When you're on a hill or mountain, prevent any big shift in weight and dangerous rollovers. If it's steep, take the incline or decline gradually at an angle. If you're carrying several passengers or a heavy load, take the incline/decline in a low gear. Avoid sharp or sudden turns, and keep your vehicle moving at a steady pace, not moving too fast.
5. Forest
Many off-road riding trails will take you through thick forests where you'll have less visibility as you ride. Slow down and remain aware of your surroundings, especially on turns. Keep your distance from fellow riders and give yourself enough time to stop in case of an emergency. Look for downed trees in case you need to navigate around them, and don't go off the trail, as collisions with trees can be dangerous to you and your vehicle.
6. Snow and Ice
With many reasons to ride ATVs and UTVs in winter, you'll discover that off-roading during this season is an absolute blast on any four-wheeler designed to take on heavy, packed snow. Keep in mind that your vehicle will have less control and grip in snowy conditions, so look into tires designed for the conditions, and place chains on them for better traction. Avoid riding on ice, as it might not support the weight of your vehicle. Dress in layers, wear goggles to improve your visibility, and ride with a group.
7. Paved Ground
Quads and side-by-sides are designed for driving off-road, and you'll need to check local riding laws if you can take your vehicle on paved ground. If it's asphalt, concrete, or pavement, switch to two-wheel drive to keep traction, move forward at ease, and avoid any damage to the surface. And if you need to transport your off-road vehicles, look into purchasing these ATV trailers for sale.
There's a different landscape out there for every four-wheel rider. Know these basics to help you get started on your next off-road adventure.
---
ATVTrader.com is an industry-leading online marketplace for buying and selling new and used ATVs, UTVs, golf carts, dune buggies, and other off-roaders. With over 97,000 off-road vehicle listings, ATV Trader is a trusted resource for buyers nationwide. And with over one million site visits every month, no marketplace is more trusted to generate inventory exposure for dealers and private sellers. ATV Trader is a division of Trader Interactive and belongs to the well-known "Trader" family of brands.