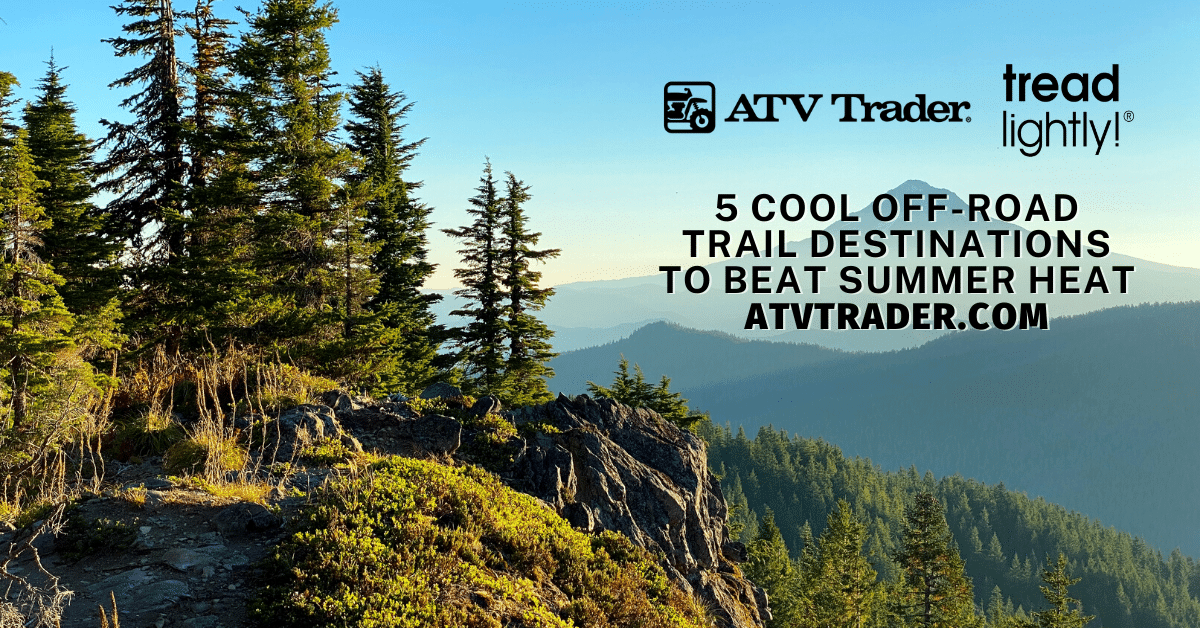 15 Aug

ATV Trader: 5 Cool Off-Road Trail Destinations to Beat Summer Heat

As heat waves blaze across the United States, outdoor enthusiasts and off-road riders are seeking an escape from the scorching temperatures. Fortunately, there are several cooler destinations that offer fun and rugged trails that you can explore this summer. From mountainous terrain to lush forests, these trails are perfect for a thrilling adventure and a chance to beat the summer heat. In this article, ATV Trader is sharing some of the most refreshing off-road trails across the country that allow four wheeler and side-by-side riders to enjoy nature's beauty while staying cool.

1. Uinta National Forest – Utah
Before the summer ends, cool down by exploring Uinta National Forest. Located in northeastern Utah, this area offers trails that wind around beautiful meadows and alpine lakes. The Mirror Lake Highway boasts several ATV/UTV routes, such as the Soapstone Basin Trail, providing riders with stunning views and chilly temperatures as they ascend to higher elevations. Don't forget to stick to designated trails and avoid creating new pathways while you're riding around. This helps prevent erosion, soil degradation, and habitat destruction while you're on the trail.

2. Black Hills National Forest – South Dakota
Head to the Black Hills of South Dakota for an invigorating off-road adventure. The trails in this region offer a mix of rocky terrain and forested routes. The Centennial Trail is a popular choice, providing a diverse landscape that includes meadows, canyons, and streams. The higher elevation of the Black Hills ensures moderate temperatures, making it an excellent destination to embrace cooler weather on your four-wheeler.

3. Green Mountain National Forest – Vermont
Vermont's Green Mountain National Forest is a popular choice for ATV and UTV enthusiasts seeking picturesque landscapes. These trails wind through dense woods, open meadows, and alongside rivers and streams. The Kelley Stand Road Trail offers a scenic route with elevation changes that introduce cooler temperatures. Before you visit, make sure you familiarize yourself with local four-wheeler rules and regulations. Respect trail closures, seasonal restrictions, and speed limits that are enforced to protect sensitive habitats and wildlife.

4. Mount Hood National Forest – Oregon
For a combination of cooler temperatures and stunning scenery, explore the trails in Mount Hood National Forest. Located in northern Oregon, this area offers a range of trails suitable for various skill levels. The McCubbins Gulch OHV Trail is a popular choice, offering impressive views of Mount Hood. The higher altitudes and shaded pathways make this area an appealing option during the warmer months. While you're exploring in your sport UTV, be sure to Tread Lightly! and keep trails as clean  – or cleaner – than you found them.

5. White Mountain National Forest – New Hampshire
New Hampshire's White Mountain National Forest provides an energizing escape for off–road riders seeking colder climates. These trails traverse a landscape of rolling hills, deep valleys, and pristine rivers. The Presidential Rail Trail offers a unique outdoor experience on a former railway bed, allowing riders to enjoy the crisp mountain air and panoramic views of the surrounding peaks. While you're exploring, stay vigilant and observant of your surroundings. If you witness irresponsible riding or environmental damage, report it to the appropriate land management agency.

As summer temperatures peak in many areas of the United States, those who enjoy exploring on ATVs and UTVs don't have to sacrifice their passion for the outdoors. Many mountainous regions offer cooler environments for riders seeking a safe and comfortable adventure. From the snow-capped mountains in the Pacific Northwest to the rolling green hills of Vermont, these trails offer a much needed respite from the scorching summer heat. With every twist and turn through shaded forests and rugged terrain, riders can enjoy the cool, exhilarating air along with the natural beauty that these destinations have to offer. So gear up and plan your next trip to one of these awesome spots.

If you're ready to plan an epic end-of-summer adventure, check out our nationwide inventory of new and used four-wheelers and side-by-sides on ATVTrader.com.