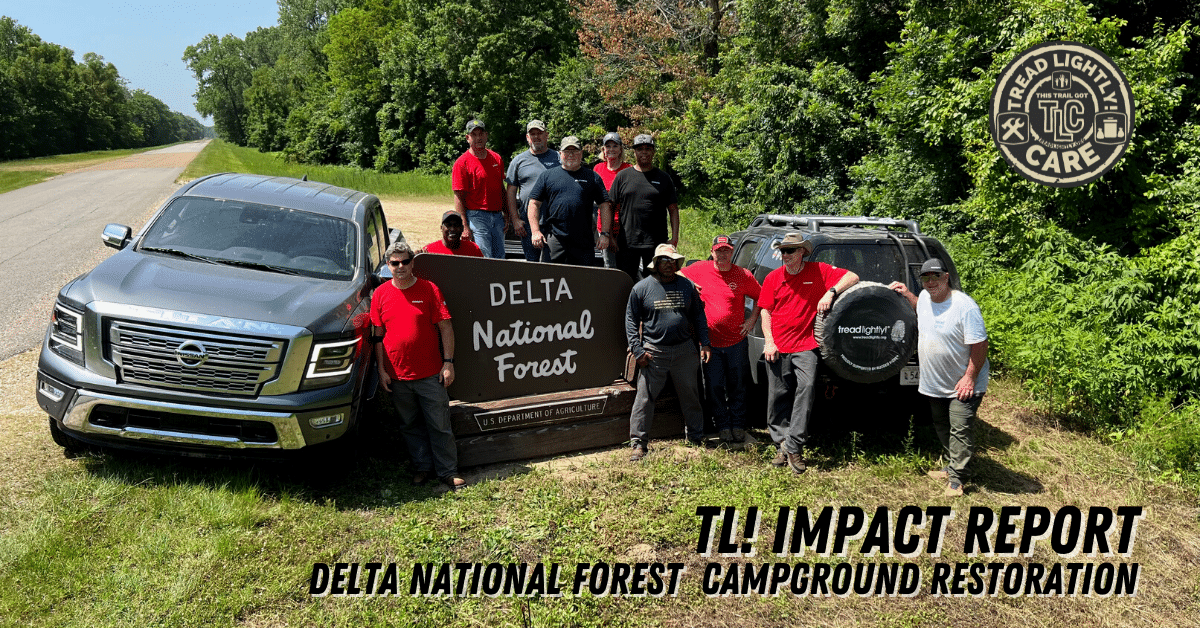 23 Jun

Tread Lightly! Impact Report: Delta National Forest Trail, Campground and Restroom Restoration

Project: Delta National Forest Trail, Campground and Restroom Restoration
Location: Mississippi

Description: This project was funded by Nissan North America to help improve public lands with support from volunteers from the Nissan Canton, MS plant near the Delta National Forest. On June 15 and 16, 2022, Tread Lightly! and 19 volunteer Nissan employees worked together to improve campgrounds, trails and restroom areas in the Delta National Forest.
On day one, volunteers mowed and trimmed five campgrounds, one picnic area and removed fallen trees and debris from the Blue Lake hiking trail. Volunteers also repaired a wooden footbridge on the trail and ground down a cement pad that was preventing the vault restroom door from opening. The restroom was then power washed clean.
Day two volunteers trimmed, mowed and cleaned up seven campsites which were significantly overgrown. The vault restroom in this camping area was also power washed clean.
Thank you to the volunteers and partners who showed up to do their part to leave this area better than they found it!

"We appreciate the opportunity for our employees to help improve public land so close to our plant. Delta National Forest is an important asset for our area and we're glad to help improve it. Everyone who participated was very positive about helping out." – David Sliger, Vice President, Manufacturing, Canton Vehicle Assembly Plant, Nissan U.S.

"We are very grateful to Nissan and its employees for embracing the Do Your Part attitude and giving back to public lands in their own backyard. This kind of support is what makes the most difference in keeping our trails and forests healthy, beautiful and accessible"-Matt Caldwell, Tread Lightly! Executive Director

"We are fortunate to have an outstanding partnership with Tread Lightly and Nissan North America," said National Forests in Mississippi Forest Supervisor Shannon Kelardy. "We greatly appreciate the volunteers from the Nissan Canton plant who gave their time and energy to help us clean up the Delta National Forest. These volunteer efforts provide a tremendous benefit to the Forest Service and the local community."

Want to get involved in your own Tread Lightly! project? Find upcoming activities, events and grant opportunities at treadlightly.org.