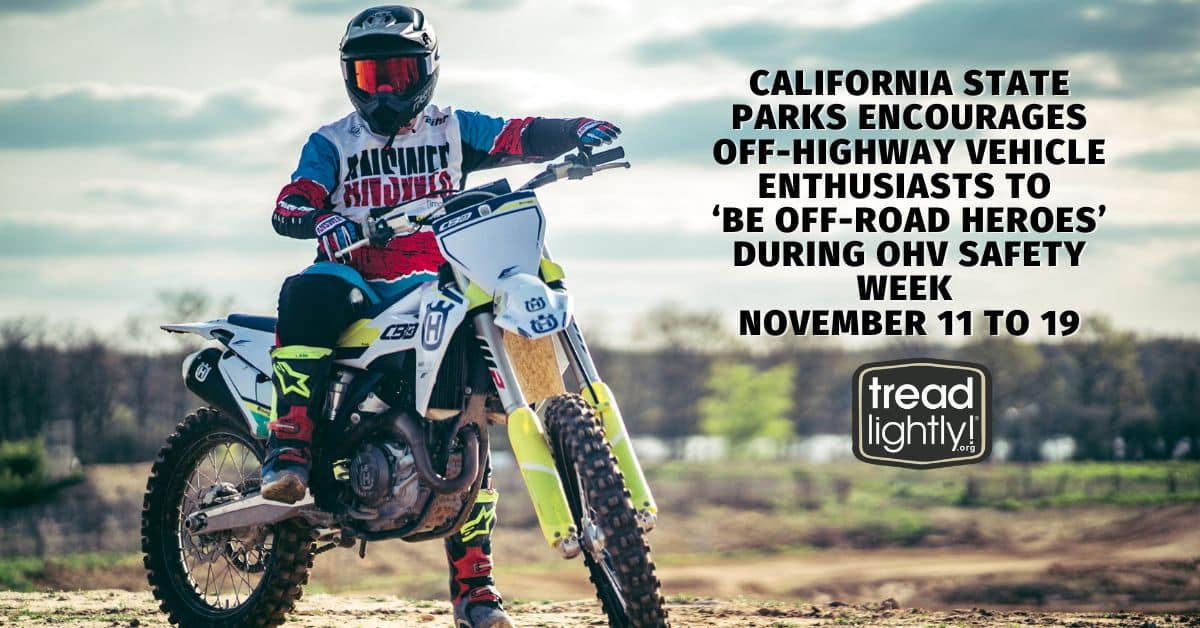 13 Nov

California State Parks Encourages Off-Highway Vehicle Enthusiasts to 'Be Off-Road Heroes' During OHV Safety Week November 11 to 19

SACRAMENTO, Calif.—California State Parks Off-Highway Motor Vehicle Recreation (OHMVR) Division and partners are proud to announce the upcoming fall OHV Safety Week, taking place from November 11 to 19. This semiannual event promotes safe and responsible off-highway vehicle (OHV) recreation across California's dedicated OHV public lands. This year's theme is "Be the Off-Road Hero," and OHV enthusiasts can be heroes by following safety protocols and protecting the state's natural resources.

"Being a hero usually exemplifies the best qualities in all of us," said OHMVR Division Chief Callan McLaughlin. "To 'Be the Off-Road Hero' really means to be the example and set the standard for others to follow while recreating safely and responsibly in our beautiful off-highway vehicle areas."

The fall OHV Safety Week provides an excellent opportunity for all riders, both experienced and newcomers, to enhance their knowledge, skills, and awareness of safe OHV practices by taking safety courses and following simple rules. Training to be an Off-Road Hero starts with:


Be Visible: Use a whip and flag, wear high-visibility clothing, and practice trail etiquette.

Suit Up: Wear a properly fitted helmet, chest protector, knee guards, and all recommended safety equipment.

Train Now for a Better Tomorrow: Take a FREE safety class, which can help you become a more experienced rider.

During this year's OHV Safety Week, several state vehicular recreation areas (SVRAs) will host free safety training classes for OHV riders. Clay Pit, Carnegie, Heber Dunes, Ocotillo Wells, and Prairie City SVRAs will host several all-terrain vehicle (ATV) classes. Additionally, recreational OHV courses will also be available at Prairie City and Hungry Valley SVRAs. Dirt bike school classes will be available at Carnegie, Hollister Hills, Hungry Valley, and Prairie City SVRAs. For those interested in participating in these free classes, schedules and sign-up information is available on the California Outdoor Recreation Foundation website: OutdoorRecreationFoundation.org. Check with the SVRAs for updated course schedules.

Additionally, several SVRAs will host events during the week:

Carnegie SVRA: Staff will host two safety events and activities for all ages:

On Saturday, November 11, from 10 a.m. to 2 p.m., staff will provide OHV safety information and have the Tread Lightly! remote control safety course is open to all during the hill climb event.

On Saturday, November 18, staff will host a guided trail ride with a focus on OHV safety tips and techniques. For meeting time and location, please contact the park.

Hungry Valley SVRA: Interpretative staff will be providing weekend pop-up activities and roving interpretation in the campgrounds. Activities will vary per day but will include a solar telescope, helmet cut through and proper buckling, Junior Ranger programs, special safety week buttons, a remote-control obstacle course on Smith Forks Days, and information on how to sign up for free safety courses. All activities below will run from 10 a.m. to 2 p.m.:

Pop-up tent at:

Smith Forks Campground on Saturday, November 11.

Edison Campground on Sunday, November 12.

Smith Forks Campground on Saturday, November 18.

Edison Campground on Sunday, November 19.

Roving interpretation at Hungry Valley campgrounds on Friday, November 17.

Oceano Dunes SVRA: Staff will host Dunes Safety Day on Saturday, November 18, from 11 a.m. to 3 p.m. with activities that include safety gear demonstrations, Junior Ranger activities for kids of all ages, and information on ATV safety classes held by the ATV Safety Institute. Participants can learn safety tips for driving in the dynamic dune environment. This is a free event, however there is a $5 day-use fee. Rain or severe weather conditions will cancel the event.

Prairie City SVRA: Educational and safety awareness demonstrations will take place on November 18 and 19 from 10 a.m. to 3 p.m. Participants can see hourly demonstrations from OHMVR Division staff and the California Highway Patrol and enjoy other family activities. Additionally, free OHV safety training classes will be offered for those who register a week prior. More information on the SVRA's website.

Bureau of Land Management (BLM) will host several OHV safety and information booths at the:

South Cow Mountain OHV Management Area on the Southside Staging Area on Friday, November 10.

Indian Valley Management Area at the staging area on Saturday, November 11.

Knoxville Management Area from November 16-17 at 2 p.m., join BLM staff to ride the trails and hear feedback on vital route assessment at the Hunting Creek Campground.

Working together with the Tread Lightly! Initiative, California Highway Patrol, California Outdoor Recreation Foundation, Specialty Vehicle Institute of America, ATV Safety Institute (ASI), Recreational Off-Highway Vehicle Association (ROHVA), Motorcycle Industry Council, Motorcycle Safety Foundation (MSF) and BLM, the OHMVR Division has been providing a mix of safety messages and activities during the OHV safety awareness weeks, using park interpretive programs, in-person events, and safety messaging via various social media platforms. Additionally, ASI, ROHVA, and MSF have teamed up with the division to provide free dirt bike, ATV, and recreational OHV training.

In October 2020, the California OHMVR Commission passed a resolution dedicating two weeks of the year to promote and focus on safe and responsible OHV practices.

California's OHMVR Program was created in 1971 out of the critical need to better manage the growing demands for OHV recreation, while fostering respect for private property rights and protecting the state's natural and cultural resources. Today, there are nine SVRAs across California: Carnegie, Clay Pit, Eastern Kern County Onyx Ranch, Heber Dunes, Hollister Hills, Hungry Valley, Oceano Dunes, Ocotillo Wells, and Prairie City. These public lands provide recreational opportunities on approximately 145,000 acres of lands with more than 600 miles of designated OHV trails and terrain. Some SVRAs also feature camping, swimming, and other recreational opportunities. A variety of wildlife, sensitive habitats, plants, and animal species call them home.

The OHMVR program also supports safe and responsible OHV recreation beyond the State Park System. Since 1971, more than $803 million in grants, managed by the OHMVR Division, have been awarded to federal and local partners, funding acquisition and development, resource protection, safety and education, and law enforcement for OHV recreation.

For more information about the OHMVR Division, including grant opportunities, please visit ohv.parks.ca.gov.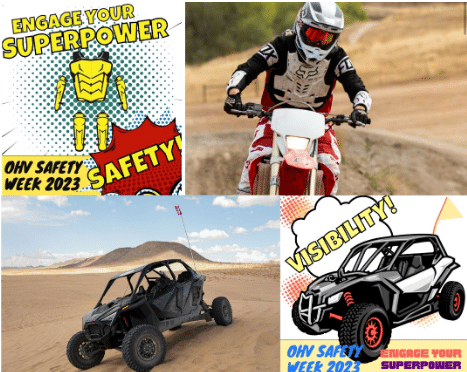 ###
Subscribe to California State Parks News online at parks.ca.gov/newsroom or click here.
The California Department of Parks and Recreation, popularly known as State Parks, and the programs supported by its Office of Historic Preservation and divisions of Boating and Waterways and Off-Highway Motor Vehicle Recreation provide for the health, inspiration and education of the people of California by helping to preserve the state's extraordinary biological diversity, protecting its most valued natural and cultural resources, and creating opportunities for high-quality outdoor recreation. Learn more at parks.ca.gov.