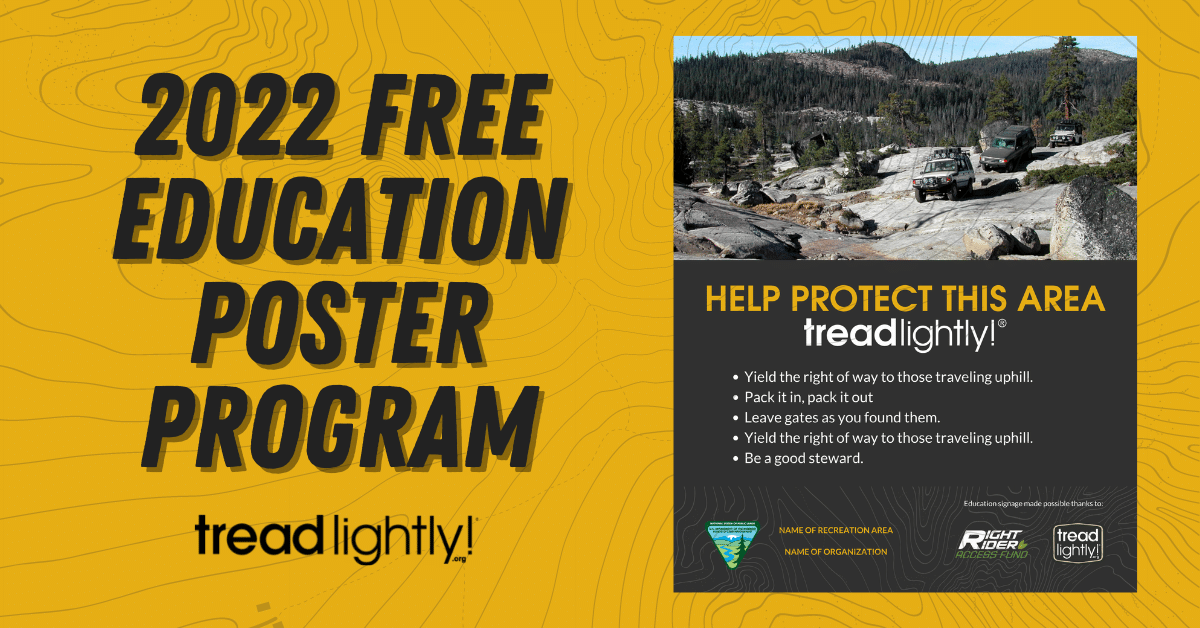 24 Aug

NV and CA: Order your FREE Custom Education Posters from Tread Lightly!

UPDATE: Our 2022 National Poster Program is now closed. The posters are only available to CA and NV residents, outdoor enthusiasts and land managers at this time. If you'd like to be our our mailing list for the 2023 program, please send an email to jerrica@treadlightly.org.

Click here for the California Poster Program
Click here for our Nevada Poster Program

Customize up to 50 free education posters from Tread Lightly! to address the outdoor recreation impacts that affect your local trails. Thank you to the Right Rider Access Fund, California State Parks and the Nevada Recreational Trails Program for funding this program in 2022. The program will start August 25, 2022 and remain open while supplies last.

Please note, Tread Lightly! reserves the right to deny poster requests. The posters are 20×24 and printed on a high-quality UV laminate. Posters may take up to 4-6 weeks for design, printing and shipping. Please contact jerrica@treadlightly.org with any questions or concerns. Thank you for helping share our message of responsible outdoor ethics!

What's new in 2022?

This year, we've updated our poster design, messaging and photo options to freshen up the posters and make them more relevant to address current recreation issues. The posters can be customized to address issues pertaining to motorized recreation, shooting sports, PWC, e-bikes, cultural resource, camping, hiking, snow and more! We've also added a feedback section at the end of the order form. If you have any thoughts on how to improve future poster programs, please add that note when submitting your form.