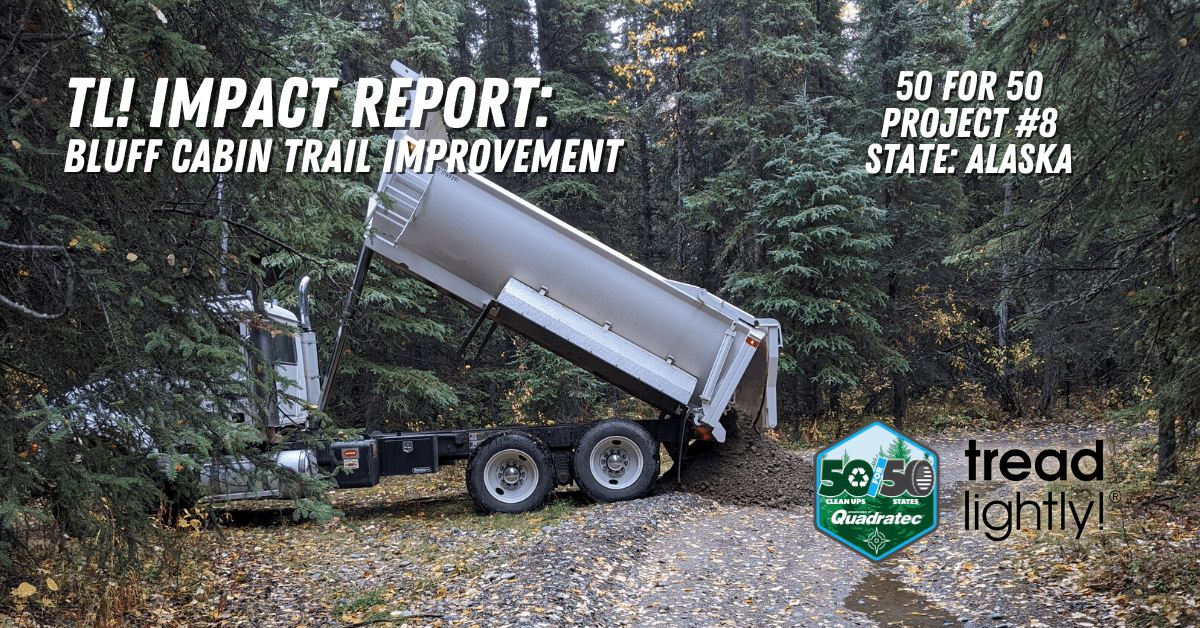 10 Oct

Quadratec 50 for 50 Impact Report: Bluff Cabin Trail Improvement

Project: Bluff Cabin Trail Improvement
Location: Big Delta, Alaska
Project #8/50
State: Alaska

Description: This project was funded by the Quadratec 50 for 50 Initiative. Together with Tread Lightly!, Quadratec will fund a project in each state over 24 months to help improve or enhance public lands and off-road recreation areas.

On September 23, 2022, six volunteers with the Delta Trail Association in Alaska worked with a local contractor to build up and bank a turn on the Bluff Cabin Trail, add material to cover Geotex fabric on the trail, and compact 6 yards of D-1 screened gravel dumped at the staging area near the trailhead. Bluff Cabin Trail is multi-use and used for a variety of recreation types such as off-roading, snowmobiling, dirt biking, e-biking, horseback riding, snowshoeing and Nordic skiing.

This was the eighth project of fifty as part of Quadratec and Tread Lightly!'s 50 for 50 initiative. Over the next 2 years, the partners will fund and a project in each of the 50 states that improves public lands or off-road trail access.

Want to get involved in your own 50 for 50 project? Apply for a grant or check out the other projects at treadlightly.org/quadratec50.

Thank you to the partners that supported this project:
Quadratec
Delta Junction Trails Association
"It's great that Quadratec is supporting 50 projects in 50 states to support Tread Lightly!'s involvement across the nation. The Delta Junction Trails Association was fantastic at getting boots on the ground quickly before the snow was falling in Alaska. Great group to work with!"—Mindie Walkoviak, Tread Lightly!
"It's amazing to get help with funding for trail maintenance, the forgotten ingredient for long term trail success. Well Done 50/50 Quadratec & Tread Lightly! Thank you so much for contribution to our heavily used trail."- Mindy Eggleston, President Delta Junction Trails Association