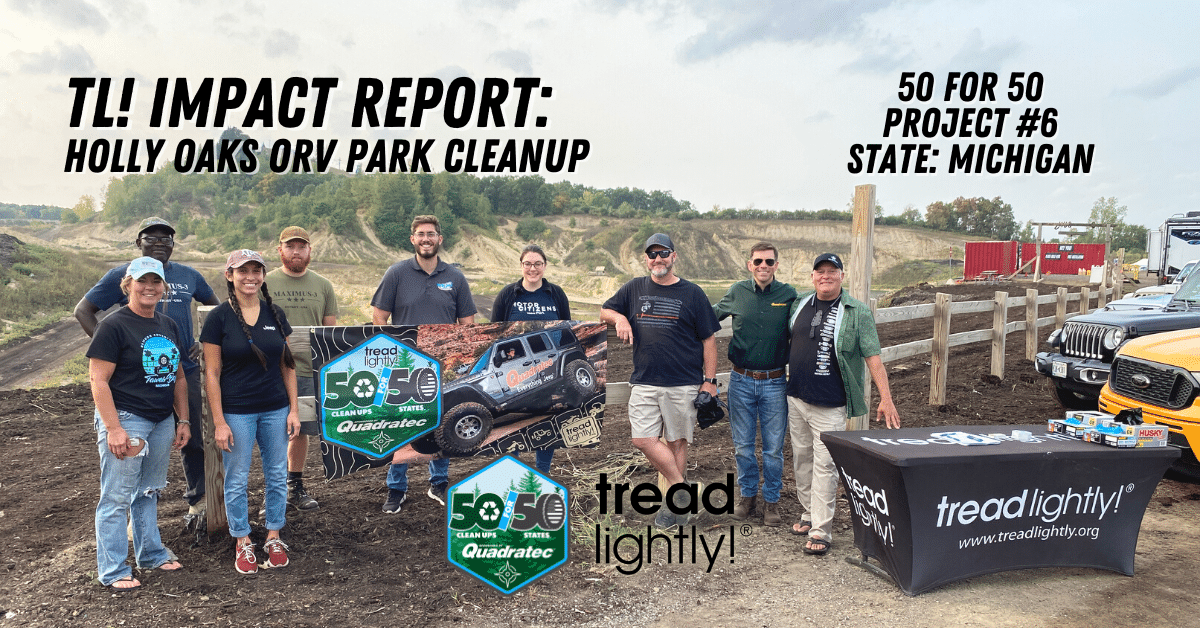 27 Sep

Quadratec 50 for 50 Impact Report: Holly Oaks ORV Park Cleanup

Project: Holly Oaks ORV Park Cleanup
Location: Holly, MI
Project #6/50
State: Michigan

Description: This project was funded by the Quadratec 50 for 50 Initiative. Together with Tread Lightly!, Quadratec will fund a project in each state over 24 months to help improve or enhance public lands and off-road recreation areas.

On September 15, 2022, to kick off the 2022 edition of Detroit 4Fest, Quadratec, Tread Lightly! and Jeep Team Members, along with volunteers from several states, worked to cleanup the Holly Oaks ORV Park in Holly, Michigan. The 25 volunteers removed 4,000 pounds of trash, including 48 discarded tires. This project helped to improve the 205 acre ORV park.

Holly Oaks ORV Park is operated by Oakland County Parks in Southeast Michigan in cooperation with the Michigan DNR. The park is maintained through park entry fees, so the support from the 50 for 50 program goes a long way to help improve this area. Parks like Holly Oaks are an important part of the off-road lifestyle as you head eastward in the United States due to the limited amount of trail opportunities as compared to the West.

This was the sixth project of fifty as part of Quadratec and Tread Lightly!'s 50 for 50 initiative. Over the next 2 years, the partners will fund and a project in each of the 50 states that improves public lands or off-road trail access.

Want to get involved in your own 50 for 50 project? Apply for a grant or check out the other projects at treadlightly.org/quadratec50.

Thank you to all of the partners that supported this project:
Quadratec
Jeep
Detroit 4Fest

"Just another example of the off-road community coming together to accomplish positive work and give back to the community. It always amazing to see the great things that can be done when organizations like Detroit 4Fest, Jeep and Quadratec, along with passionate off-roaders, come together."-Matt Caldwell, Executive Director, Tread Lightly!

"While Tread Lightly! normally focuses on public land use, we are greatly appreciate of this support from Tread Lightly!, Quadratec and Jeep, as well as the tireless work of the volunteers. As a community, we need to remember to 'Do Our Part' no matter where we are recreating."-Tom Zielinski, Owner, Z Performance and 4Fest Events

"It was very exciting to see so many Jeep enthusiasts come out and support the Holly Oaks ORV park while giving back. Keeping our trails clean and supporting our local communities is paramount in ensuring we have fun and safe places to enjoy the hobby we all love. A huge thank you to Tread Lightly! and Z Performance for helping Quadratec host such a great event."-Ted Wentz, CEO, Quadratec