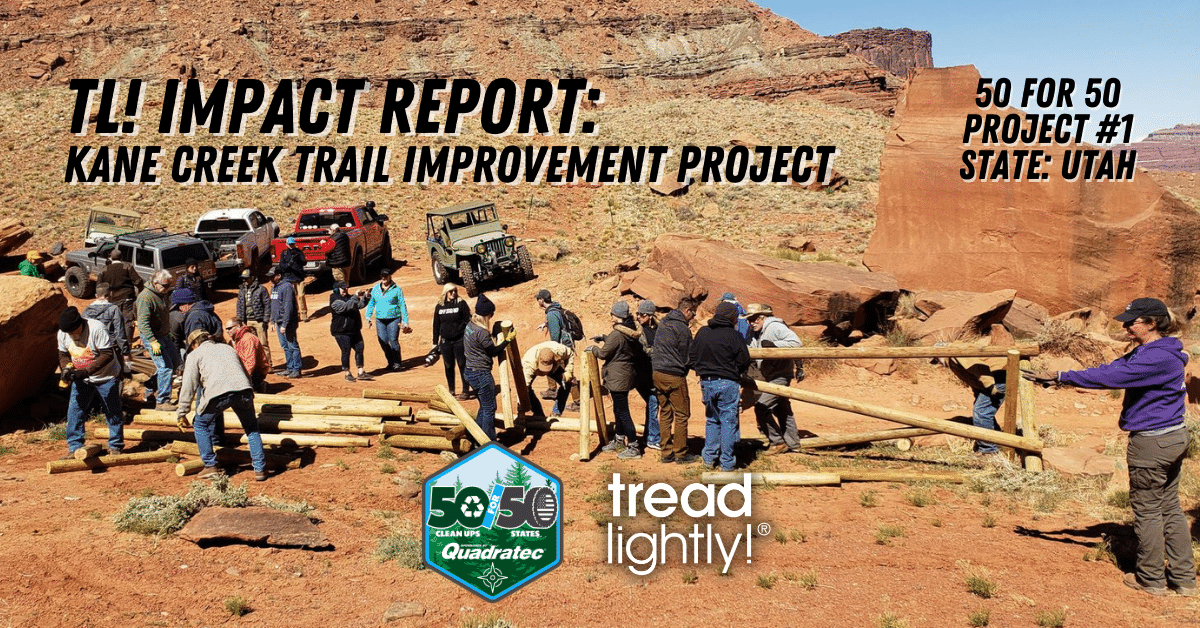 16 May

Quadratec 50 for 50 Impact Report: Kane Creek Trail Improvement

Project: Kane Creek Trail Improvement
Location: Moab, Utah
Project #1/50
State: Utah

Description: This project was funded by the Quadratec 50 for 50 Initiative. Together with Tread Lightly! Quadratec will fund a project in each state over 24 months to help improve or enhance public lands and off-road recreation areas.

On April 13, 2022, 48 Volunteers along with Quadratec and the BLM worked with Tread Lightly!, off-road industry partners and enthusiasts to protect a cultural site along the Kane Creek Easter Jeep Safari Route. This project helps to preserve not only this beautiful rock imagery and ancient dwelling place but also protects the opportunity for more to enjoy this amazing trail.

Together, volunteers created a viewing area and delineated a trail to help protect Moab petroglyphs from vandalism. This is in-line with the Respect and Protect partnership program created by Tread Lightly! and the Bureau of Land Management that educates outdoor enthusiasts about the importance of protecting historical, cultural, archaeological and paleontological sites.

This was the first project of fifty as part of Quadratec and Tread Lightly!'s 50 for 50 initiative. Over the next 2 years, the partners will fund and a project in each of the 50 states that improves public lands or off-road trail access. Tread Lightly! and Quadratec have worked collaboratively on stewardship efforts for over twenty years and Easter Jeep Safari was a natural fit to kick off Project 1.

Want to get involved in your own 50 for 50 project? Apply for a grant or check out the other projects at treadlightly.org/quadratec50.

Thank you to all of the partners who showed up for this project:
Quadratec
Bureau of Land Management
Utah 4 Wheel Drive Association
Go Fox Adventures
Red Rock 4 Wheelers
Rigged for Dirt
Tread Magazine
Conquered Trailz
Power Tank
Rugged Radios
FieldCraft Survival
Ladies Off-Road Network
Barlow Adventures
Detroit 4 Fest
Off the Grid
Innova
Jeep Life Podcast
Roadpass

"I couldn't think of a better place to kick off this campaign than Moab Utah during Easter Jeep Safari, Quadratec and Tread Lightly! have been working together for nearly a decade to improve the trail system here in Moab and it has really become somewhere close to our hearts. There are so many trails spread out across this country that could use the help that we have been providing in Moab, so naturally, this had to be our jumping off point."-Eric Ammerman, Director of Creative Content – Quadratec inc.
"Such a great project to be a part of and what better way for the off-road community to give back than to protect these amazing resources so the off-road community of tomorrow can enjoy them." – Matt Caldwell, Executive Director – Tread Lightly!
"I'm always amazed to watch the amount of positive work that the this community is able to make happen. This project was no different." – Tom Zielinski, President, Z Performance Group and Tread Lightly! Board Member
"Being part of restorative and protective efforts in the Moab, UT area was an opportunity for us to give back to a place that gives us so much. We appreciate Matt, Evan and the entire TL team as well as the USFS for including us in their efforts." Ali Straightsound, Rigged for Dirt
"Projects like the Kane Creek Archeological Site Protection Project are critical not only for their historical value, but for establishing a way for future visitors to enjoy these sites, from a safe viewing distance. It is always great working alongside so many passionate volunteers and companies. It was extra special to see so many donating their time during an event like Easter Jeep Safari. That alone speaks volumes to how paramount these projects are! Within a matter of hours, we had built a handful of fences, created new access paths, and made a bunch of memories we can all be proud of. Many hands make light work." – Erick Miller, Owner – Conquered Trailz