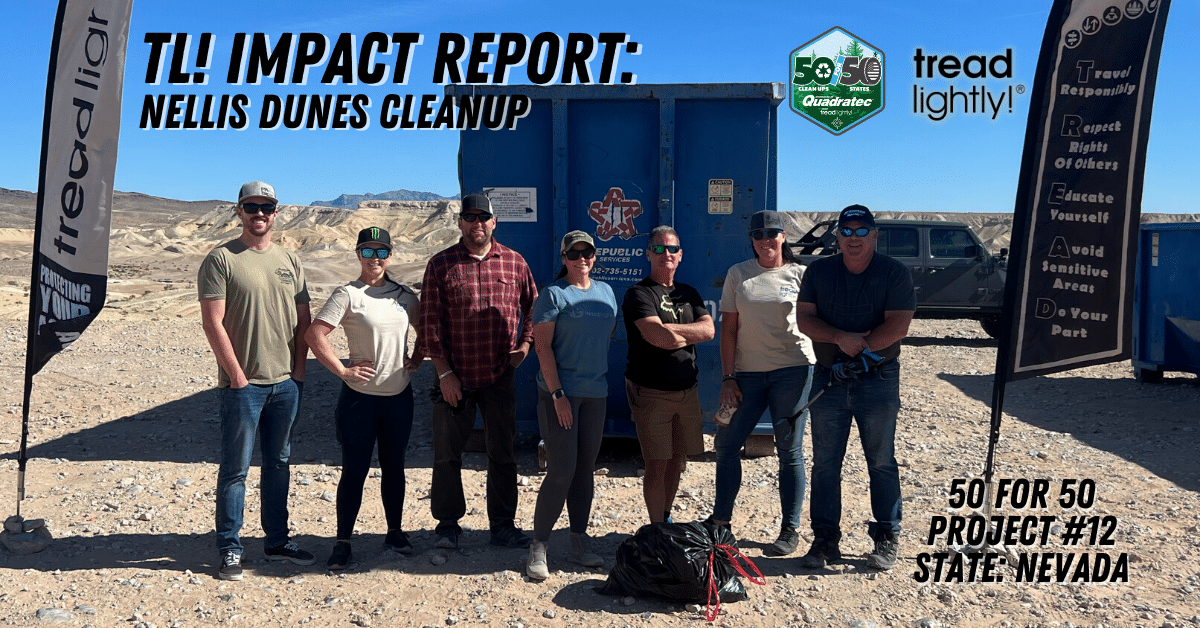 15 Nov

Quadratec 50 for 50 Impact Report: Nellis Dunes Cleanup

Project: Nellis Dunes Cleanup
Project #12/50
State: Nevada

Description: This project was funded by the Quadratec 50 for 50 Initiative. Together with Tread Lightly!, Quadratec will fund a project in each state over 24 months to help improve or enhance public lands and off-road recreation areas.

On October 31, 2022, 25 volunteers gathered to kick off SEMA week with a cleanup of the Nellis Dunes, outside of Las Vegas, Nevada. Together, the volunteers removed 4,409 pounds of trash from the area, improving 4 miles of public lands.

The project brought together an array of the off-roading community and Tread Lightly! supporters who were visiting the area for the SEMA show and took time out of their busy week to do their part to protect this area.

This was the twelfth project of fifty as part of Quadratec and Tread Lightly!'s 50 for 50 initiative. Over the next 2 years, the partners will fund and a project in each of the 50 states that improves public lands or off-road trail access.

Want to get involved in your own 50 for 50 project? Apply for a grant or check out the other projects at treadlightly.org/quadratec50.

Thank you to the following partners for supporting this project:
Quadratec
Republic Services
Nevada BLM- Las Vegas field office
Kahn Media
Las Vegas Rock Crawlers
"What a great way to kick off the SEMA week! Nellis Dunes is one of those amazing open lands that has experienced its share of trash and debris on the trails and surrounding area. The garbage and waste is either from careless dumping from individuals, businesses or by water or winds carrying debris to the area. It was great to have notable industry professionals, legends, and media personalities all work together to improve that trail area. Countless bags of garbage and even a truck bed was removed. Quadratec and Tread Lightly! continue the good work toward 50 cleanups in 50 states."-Terry Pritchard, Quadratec
"I was proud to personally participate in the Nellis Dunes project with many other dedicated Tread Lightly! volunteers. It was satisfying to see the difference that a group of motivated volunteers can make on the beauty of a landscape. The work wasn't easy, but the difference – significant. I only wished that I had taken some before and after pics to clearly demonstrate the difference. I'm proud to say that BFGoodrich and Tread Lightly! are partners to make a significant impact on our trails, and I urge all likeminded partners to join us on our quest to be the leading stewardship organization in the country."-Harold Phillips, BFGoodrich Tires and Tread Lightly! Board President
"To have the chance to align with such people and organizations like Tread Lightly! to support the same passion as I, myself have for our deserts and OHV areas, is truly one of the most rewarding things! Giving back to what gives us so much joy in our lives is extremely important. I want to be able to continue to enjoy these amazing areas and share with others what Tread Lightly! can do for them!"-Sara Price, volunteer
"I feel the day was a great success! I really enjoyed meeting everyone out there and watching everyone really take pride in helping clean the area up. I know there were some really big items that finally got removed from the area. I was very happy to be a part of the day and getting to work with Tread Lightly! I am looking forward to seeing what we can accomplish in the future!"-Courtney Turner, BLM Park Ranger
Want to get involved in your own project? Apply for a grant or check out the other projects at treadlightly.org.