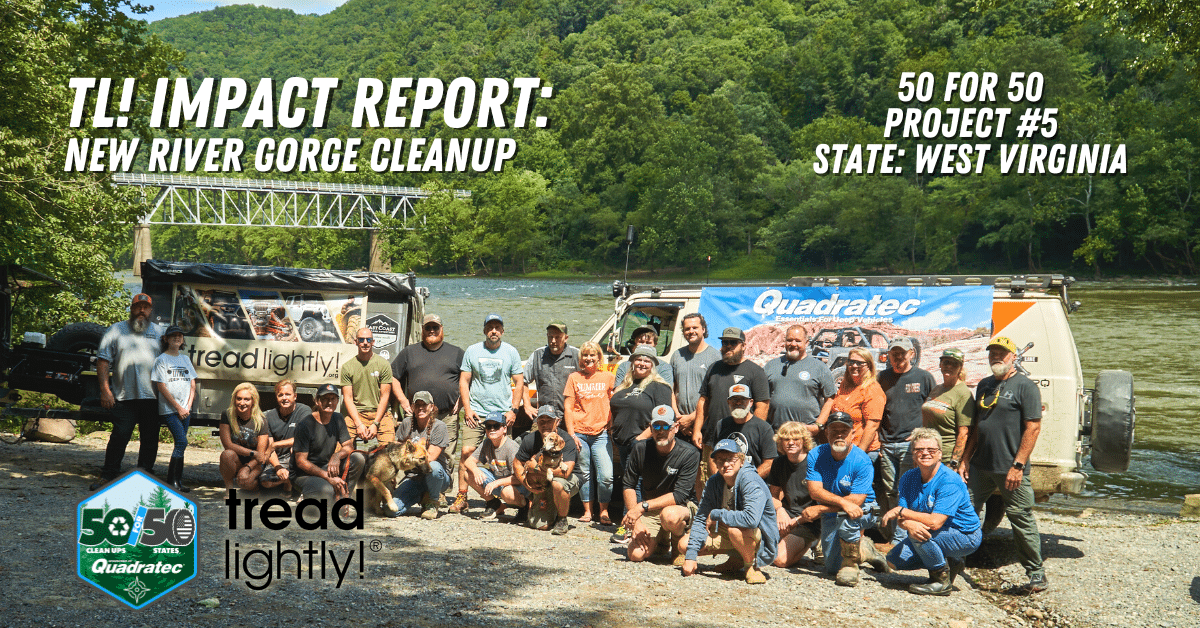 02 Sep
Quadratec 50 for 50 Impact Report: New River Gorge Cleanup
Project: New River Gorge Cleanup
Location: New River Gorge National Park, WV
Project #5/50
State: West Virginia
Description: This project was funded by the Quadratec 50 for 50 Initiative. Together with Tread Lightly! Quadratec will fund a project in each state over 24 months to help improve or enhance public lands and off-road recreation areas.
On August 19, 2022, 29 volunteers removed 750 pounds of trash from America's newest National Park, the New River Gorge in West Virginia. Together the volunteers improved 3 miles of whitewater access points and riverbank. They removed debris, glass, and micro-trash from the river along with and illegal firepits and dumped trash from the roadways and riverbank.
The project was in conjunction with the Adventure Appalachia event run by the West Virginia Off Highway Vehicle Coalition to highlight the benefits of adventure travel in West Virginia. Thank you to the volunteers and organizers who completed this important work!
This was the fifth project of fifty as part of Quadratec and Tread Lightly!'s 50 for 50 initiative. Over the next 2 years, the partners will fund and a project in each of the 50 states that improves public lands or off-road trail access.
Want to get involved in your own 50 for 50 project? Apply for a grant or check out the other projects at treadlightly.org/quadratec50.
Thank you to all of the partners that supported this project:
Quadratec
National Park Service
Fox Creek Garage
Senator Mark Maynard
Mountain Made Offroad
East Coast Overland Adventures
Drive Line Service
Go Fox Adventures
Pine Grove Premium Outfitters
Overlander Project
Appawlachia.com
Dirt Road Therapy
"The reason I was excited to participate in the 50 for 50 cleanup project should be the same as any outdoor enthusiast, to help preserve and maintain our access to public lands well into the future. As I am starting my own family very soon, I hope these opportunities are as available to my children and grandchildren as they are to me. I realize the best way to ensure their preservation is participating in stewardship activities like this one. While I was here representing my business, Pine Grove Premium Outfitters (PGP), Tread Lightly!'s ethics are the same fundamentals my business is based on… I look forward to furthering these same goals with funding and projects in my home state of Pennsylvania." Jimmy Malios, Owner of Pine Grove Premium Outfitters and Purveyor of Artisanal Buffalo Wings 
"Historically, Wild & Wonderful West Virginia is one of America's best kept secrets, but word is starting to get out. As new Adventure Travelers flock to our mountains and rivers, it is crucial that we show them how important our wild spaces are to us as residents. Without stewardship, our natural treasures can fall into disrepair quickly, as we have seen in the past. Doing our part keeps motorized recreation from becoming unsustainable." -Jerry Bain, Chairman of the West Virginia Off Highway Vehicle Coalition, Host of the Adventure Appalachia Event.
"Working with Quadratec and Tread Lightly! to clean public spaces has allowed me to experience pride of ownership of our public lands, through actual hands-on care & preservation of this national asset.  If everyone understands that we are the stewards of our public spaces, these resources can thrive and can be available for generations to come (and this is personally rewarding too!).  Julia Taylor Walters, event participant and Tread Lightly! member.