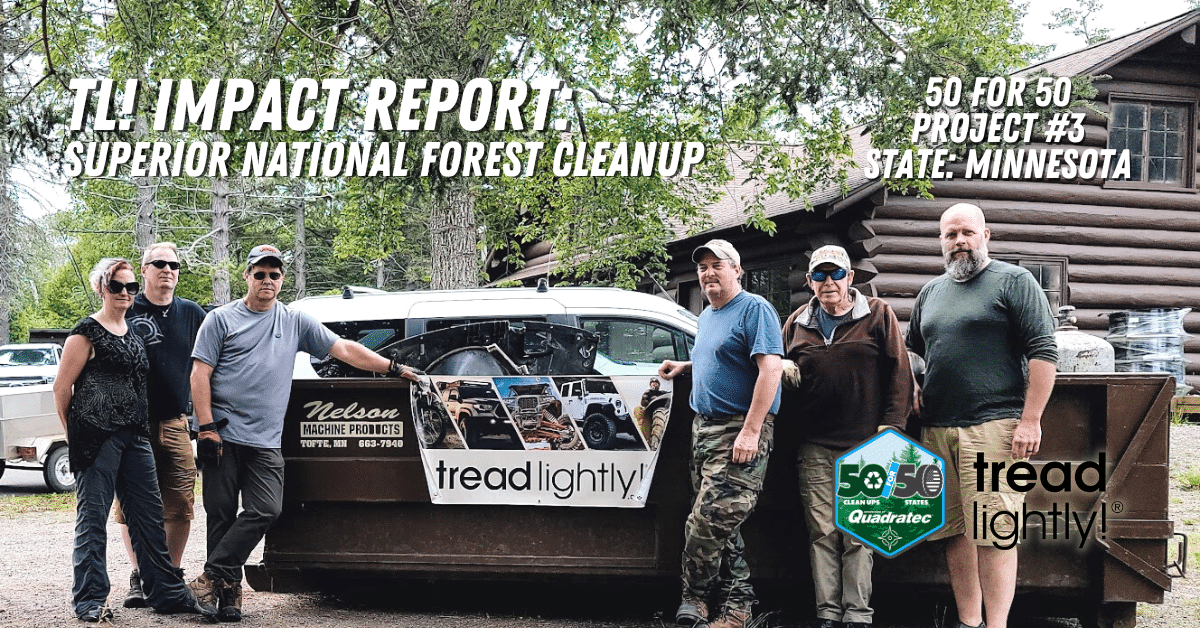 29 Aug
Quadratec 50 for 50 Impact Report: Superior National Forest Cleanup
Project: Superior National Forest Cleanup by Tread Lightly Off Road Club
Location: Superior NF, MN
Project #3/50
State: Minnesota
Description: This project was funded by the Quadratec 50 for 50 Initiative. Together with Tread Lightly! Quadratec will fund a project in each state over 24 months to help improve or enhance public lands and off-road recreation areas.
On August 13 and 14, 2022, 12 volunteers with the Tread Lightly Off Road Club (TLOR) in Minnesota removed over 4,000 pounds of trash from various trails in the Superior National Forest. The cleanup spanned over 200 miles of the forest over a two-day period. This is an annual cleanup project by the Tread Lightly Off Road Club that normally lasts a half day, but thanks to support from the 50 for 50 funds, the project was able to grow this year. Thank you to the TLOR club for continuing this effort annually and doing their part to leave their local trails better.
This was the third project of fifty as part of Quadratec and Tread Lightly!'s 50 for 50 initiative. Over the next 2 years, the partners will fund and a project in each of the 50 states that improves public lands or off-road trail access.
Want to get involved in your own 50 for 50 project? Apply for a grant or check out the other projects at treadlightly.org/quadratec50.
Thank you to all of the partners that supported this project:
Quadratec
Tread Lightly Off Road Club
Cook County ATV Club
Cook County Towing
"Without the help and supplies and trash bins that TL! and Quadratec donated, our 4th annual USFS Cleanup would not have been as successful as it was. We look forward to future partnerships to help improve Superior National Forest for motorized vehicles."- Scott Benolken, President of Tread Lightly Off Road (TLOR)
"We were excited to work with TLOR on their annual project and help them extend their efforts to two days- historically, the way they had to dispose of the waste meant they were on a tight Saturday midday timeline. Having containers in place allowed them to work longer and have a much larger impact. Quadratec's 50 for 50 funding really allowed them to level up their efforts!"-Scott Ammerman, 50 for 50 Project Liaison"