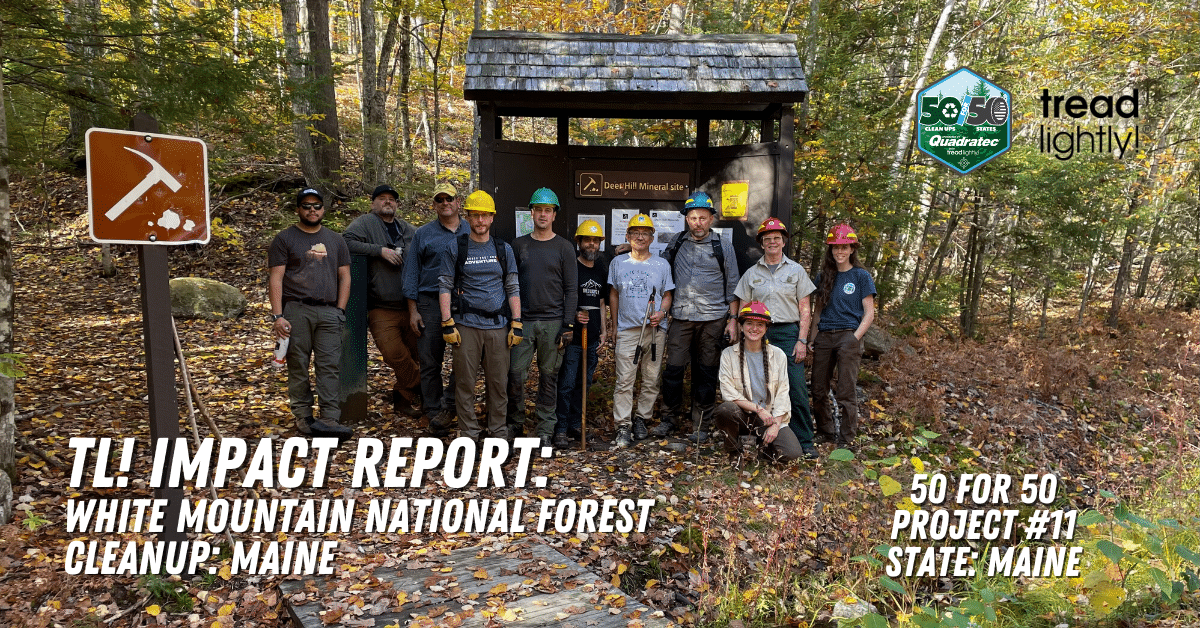 08 Nov

Quadratec 50 for 50 Impact Report: White Mountain National Forest Improvement Project: Maine

Project: White Mountain National Forest Improvement Project: Maine
Location: White Mountain National Forest, Maine
Project #11/50
State: Maine

Description: This project was funded by the Quadratec 50 for 50 Initiative. Together with Tread Lightly!, Quadratec will fund a project in each state over 24 months to help improve or enhance public lands and off-road recreation areas.

On October 15, 2022, eight volunteers gathered to upgrade kiosks and help improve trails in the White Mountain National Forest in Maine. Together they built, painted and replaced signage as well as three newly-built mini kiosks at the Deer Hill Mineral Collection Area in Stow, Maine.

Split into three teams, the volunteers also cleared brush from a collection area perimeter, filled in holes outside boundaries with boulders and branches, and relocated a foot path to the mineral area from a poor drainage area up higher on the hill. In total, they improved 4 miles of trail and removed 10 pounds of trash.

This was the eleventh project of fifty as part of Quadratec and Tread Lightly!'s 50 for 50 initiative. Over the next 2 years, the partners will fund and a project in each of the 50 states that improves public lands or off-road trail access.

Want to get involved in your own 50 for 50 project? Apply for a grant or check out the other projects at treadlightly.org/quadratec50.

Thank you to the following partners for supporting this project:
Quadratec
Go Fox Adventures
Ridgeback Guide Service
NE-OVEX
US Forest Service
"Building new 'birdhouse' kiosks to showcase the map location and regulations for the Deer Hill Mineral Area was an interesting task. I took extra time to make them more weather resistant and durable than they were before because they're out in the elements. Knowing that my contribution to the project will be seen by everyone visiting the site and directing mineral seekers to their destinations for many years to come was a deep and humbling experience"- Ron Harrington, Ridgeback Guide Service

"Thanks to the support from Tread Lightly!, eleven volunteers worked to cut brush and fill holes at Deer Hill mineral collecting site located in Stow, ME on the White Mountain National Forest. The volunteers also worked on a trail relocation to improve access to the mineral collecting area. In addition to all the work previously mentioned, they installed 3 new kiosks with new signage. The kiosks and signs are a big visual upgrade and will require much less maintenance. Deer Hill is a very popular mineral collecting area and volunteer efforts are critical to maintaining this recreation site."-Elaine Swett, Minerals Technician with the USFS

"Working with Tread Lightly! is always a pleasure. It is intrinsically rewarding to "Do your part" and I have been fortunate to join some projects in New England. Both projects where I assisted, preserving a hiking trail by blocking vehicular access in New Hampshire and manually relocating a hundred yards of rooted, mucky trail at Deer Hill in Maine will allow future visitors to explore safely, including myself when I return to explore more! Excited for the next one with TL!"- Jason Machler, Rocksylvania Overland

"It was nice to be able to be the extra hands the Forest Service needed so badly. It was rewarding and eye opening how even the simplest act of lending a day of basic labor can affect an area. We hardly did anything requisite or any level of expertise but that's exactly what they need; people that want to be there to show up and be there, even if it is just moving logs, dirt, rocks, weeds, overgrowth, etc. They simply don't have the number of people they need to get through most of their workload. And it was awesome to be a part of those efforts both as a representative of GFA and as a human being that loves giving back."- Ricky Henry, Go Fox Adventures
Want to get involved in your own project? Apply for a grant or check out the other projects at treadlightly.org.