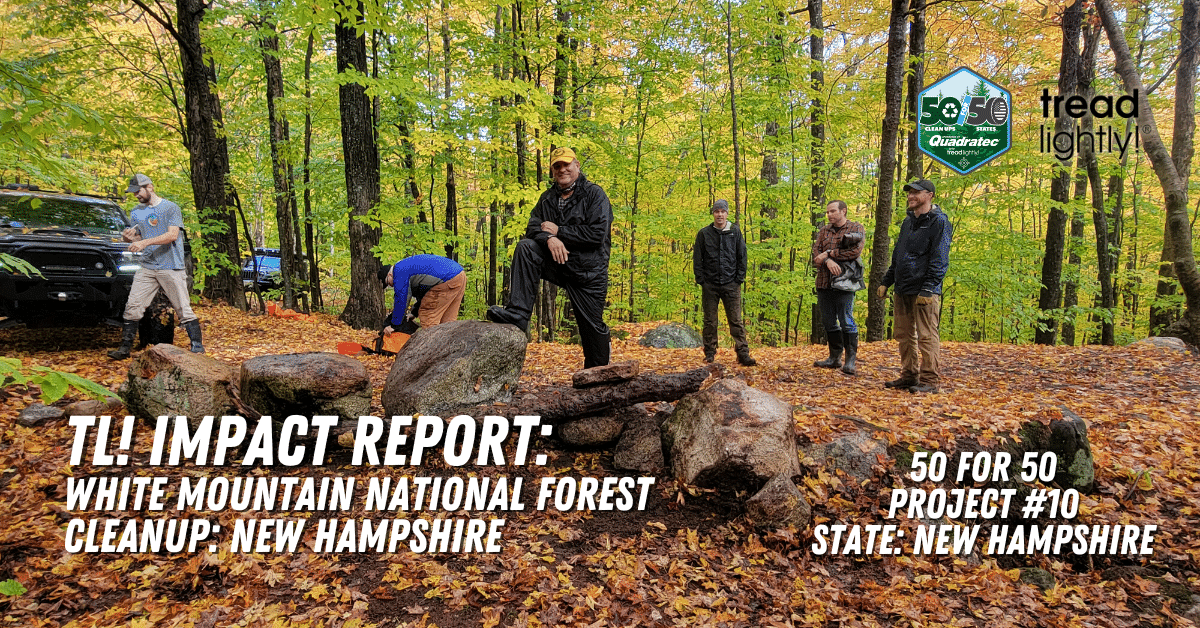 08 Nov

Quadratec 50 for 50 Impact Report: White Mountain National Forest Improvement Project: New Hampshire

Project: White Mountain National Forest Improvement Project: New Hampshire
Location: White Mountain National Forest, New Hampshire
Project #10/50
State: New Hampshire

Description: This project was funded by the Quadratec 50 for 50 Initiative. Together with Tread Lightly!, Quadratec will fund a project in each state over 24 months to help improve or enhance public lands and off-road recreation areas.

On October 14, 2022, a particularly rainy day, nine volunteers gathered to help improve campsites and trails in the White Mountain National Forest outside in Intervale, New Hampshire. Together, they removed around 200 pounds of trash from the dispersed campsites off Town Hall Road, installed updated kiosk signage at the area entrance, and placed boulders at hiking trailheads to block vehicle traffic. In total, they improved nine miles of trail.

This was the tenth project of fifty as part of Quadratec and Tread Lightly!'s 50 for 50 initiative. Over the next 2 years, the partners will fund and a project in each of the 50 states that improves public lands or off-road trail access.

Want to get involved in your own 50 for 50 project? Apply for a grant or check out the other projects at treadlightly.org/quadratec50.

Thank you to the following partners for supporting this project:
Quadratec
Go Fox Adventures
Ridgeback Guide Service
"The project was some simple signage and a cleanup of a few dozen, often-used dispersed campsites along a service road. We were surprised by a general lack of litter, which is both awesome and a little disheartening when you're looking for things to keep you moving and warm when you're completely drenched.
Luckily, we were presented with some side-quests which lead us walking up a trail-now-turned-creek to a nice little lake in search of illegally stored boats. And then we got to use winches to move multi-ton boulders to block off some illegal trails and keep campers where they're meant to be.
Of course, about right as we got the last boulder in place, the rain stopped, and the sun started peeking out of the clouds."- Ricky Henry, Go Fox Adventures

"I participated in the New Hampshire 50 for 50 project at White Mountain National Forest. Some of the memorable work we've done was to close one of the hiking trails by moving rocks using a winch. It was interesting to me because we are normally disappointed when we see the closed trail entrance; but we were the one closing it to protect nature and Tread Lightly! in the National Forest. Most importantly I learned there are always Forest Service people working for us to maintain the park regardless of the weather conditions.
Thank you to White Mountain Saco Station staff and many others for conserving these forests!"- Yoshi Baba, Tread Lightly! member from Massachusetts

"I helped choose the two projects in collaboration with the resource areas. Both Elaine & Helon have an enthusiasm for working with volunteers and partners and are always up for a team effort. After we got input from Tread Lightly! on how many volunteers could join, got more of a sense of Tread Lightly!'s goals and understood what an incredibly organized group was approaching us, it seemed like limitless options. Tread Lightly! was super organized, skilled, enthusiastic, and not above any task. The signs TL! made for us are beyond our expectations and it was fun to see them get installed during the project. I would highly recommend any land manager to host the Northeastern TL! group. Everyone had a blast, and we got a lot done on the White Mountain National Forest in New Hampshire and Maine. Can't wait for the next project!"- Cristin Bailey, Trails Manager for the Saco Ranger District
Want to get involved in your own project? Apply for a grant or check out the other projects at treadlightly.org.