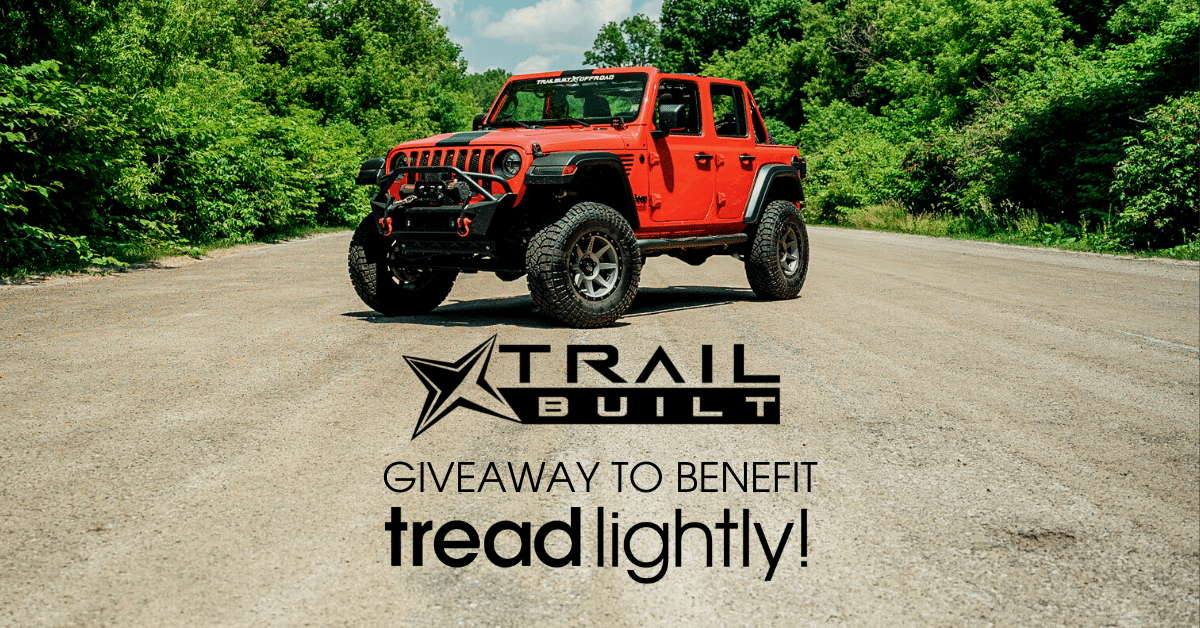 22 Jun

TrailBuilt Off-Road Announces Full Build Giveaway to Support Tread Lightly!

TrailBuilt Off-Road will be running a full build giveaway with our charitable partner, Tread Lightly! from June 21, 2021 – August 6, 2021. This giveaway was graciously sponsored by Kenda Tires, ICON Alloy Wheels, and ICON Suspension. Customers will have the opportunity to give back to a great cause run by Tread Lightly!, as well as win a set of 5 tires, a set of 5 wheels, and a suspension kit. Thank you to these fantastic companies for working with TrailBuilt and allowing us to give back to our customers and our community. 

Getting entered into the giveaway for a chance to win this full build is simple. For guaranteed entry, the customer will be able to purchase either the giveaway t-shirt or the TrailBuilt "Trail Pack" bundle box. A t-shirt will grant the customer one entry into this giveaway while the "Trail Pack" box will grant the customer five entries into this giveaway. The more entries that one has, the more likely they are to win. There are no limitations to the number of entries. To purchase these awesome items, head to www.trailbuiltoffroad.com/giveaway.

On top of each purchase instantly entering the user into this full build giveaway, a portion of their purchase will be donated to Tread Lightly! too. Tread Lightly! leads a national initiative to protect and enhance outdoor recreation access and opportunities. They do this by promoting outdoor ethics through training, educational materials, communication, outreach programs, and campaigns to heighten individuals' sense of good stewardship. Reaching over 200 million people with their mission so far, Tread Lightly! won't stop until their message is heard around the world. TrailBuilt is honored to be working so closely with this deserving cause and to be able to give back to them as well.

These giveaways are an opportunity for us here at TrailBuilt to say thank you to our customers and give back to a cause that we feel strongly about. Being off-road enthusiasts ourselves, environmental care is something we stand behind and advocate for strongly. Giving back, since day one, has been an initiative that TrailBuilt will always hold close to our hearts, and continue to keep ingrained into our business model. No matter where we go. At the end of the day, we are all just people who share a passion for off-roading.

Thank you to all that have entered or are entering. Thank you to those who have supported TrailBuilt, and thank you to the fantastic companies partnering with us on this giveaway ie. Kenda Tires, ICON, and Tread Lightly!. We could not do any of this without you all.

Once again, to find this giveaway, enter, and learn more, head to www.trailbuiltoffroad.com/giveaway. To learn more about Tread Lightly! visit treadlightly.org.

*No purchase necessary to enter.