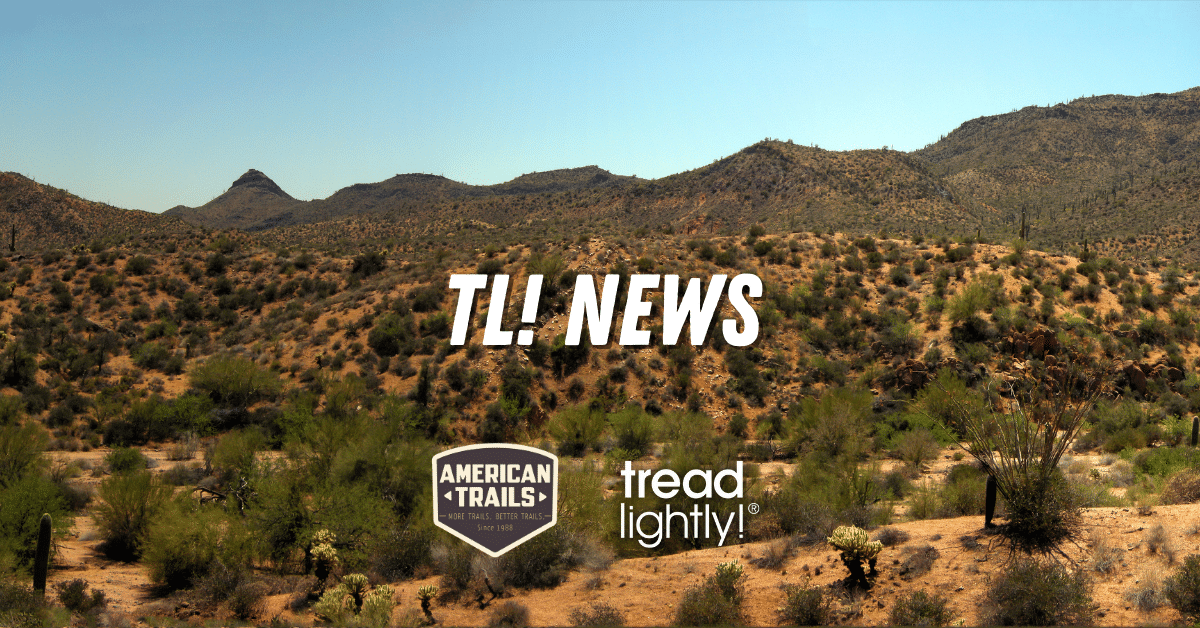 22 Feb
Tread Lightly! announces a funding award from the Legacy Trails Program
NORTH SALT LAKE, UT. (Feb 22, 2023)— Tread Lightly!, a U.S.-based nonprofit dedicated to promoting responsible outdoor recreation through stewardship and educational programs, announced a funding award from the Legacy Trails Program by American Trails to support trails in the Tonto National Forest in Arizona.
"Tread Lightly is thrilled we have received such generous funding from the Legacy Trails Program," said Michelle Ramos, Arizona Program Manager for Tread Lightly! "The funds will help the Tonto National Forest rehabilitate the Camp Creek watershed. This area located in the Cave Creek Ranger District, has been greatly impacted by fires in the area and illegal OHV trails. Doing our part means partnering with land managers to provide resources that allow us to tackle environmental projects like Camp Creek. We look forward to seeing this area recover thanks to great partners and generous support."
The project will reduce erosion in the Camp Creek watershed by removing unauthorized, user-created and previously closed routes that are unsustainable and actively eroding. Decommissioning these routes will reduce sediment within the drainages but may also decrease other water quality parameters such as E. coli. Camp Creek, the primary drainage within the watershed empties into the Verde River, which is one of the two primary rivers that supply surface water to the city of Phoenix and surrounding cities through the Salt River Project. Because this watershed and the project is below the lowest dam on the river system, any sediment from Camp Creek flows directly into the Verde and then the water treatment facilities for the municipal water supply system, making controlling sediment in Camp Creek particularly important.
"The Tonto National Forest is grateful to Tread Lightly! and the Legacy Trails Program for working cooperatively to improve Arizona's public lands," said Greg Schuster, Recreation Program Manager for the Tonto National Forest. "We look forward to improving Camp Creek together."
This is the first year of trails projects funded by the Legacy Trails Program. Tread Lightly!'s project has risen above many other proposals to gain this funding. This new program is administered by American Trails and funded through a cost-share agreement with the United States Forest Service to distribute $1.4 million dollars per year to support trails projects on forests and grasslands managed by the USFS through 2027.
"We are excited to be able to support such excellent projects across the country, which will have a positive impact on watershed health, public access to the outdoors and overall trail resiliency," said Cathy Corlett, Trail Fund Director at American Trails.
For more information on American Trails Legacy Trail Program, visit www.americantrails.org/legacy-trails-program. To learn more about Tread Lightly! Visit www.treadlightly.org.
About Tread Lightly!
Tread Lightly! Is a national nonprofit organization with a mission to promote responsible recreation through stewardship programs and ethics education. Tread Lightly!'s educational message, along with its unique training and restoration initiatives are strategically designed to instill an ethic of responsibility in outdoor enthusiasts and the industries that serve them. The program is long-term in scope with a goal to balance the needs of the people who enjoy outdoor recreation with our need to maintain a healthy environment. Tread Lightly!'s award-winning materials, programs and services are solutions to some of the nation's most pressing recreation issues. Individuals and businesses can commit to Tread Lightly! and protect outdoor access by becoming a member at www.treadlightly.org.
About American Trails
American Trails celebrates decades of working on behalf of all trail interests. Our website is one of the world's most comprehensive online sources for planning, building, designing, funding, managing, enhancing, and supporting trails, greenways, and blueways.
Since 1988, American Trails has been a training resource and collective voice for a diverse coalition of trail enthusiasts, professionals, advocates, land managers, conservationists, and friends of the outdoors and livable cities. American Trails strives to enrich the quality of life, mental health, and physical health for all people and the sustainable development of communities by advancing and promoting the development, preservation, and enjoyment of diverse, high-quality trails and greenways. More information about American Trails.
For more information contact:
Jerrica Archibald
jerrica@treadlightly.org
801-627-0077
For more information contact:
Cathy Corlett, Trail Fund Director
American Trails
530-230-4122
cathy@americantrails.org