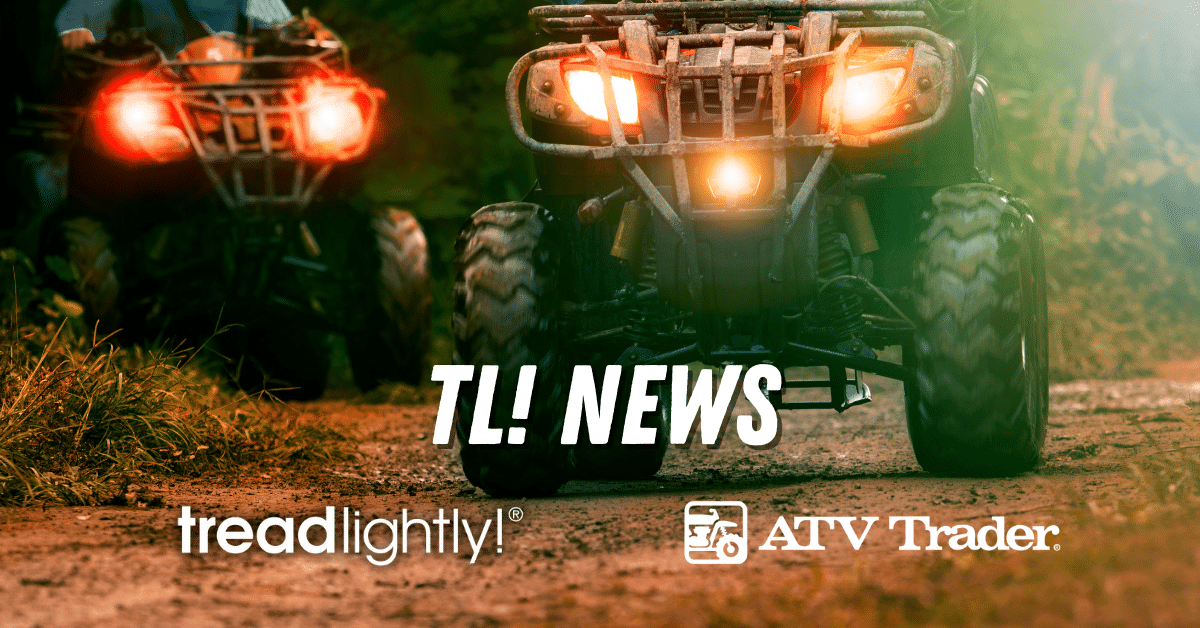 05 Jan
Tread Lightly! announces ATV Trader as its newest Official Partner
NORTH SALT LAKE, UT. (Jan 5, 2023)— Tread Lightly!, a U.S.-based nonprofit dedicated to promoting responsible outdoor recreation through stewardship and educational programs, announced ATV Trader as its newest Official Partner.
As an Official Partner of Tread Lightly!, ATV Trader will support Tread Lightly!'s mission to protect off-road trail access and public lands through stewardship projects and responsible recreation education. In addition to its partnership, ATV Trader will also offer Tread Lightly! members 50% off any listing package on ATV Trader, valid Jan 1, 2023 – Dec 31, 2023.
"Thank you to ATV Trader for joining the Tread Lightly! team as our newest Official Partner," said Matt Caldwell, Executive Director of Tread Lightly!. "Their support will help us further our mission to protect the fun for years to come."
ATV Trader is the leading marketplace for dealers and private sellers of off-road and powersports units to connect with a targeted audience of buyers. Whether searching for new or used ATVs, UTVs, golf carts, sandrails, dune buggies and rock crawlers – ATV Trader is designed to get enthusiasts on their way to enjoying their next adventure.
"We are thrilled to support this great cause that helps conserve public lands and off-road trails for future generations," said Erin Ruane, Executive Vice President of Marketing at Trader Interactive, parent company of ATV Trader. "As industry-leaders in the new and used off-road and powersports market, it's critical that we show our support of responsible trail use and riding ethics."

For more information on ATV Trader, visit www.ATVTrader.com. To learn more about Tread Lightly! Visit www.treadlightly.org.
About Tread Lightly!
Tread Lightly! Is a national nonprofit organization with a mission to promote responsible recreation through stewardship programs and ethics education. Tread Lightly!'s educational message, along with its unique training and restoration initiatives are strategically designed to instill an ethic of responsibility in outdoor enthusiasts and the industries that serve them. The program is long-term in scope with a goal to balance the needs of the people who enjoy outdoor recreation with our need to maintain a healthy environment. Tread Lightly!'s award-winning materials, programs and services are solutions to some of the nation's most pressing recreation issues. Individuals and businesses can commit to Tread Lightly! and protect outdoor access by becoming a member at www.treadlightly.org.
About ATV Trader
ATV Trader is the industry-leading marketplace for buying and selling new and used off-road and specialty powersports units as well as golf carts, sandrails, dune buggies and rock crawlers. ATV Trader receives over 1.1 million monthly visitors that browse over 100,000 new and used ATVs for sale nationwide. Buyers can easily estimate monthly payments, get insurance quotes, and set up price alerts for the ATVs they're interested in while they search. Through the ATV Trader blog, buyers have access to regularly updated content around play, work, maintenance, and tips for buying and selling. For more information, visit www.ATVTrader.com.
For more information contact:
Jerrica Archibald
jerrica@treadlightly.org
801-627-0077