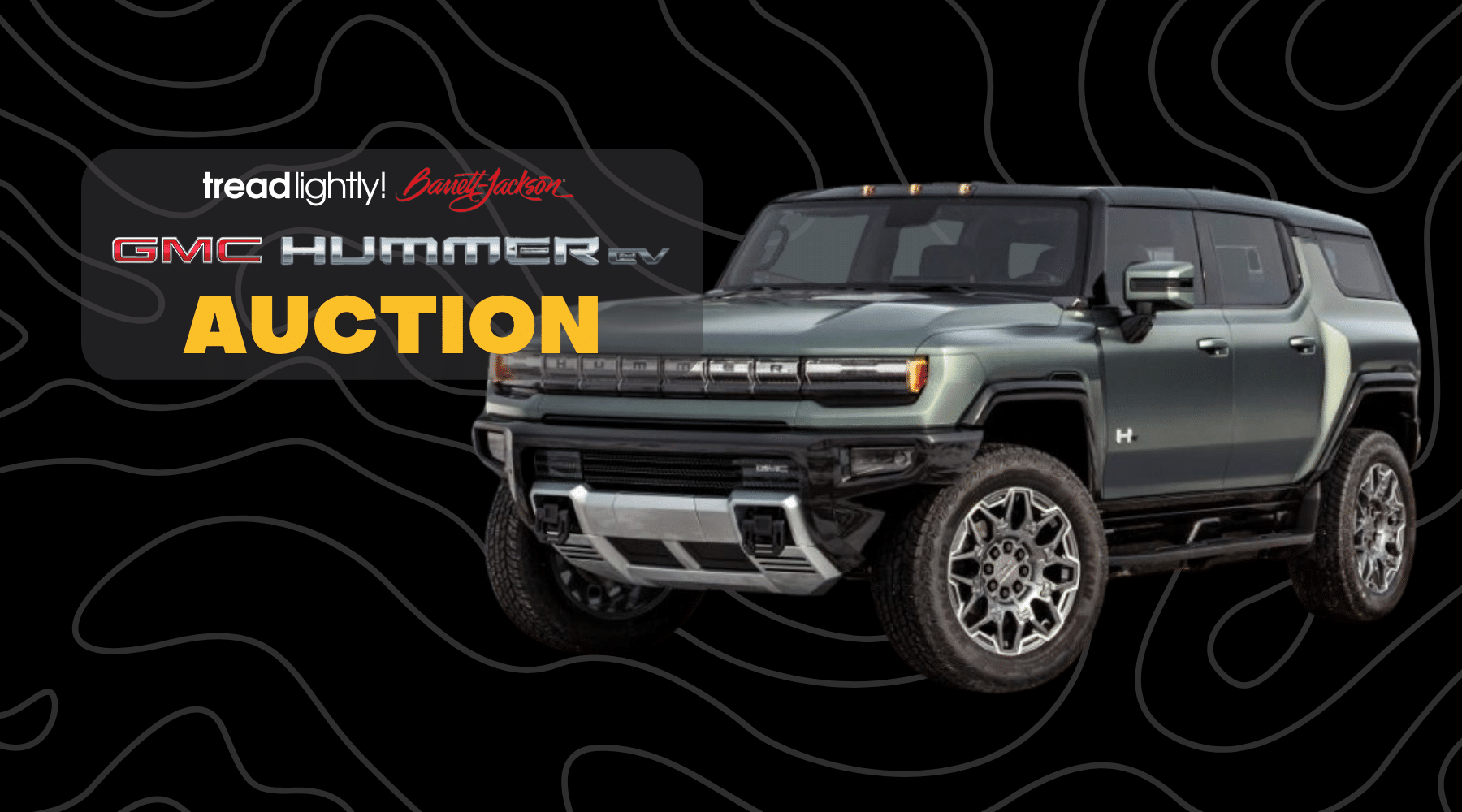 24 Jan
Tread Lightly! announces auction of first 2024 GMC HUMMER EV Edition 1 SUV to support its mission
NORTH SALT LAKE, UT. (Jan 24 , 2023)— Tread Lightly!, a U.S.-based nonprofit dedicated to promoting responsible outdoor recreation through stewardship and educational programs today announced an auction of the first retail production unit of the all-electric 2024 GMC HUMMER EV Edition 1 SUV to raise funds to support its mission. The vehicle will be auctioned at Barrett-Jackson Scottsdale on Saturday, January 28 with all proceeds from the sale earmarked to support Tread Lightly!. 
"We are thrilled to announce the upcoming auction of the 2024 GMC HUMMER EV Edition 1 SUV," said Matt Caldwell, Executive Director of Tread Lightly!. "The results of this auction will help Tread Lightly! take our conservation and stewardship programs to the next level in 2023 and beyond. We can't thank GMC enough for this tremendously generous effort and helping us Protect the Adventure."
GMC expands its all-electric portfolio with the 2024 GMC HUMMER EV Edition 1 SUV supertruck, offering exceptional on-road and off-road performance. The HUMMER EV Edition 1 SUV is the master of maneuverability with the signature 4 Wheel Steer enabled CrabWalk1 standard and a nearly 9-inch shorter wheelbase than the HUMMER EV Pickup. The three-motor Ultium Drive system also delivers up to a GM-estimated 830 horsepower and up to 11,500 lb-ft of torque that Is capable of accelerating 0-60 mph in approximately 3.5 seconds with standard Watts to Freedom2 (GM-estimates). With distinct and rugged design, the 2024 GMC HUMMER EV Edition 1 SUV debuts in a new, exclusive Moonshot Green Matte exterior color.
"GMC is proud to support Tread Lightly!'s mission and conservation efforts through this year's Barrett-Jackson auction," said Duncan Aldred, global vice president of Buick and GMC. "The all-electric 2024 GMC HUMMER EV Edition 1 SUV is an extremely off-road capable vehicle, tested and validated everywhere from the snow in Michigan's Upper Peninsula to the desert in Moab, Utah. As outdoor enthusiasts, we know the importance of protecting public lands and trails, and are honored to support this initiative."
The first production unit of the 2022 GMC HUMMER EV Edition 1 Pickup sold for $2.5 million in March 2021 with proceeds benefiting the Tunnels to Towers Foundation in memory of Sept. 11 first-responder Stephen Siller.

For more information on the auction, visit the Barrett-Jackson auction page. To learn more about Tread Lightly! visit www.treadlightly.org.
1 Limited to low speeds. Read the vehicle's owner's manual for more important safety limitations and information.
2 Read the vehicle's owner's manual for more important safety limitations and information.
About Tread Lightly!
Tread Lightly! Is a national nonprofit organization with a mission to promote responsible recreation through stewardship programs and ethics education. Tread Lightly!'s educational message, along with its unique training and restoration initiatives are strategically designed to instill an ethic of responsibility in outdoor enthusiasts and the industries that serve them. The program is long-term in scope with a goal to balance the needs of the people who enjoy outdoor recreation with our need to maintain a healthy environment. Tread Lightly!'s award-winning materials, programs and services are solutions to some of the nation's most pressing recreation issues. Individuals and businesses can commit to Tread Lightly! and protect outdoor access by becoming a member at www.treadlightly.org.
About GMC
GMC offers a range of premium trucks and SUVs designed and engineered to the highest standard. With vehicles like the compact Terrain and full-size Yukon, all-new Canyon and Sierra light-duty, as well as the world's first all-electric supertruck the GMC HUMMER EV, our trucks and SUVs deliver GMC's signature combination of intuitive technologies, precise engineering and premium execution. Built on a strong foundation of manufacturing trucks since since 1902, GMC now sells in a dozen countries across the world. Details on all models are available at www.gmc.com, Instagram at @GMC, Twitter at @GMC or at www.facebook.com/gmc.
For more information contact:
Jerrica Archibald
jerrica@treadlightly.org
801-627-0077

Nicole Schmitz
nicole.schmitz@gm.com
586-879-9583