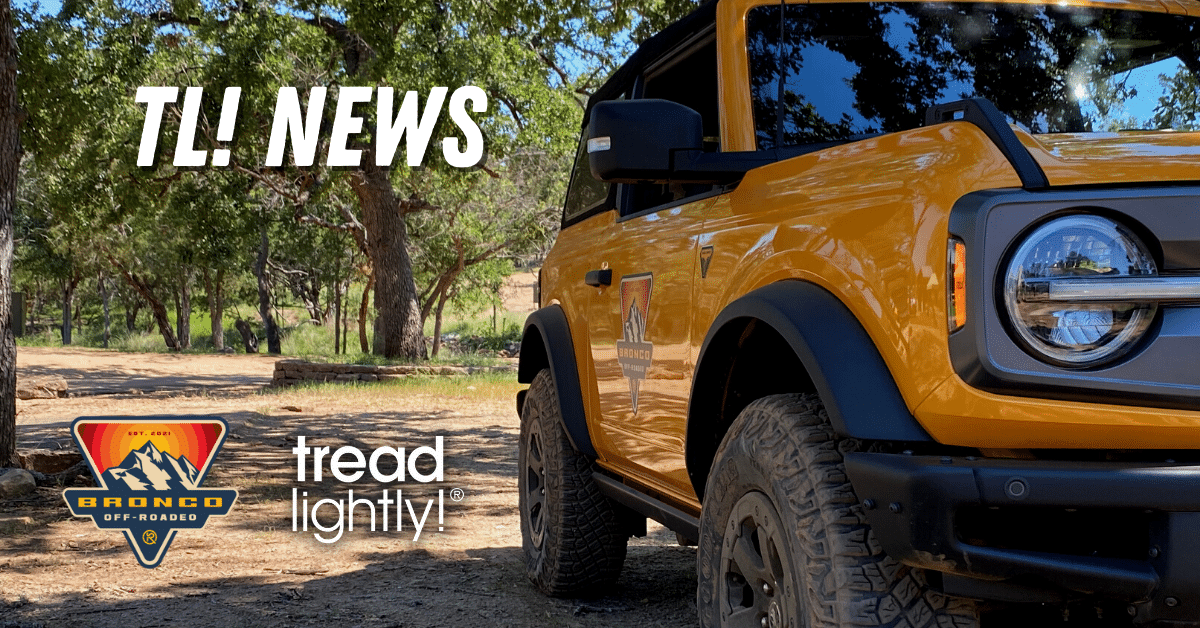 06 Jul
Tread Lightly! announces Bronco Off-Roadeo as newest Official Partner
NORTH SALT LAKE, UT (July 6, 2022)— Tread Lightly!, a U.S.-based nonprofit dedicated to promoting responsible outdoor recreation through stewardship and educational programs, today announced Bronco Off-RoadeoTM as its newest Official Partner. This partnership furthers Tread Lightly!'s relationship with the Ford BroncoTM brand, following the collaboration with Bronco Wild FundTM to support on-the-ground stewardship projects.
As an Official Partner of Tread Lightly!, Bronco Off-Roadeo will support the organization's mission to protect off-road trail access and public lands through stewardship projects and responsible recreation education. Bronco Off-Roadeo will incorporate Tread Lightly!'s responsible recreation messaging into its hands-on driving experiences and work to certify its guides through Tread Lightly!'s Master Tread Trainer program.
"We're very excited to partner with Bronco Off-Roadeo and have the opportunity to introduce new vehicle owners to responsible off-roading principles," said Matt Caldwell, Executive Director of Tread Lightly!. "Knowing how to operate machinery responsibly and reinforce a sense and responsibility for the trails we all use helps us keep access open."
Bronco Off-Roadeo offers an exclusive experience with the purchase or lease of a Bronco or Bronco Sport Badlands. Bronco owners are invited to choose from one of four locations — Texas, Moab, Nevada, or New Hampshire — where they'll have an immersive, hands-on drive experience on the trails. Bronco Off-Roadeo gives customers the opportunity to attend before their vehicle is delivered, use a provided Bronco vehicle for their experience, and even bring guests (additional guest fee applies). Summer experiences are available to book now.
"We value the outdoors and our shared trails," said Greg Nikolas, Program Director for Bronco Off-Roadeo. "We're proud to partner with Tread Lightly! and introduce customers to some incredible experiences while teaching them how to keep these beautiful places healthy and open."
For more information on Bronco Off-Roadeo, visit www.broncooffroadeo.com. To learn more about Tread Lightly! visit www.treadlightly.org.
About Tread Lightly!
Tread Lightly! is a national nonprofit organization with a mission to promote responsible recreation through stewardship programs and ethics education. Tread Lightly!'s educational message, along with its unique training and restoration initiatives, are strategically designed to instill an ethic of responsibility in outdoor enthusiasts and the industries that serve them. The program is long-term in scope with a goal to balance the needs of the people who enjoy outdoor recreation with our need to maintain a healthy environment. Tread Lightly!'s award-winning materials, programs and services are solutions to some of the nation's most pressing recreation issues. Individuals and businesses can commit to Tread Lightly! and protect outdoor access by becoming a member at www.treadlightly.org.
About Bronco Off-Roadeo
The Bronco brand comes to life at Off-Roadeo. An off-roading, outdoor adventure playground built for all skill levels it offers experiences that will build confidence and inspire Bronco owners to continue exploring the outdoors for years to come. This exclusive experience is included with the purchase or lease of a Bronco or Bronco Sport Badlands. Owners are invited to choose from one of four epic locations — Texas, Moab, Nevada, and New Hampshire — where they will be immersed in the Bronco lifestyle: enjoying incredible driving experiences, creating unforgettable memories, and celebrating community, adventure, and the great outdoors! 
For more information contact:
Jerrica Archibald
jerrica@treadlightly.org
801-627-0077