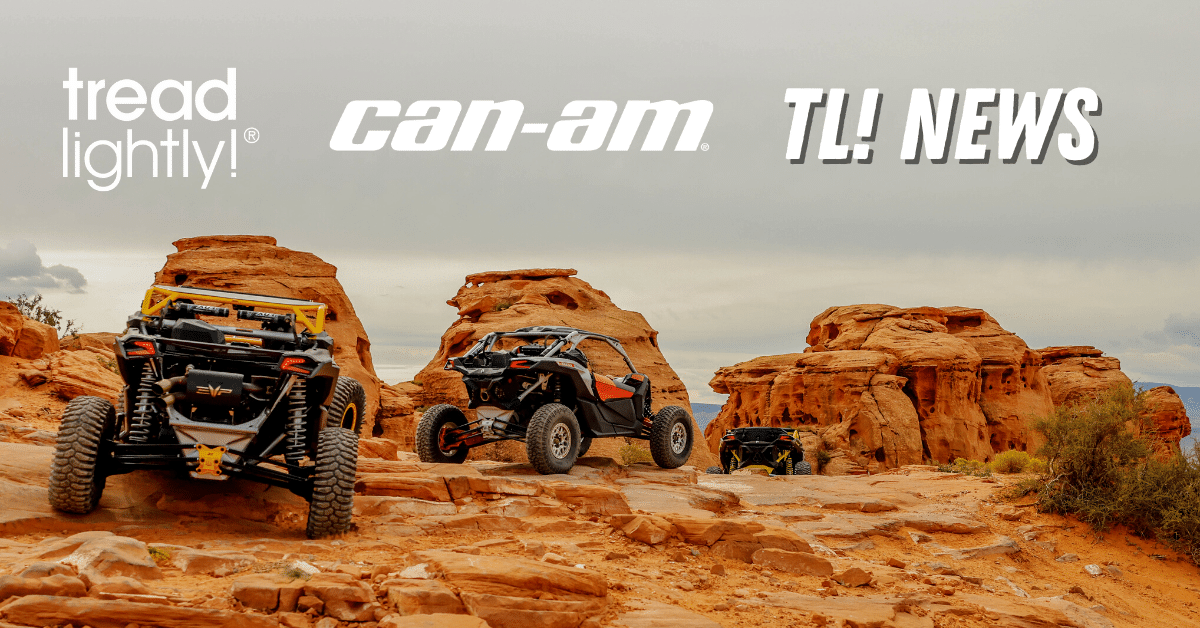 06 Sep
Tread Lightly! announces Can-Am Off-Road Official Partnership, funding 12 trail restoration projects
NORTH SALT LAKE, UT. (September 6, 2022)— Tread Lightly!, a U.S.-based nonprofit dedicated to promoting responsible outdoor recreation through stewardship and educational programs today announced Can-Am as its newest Official Partner.
As an Official Partner of Tread Lightly!, Can-Am will support Tread Lightly!'s mission to protect motorized trail access and public lands through stewardship projects and responsible recreation education. Can-Am's partnership will also fund 12 Tread Lightly! trail improvement projects throughout the state of Utah. In addition to the projects, Can-Am will also donate two Can-Am Defenders to assist in future off-road trail maintenance projects.
"Can-Am has gone above and beyond to further Tread Lightly!'s mission and protect the adventure for off-road trail users," said Matt Caldwell, Executive Director of Tread Lightly!. "We cannot thank the Can-Am team enough for its commitment to improving off-roading opportunities in Utah through these projects and beyond."
Through its Responsible Rider initiative, Can-Am has been promoting responsible riding to protect the environment, teach trail etiquette and teach riders about proper safety techniques and gear.
"Protecting our trails for future generations and ensuring the sustainability of our sport is important to us at Can-Am Off-Road," said Julie Tourville, Director, Global Marketing, Can-Am Off-Road at BRP.  "We proudly support Tread Lightly! and its mission to conserve trails. We look forward to doing our part to improve Utah's trails and giving back to the community."
For more information on Can-Am visit www.canam.brp.com. To learn more about Tread Lightly! visit www.treadlightly.org.
About Tread Lightly!
Tread Lightly! is a national nonprofit organization with a mission to promote responsible recreation through stewardship programs and ethics education. Tread Lightly!'s educational message, along with its unique training and restoration initiatives are strategically designed to instill an ethic of responsibility in outdoor enthusiasts and the industries that serve them. The program is long-term in scope with a goal to balance the needs of the people who enjoy outdoor recreation with our need to maintain a healthy environment. Tread Lightly!'s award-winning materials, programs and services are solutions to some of the nation's most pressing recreation issues. Individuals and businesses can commit to Tread Lightly! and protect outdoor access by becoming a member at www.treadlightly.org.
About BRP
We are a global leader in the world of powersports products, propulsion systems and boats built on 80 years of ingenuity and intensive consumer focus. Our portfolio of industry-leading and distinctive products includes Ski-Doo and Lynx snowmobiles, Sea-Doo watercraft and pontoons, Can-Am on and off-road vehicles, Alumacraft and Quintrex boats, Manitou pontoons and Rotax marine propulsion systems as well as Rotax engines for karts and recreational aircraft. We complete our lines of products with a dedicated parts, accessories and apparel portfolio to fully enhance the riding experience. With annual sales of CA$7.6 billion from over 120 countries, our global workforce includes close to 20,000 driven, resourceful people.
For more information contact:
Jerrica Archibald
jerrica@treadlightly.org
801-627-0077