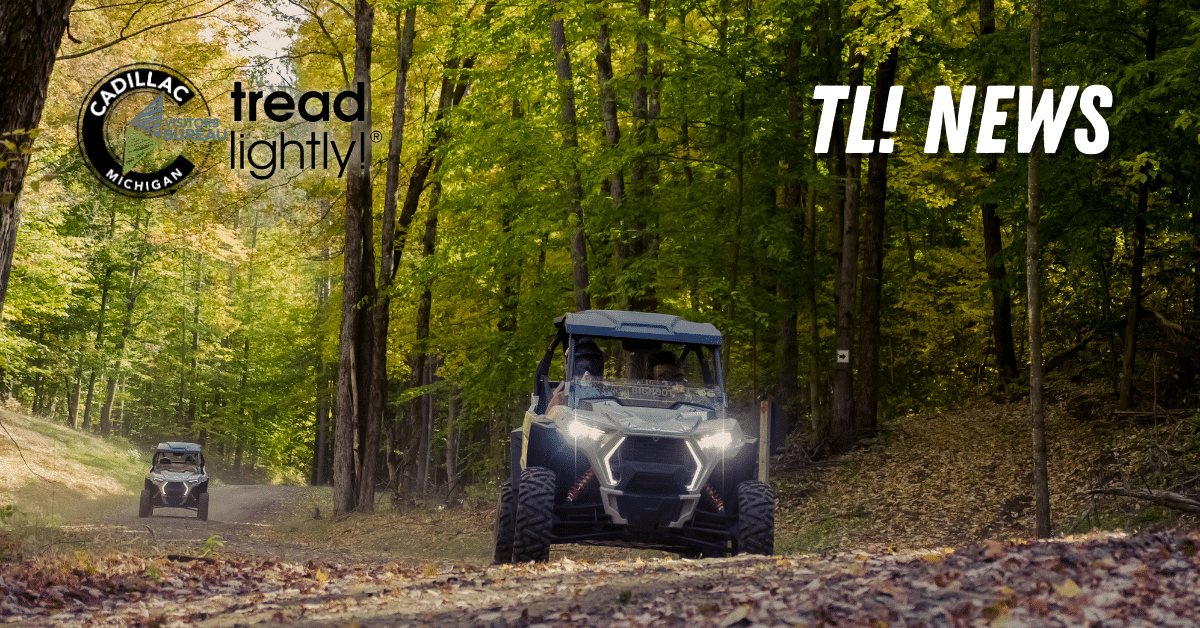 19 Jan
Tread Lightly! announces educational collaboration and Official Partnership with Cadillac Area Visitors Bureau
NORTH SALT LAKE, UT. (Jan 19, 2023)— Tread Lightly!, a U.S.-based nonprofit dedicated to promoting responsible outdoor recreation through stewardship and educational programs today announced a new educational collaboration and Official Partnership with the Cadillac Area Visitors Bureau (CAVB) of Cadillac, Michigan.
Together, Tread Lightly! and the Cadillac Area Visitors Bureau will create a video series, signage and other materials to educate ORV riders how to off-road with minimal impact to protect the 120 miles of motorized trails in the Cadillac area.
"We're excited to work proactively to protect the trails of Wexford County," said Matt Caldwell, Executive Director of Tread Lightly!. "Thank you to the Cadillac Area Visitors Bureau for bringing the Tread Lightly! ethic to its ORV trails and working to conserve these outdoor spaces."
This partnership comes thanks to support from a grant from the USDA Forest Service to the CAVB to provide wayfinding, mapping and marketing of existing ORV trails to attract ORV users to the region while encouraging responsible recreation practices.
"Cadillac offers unique off-roading experiences for locals and visitors alike," said Kathy Morin, Cadillac Area Visitors Bureau Executive Director. "In order to protect these trails, it's imperative to educate all motorized users on how to ride with respect and minimal impact to keep our trails healthy, accessible and beautiful."

For more information on the Cadillac Area Visitors Bureau, visit www.cadillacmichigan.com To learn more about Tread Lightly! Visit www.treadlightly.org.
About Tread Lightly!
Tread Lightly! Is a national nonprofit organization with a mission to promote responsible recreation through stewardship programs and ethics education. Tread Lightly!'s educational message, along with its unique training and restoration initiatives are strategically designed to instill an ethic of responsibility in outdoor enthusiasts and the industries that serve them. The program is long-term in scope with a goal to balance the needs of the people who enjoy outdoor recreation with our need to maintain a healthy environment. Tread Lightly!'s award-winning materials, programs and services are solutions to some of the nation's most pressing recreation issues. Individuals and businesses can commit to Tread Lightly! and protect outdoor access by becoming a member at www.treadlightly.org.
About the Cadillac Area Visitors Bureau
The Cadillac Area Visitors Bureau partners with lodging properties to promote the Cadillac area as a visitor destination. Its mission is to develop and maintain the community in sustainable ways for both tourists and residents to enjoy – ultimately to encourage overnight stays and create a positive visitor experience. Visit cadillacmichigan.com and @VisitCadillac on Facebook and Instagram.
For more information contact:
Jerrica Archibald
jerrica@treadlightly.org
801-627-0077