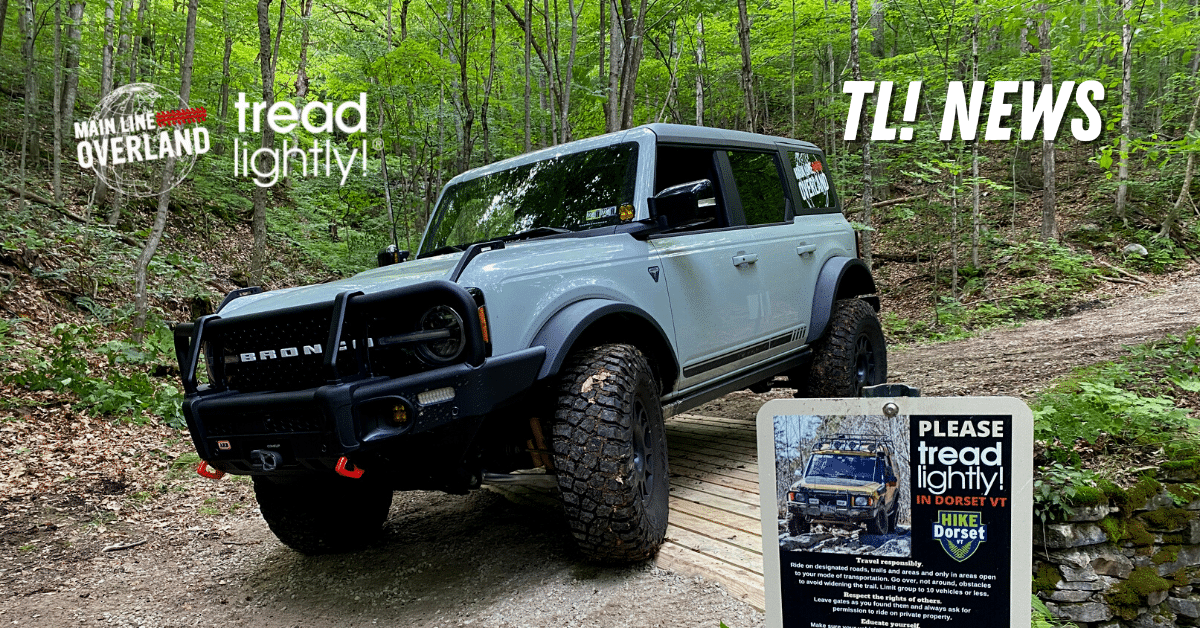 11 Oct
Tread Lightly! announces Main Line Overland as its newest Official Partner
NORTH SALT LAKE, UT. (Oct 11, 2022)— Tread Lightly!, a U.S.-based nonprofit dedicated to promoting responsible outdoor recreation through stewardship and educational programs today announced Main Line Overland (MLO) as its newest Official Partner.
As an Official Partner of Tread Lightly!, Main Line Overland will support Tread Lightly!'s mission to protect off-road trail access and public lands through stewardship projects and responsible recreation education.
"Thank you to Main Line Overland for supporting Tread Lightly! as our newest Official Partner," said Matt Caldwell, Executive Director of Tread Lightly!. "Their support will help us further our mission to protect the adventure for years to come. We've had a goal to continue to push Tread Lightly! eastward and Main Line's multiple locations up and down the East Coast will greatly help those efforts."
Main Line Overland is a full service 4×4 and expedition vehicle outfitter, selling a vast selection of overland vehicle upgrades and off-roading accessories. With over 10 years of experience as a full-service 4×4, expedition and overland vehicle outfitter at its West Chester, PA location, MLO now offer a full range of products and services online.
"We believe in the Tread Lightly! ethic and doing our part to protect access to trails,'" said Matthew Henwood, President of Main Line Overland. "We're proud to support the mission and help keep our outdoor spaces healthy and open for future generations."
For more information on Main Line Overland, visit www.mainlineoverland.com. To learn more about Tread Lightly! visit www.treadlightly.org.
About Tread Lightly!
Tread Lightly! is a national nonprofit organization with a mission to promote responsible recreation through stewardship programs and ethics education. Tread Lightly!'s educational message, along with its unique training and restoration initiatives are strategically designed to instill an ethic of responsibility in outdoor enthusiasts and the industries that serve them. The program is long-term in scope with a goal to balance the needs of the people who enjoy outdoor recreation with our need to maintain a healthy environment. Tread Lightly!'s award-winning materials, programs and services are solutions to some of the nation's most pressing recreation issues. Individuals and businesses can commit to Tread Lightly! and protect outdoor access by becoming a member at www.treadlightly.org.
About Main Line Overland
Main Line Overland is a full service 4×4 and expedition vehicle outfitter with locations in West Chester PA, Bow NH and Charlotte NC. We leverage our many years of experience along with state-of-the-art facilities and equipment to build and outfit unique and highly functional modern and classic 4×4 vehicles for adventure travel. Our services run the gamut from basic maintenance to around the world expedition outfitting. If the application is expedition travel, we can install or fabricate it.
For more information contact:
Jerrica Archibald
jerrica@treadlightly.org
801-627-0077