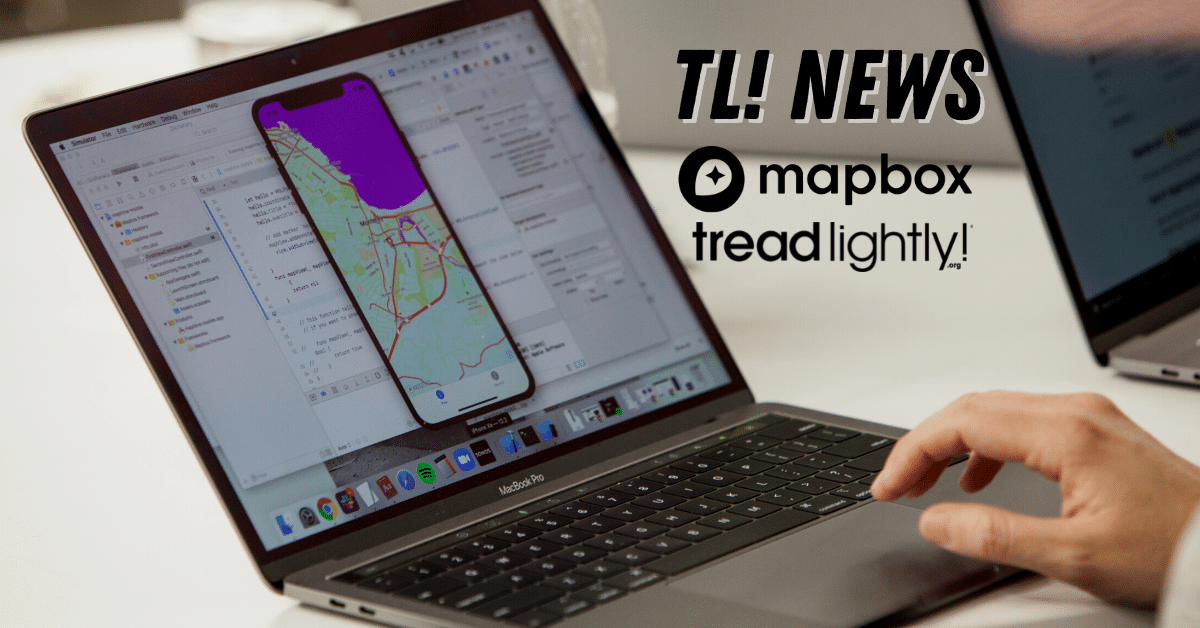 12 Oct
Tread Lightly! announces Mapbox as newest Official Partner
NORTH SALT LAKE, UT. (Oct 12, 2022)— Tread Lightly!, a U.S.-based nonprofit dedicated to promoting responsible outdoor recreation through stewardship and educational programs today announced Mapbox as its newest Official Partner.  
As an Official Partner of Tread Lightly!, Mapbox will support Tread Lightly!'s mission to protect motorized trail access and public lands through stewardship projects and responsible recreation education.  
"Thank you to Mapbox for partnering with Tread Lightly! and supporting responsible trail use and education," said Matt Caldwell, Tread Lightly! Executive Director. "We're very excited to partner up and help expand access and trail sustainability for future generations."  
Mapbox provides the location technology and maps that power the leading outdoor recreation apps and websites, as well as in-car navigation for many automotive brands. The Mapbox platform equips companies and organizations with the data and developer tools to build custom location-driven experiences tailored to the needs and interests of their clients. As the underlying location data provider for companies, Mapbox embraces opportunities to advance how location data, maps, and navigation technologies support responsible recreation.  
"More than 40 percent of the Fortune 500 use Mapbox to navigate, move, and make decisions. We have made corporate social and environmental responsibility a priority in how we work with our customers to use location technology to have a positive influence on society," said Garrett Miller, GM of Navigation at Mapbox. "We're thrilled to join many of our customers in supporting Tread Lightly!'s mission to protect trails and public lands." 
For more information on Mapbox, visit www.mapbox.com. To learn more about Tread Lightly! visit www.treadlightly.org.
About Tread Lightly!
Tread Lightly! is a national nonprofit organization with a mission to promote responsible recreation through stewardship programs and ethics education. Tread Lightly!'s educational message, along with its unique training and restoration initiatives are strategically designed to instill an ethic of responsibility in outdoor enthusiasts and the industries that serve them. The program is long-term in scope with a goal to balance the needs of the people who enjoy outdoor recreation with our need to maintain a healthy environment. Tread Lightly!'s award-winning materials, programs and services are solutions to some of the nation's most pressing recreation issues. Individuals and businesses can commit to Tread Lightly! and protect outdoor access by becoming a member at www.treadlightly.org.
About Mapbox
Mapbox is the leading real-time location platform for a new generation of location-aware businesses. Mapbox is the only platform that equips organizations with the full set of tools to power the navigation of people, packages, and vehicles everywhere. More than 3.5 million registered developers have chosen Mapbox because of the platform's flexibility, security, and privacy compliance. Organizations use Mapbox applications, data, SDKs and APIs to create customized and immersive experiences that delight their customers. For more information, visit www.mapbox.com. 
For more information contact:
Jerrica Archibald
jerrica@treadlightly.org
801-627-0077