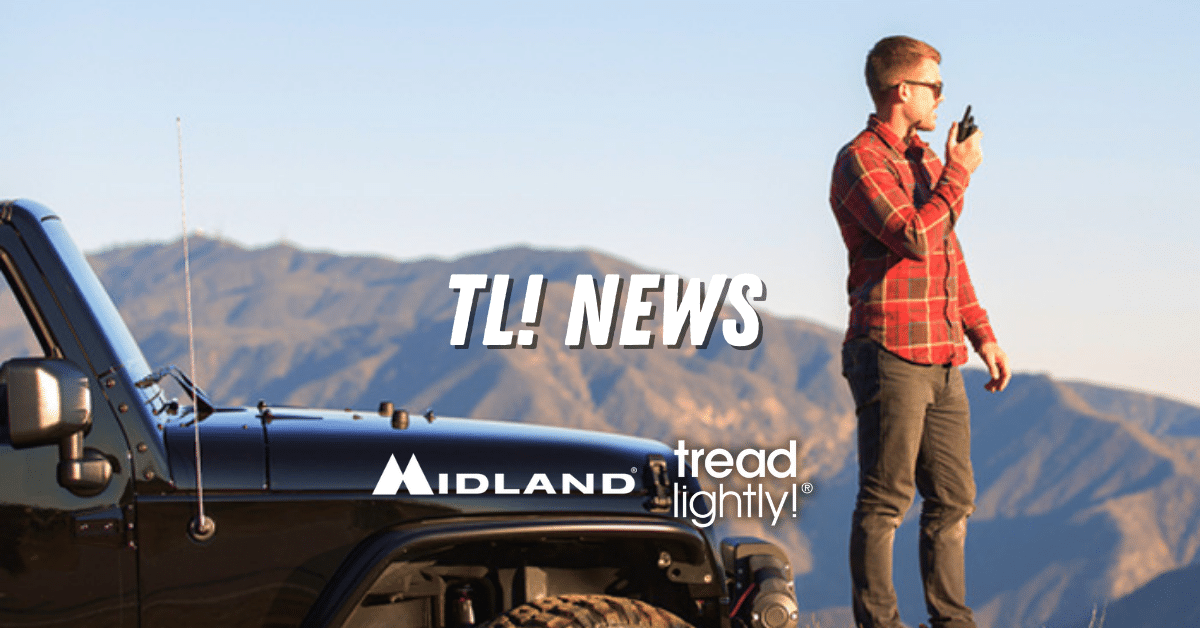 15 Mar
Tread Lightly! announces Midland Radio as its newest Official Partner
NORTH SALT LAKE, UT. (Mar 15, 2023)— Tread Lightly!, a U.S.-based nonprofit dedicated to promoting responsible outdoor recreation through stewardship and educational programs, announced Midland Radio as its newest Official Partner.
As an Official Partner of Tread Lightly!, Midland Radio will support Tread Lightly!'s mission to protect off-road trail access and public lands through stewardship projects and responsible recreation education. Midland has also committed to donating radios to support future trail improvement projects.
"Thank you to Midland Radio for helping us continue to Protect the Fun," said Matt Caldwell, Executive Director of Tread Lightly!. "With their help, we can continue to keep our work of public lands stewardship and responsible riding education."
Midland Radio is the leading supplier of two-way radios, weather alert radios and an innovator in emergency radio technology. For over 50 years, Midland has taken a pioneering role in two-way radio technology, introducing CB radio and 14-channel FRS radio technology to the market.
"Midland Radio is proud to partner with Tread Lightly! and supply radios for upcoming stewardship projects," said Andrew Kinsman, Director of Marketing at Midland Radio Corporation. "As off-roaders, the Midland team is personally invested in helping continue Tread Lightly!'s mission to improve offroad trails and educate riders."
For more information on Midland Radio, visit www.midlandusa.com. To learn more about Tread Lightly! Visit www.treadlightly.org.
About Tread Lightly!
Tread Lightly! Is a national nonprofit organization with a mission to promote responsible recreation through stewardship programs and ethics education. Tread Lightly!'s educational message, along with its unique training and restoration initiatives are strategically designed to instill an ethic of responsibility in outdoor enthusiasts and the industries that serve them. The program is long-term in scope with a goal to balance the needs of the people who enjoy outdoor recreation with our need to maintain a healthy environment. Tread Lightly!'s award-winning materials, programs and services are solutions to some of the nation's most pressing recreation issues. Individuals and businesses can commit to Tread Lightly! and protect outdoor access by becoming a member at www.treadlightly.org.
About Midland Radio
For over 50 years, Midland Radio has been a leader in two-way and weather radio technology. As the first US manufacturer of CB radio, Midland Radio has continued to be at the forefront of innovative communication with the introduction of GMRS radio. Headquartered in Kansas City, the heart of the country, the Midland brand represents quality, value, and reliability.
For more information contact:
Jerrica Archibald
jerrica@treadlightly.org
801-627-0077