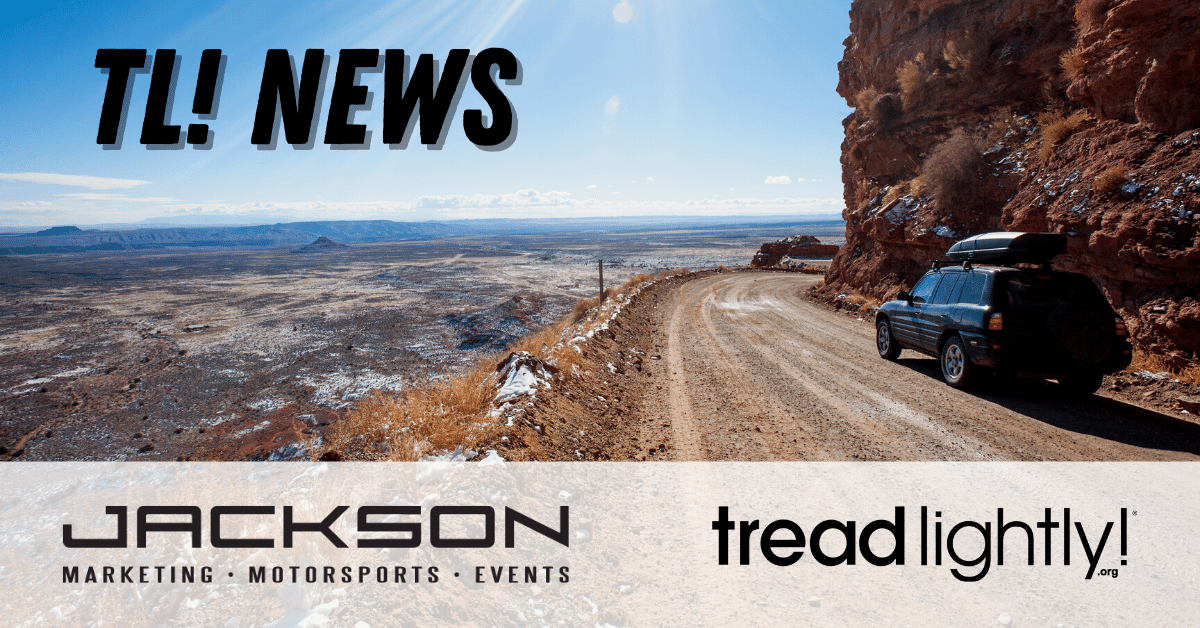 21 Jun

TREAD LIGHTLY! ANNOUNCES NEW PARTNERSHIP AND FUNDRAISER WITH JACKSON MOTORSPORTS GROUP

FOR IMMEDIATE RELEASE
TREAD LIGHTLY! ANNOUNCES NEW PARTNERSHIP AND FUNDRAISER WITH JACKSON MOTORSPORTS GROUP
CENTERVILLE, UT. (Jun 21, 2021)— Tread Lightly!, a U.S.-based nonprofit dedicated to promoting responsible outdoor recreation through stewardship and educational programs today announced Jackson Motorsports Group as its newest Official Partner in conjunction with fundraising efforts.

"Thank you to Jackson Motorsports Group for developing this fundraiser to support protecting trail access for the off-road community," said Matt Caldwell, Executive Director of Tread Lightly!. "Without support from companies like this we would be unable to work to protect access to off-roading trails."

Jackson will run a special fundraiser June 14 – July 12, 2021 that includes a Pro Eagle Jack, a half-priced tool kit and a free dust cover. Proceeds from the sales of this special during the allotted period will be contributed to support Tread Lightly!'s mission and help ensure millions of outdoor enthusiasts are reached through trail stewardship projects, recreation training and education campaigns.
"Jackson Motorsports Group is committed to providing world-class products and services to the off-road community," said Darrell Jackson, CEO, President of Jackson Motorsports Group. "We are proud to partner with Tread Lightly! and support their mission."

For more information on Jackson Motorsports Group visit www.jacksonmotorsportsgroup.com. To learn more about Tread Lightly! and its member benefits visit www.treadlightly.org.

About Tread Lightly!
Tread Lightly! is a national nonprofit organization with a mission to promote responsible recreation through stewardship programs and ethics education. Tread Lightly!'s educational message, along with its unique training and restoration initiatives are strategically designed to instill an ethic of responsibility in outdoor enthusiasts and the industries that serve them. The program is long-term in scope with a goal to balance the needs of the people who enjoy outdoor recreation with our need to maintain a healthy environment. Tread Lightly!'s award-winning materials, programs and services are solutions to some of the nation's most pressing recreation issues. Individuals and businesses can commit to Tread Lightly! and protect outdoor access by becoming a member at www.treadlightly.org.

About Jackson Motorsports Group
Jackson is a fully integrated brand and motorsports marketing agency offering marketing consulting and strategy, branding, digital marketing, content and public relations, events and tours, and dealer marketing. Awarded "Agency of the Year" by BMA Carolinas and named a "B2B Top Shop" by Chief Marketer magazine, Jackson partners with a host of blue-chip brands including Michelin, BFGoodrich Tires, Edelbrock, NAPA Filters, Sage Automotive Interiors and Hawk Performance Brakes. Jackson's motorsports group is also the exclusive provider for BFGoodrich Tires' non-DOT off-road race tires, supplies an array of tires for pavement racing and offers a variety of other high-end automotive aftermarket products. Racers throughout North America rely on Jackson's product sales group to deliver the products and support they need to compete in leading racing series like IMSA WeatherTech SportsCar Championship, SCCA, SCORE, Ultra4, Best in the Desert Racing Association and GNCC. For more information about the company or its locations in Greenville, SC, and San Diego, CA, visit www.jacksonmotorsportsgroup.com.