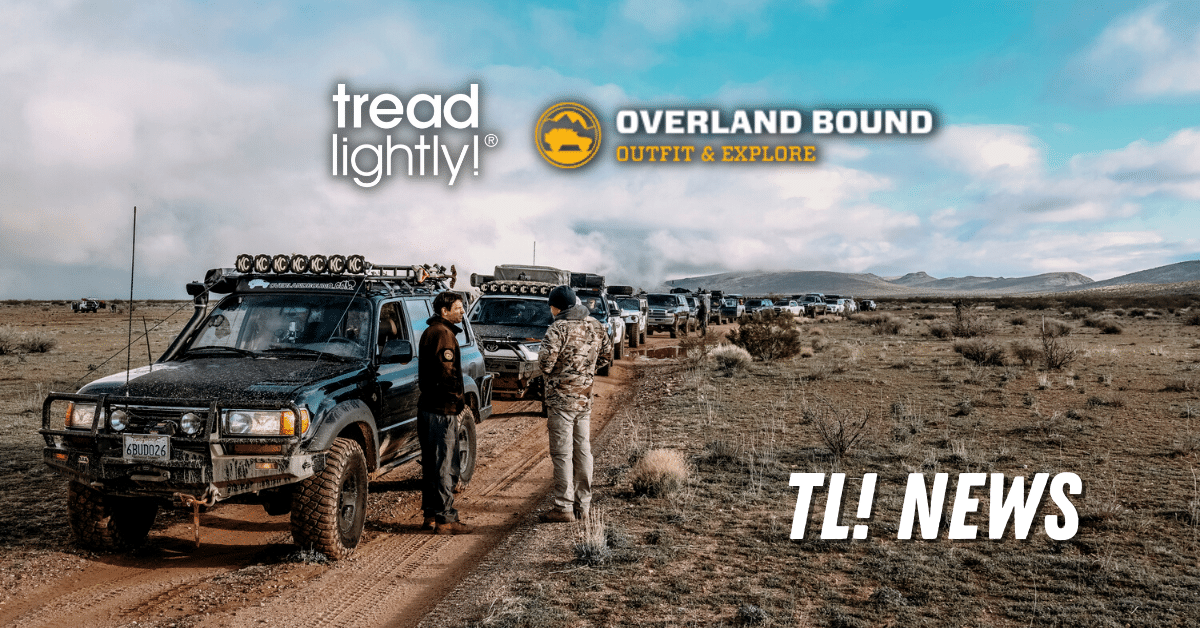 29 Jun
Tread Lightly! announces Overland Bound as newest Official Partner
NORTH SALT LAKE, UT. (June 29, 2022)— Tread Lightly!, a U.S.-based nonprofit dedicated to promoting responsible outdoor recreation through stewardship and educational programs today announced Overland Bound as its newest Official Partner.
As an Official Partner of Tread Lightly!, Overland Bound will support Tread Lightly!'s mission to protect off-road trail access and public lands through stewardship projects and responsible recreation education.
"Thank you to Overland Bound for supporting our mission through an Official Partnership," said Matt Caldwell, Executive Director of Tread Lightly!. "We are excited to work together to bring responsible off-roading and more opportunity for volunteers to do their part to support public lands."
Overland Bound is an all-in-one adventuring platform that functions as a global social network, trip planner, resource map, and navigation tool for explorers. Our mission is to improve people's lives one adventure at a time and make vehicle-dependent exploration as accessible and safe as possible.
"We love to bring overlanding enthusiasts together to share their adventures," said Kent Reynolds, Executive Director of Overland Bound "By partnering with Tread Lightly! we can also help share responsible recreation ethics and keep access to our public lands open and healthy, so the adventures continue."
For more information on Overland Bound visit www.overlandbound.com. To learn more about Tread Lightly! visit www.treadlightly.org.
About Tread Lightly!
Tread Lightly! is a national nonprofit organization with a mission to promote responsible recreation through stewardship programs and ethics education. Tread Lightly!'s educational message, along with its unique training and restoration initiatives are strategically designed to instill an ethic of responsibility in outdoor enthusiasts and the industries that serve them. The program is long-term in scope with a goal to balance the needs of the people who enjoy outdoor recreation with our need to maintain a healthy environment. Tread Lightly!'s award-winning materials, programs and services are solutions to some of the nation's most pressing recreation issues. Individuals and businesses can commit to Tread Lightly! and protect outdoor access by becoming a member at www.treadlightly.org.
About Overland Bound
Overland Bound is on a mission to improve lives one adventure at a time. We are a passionate team of overlanders and outdoor enthusiasts creating software solutions to support our global community. The Overland Bound One platform combines messaging, trip planner, resource map and navigation tools to help those who feel the call of the wild explore just a bit further down the trail. 
For more information contact:
Jerrica Archibald
jerrica@treadlightly.org
801-627-0077