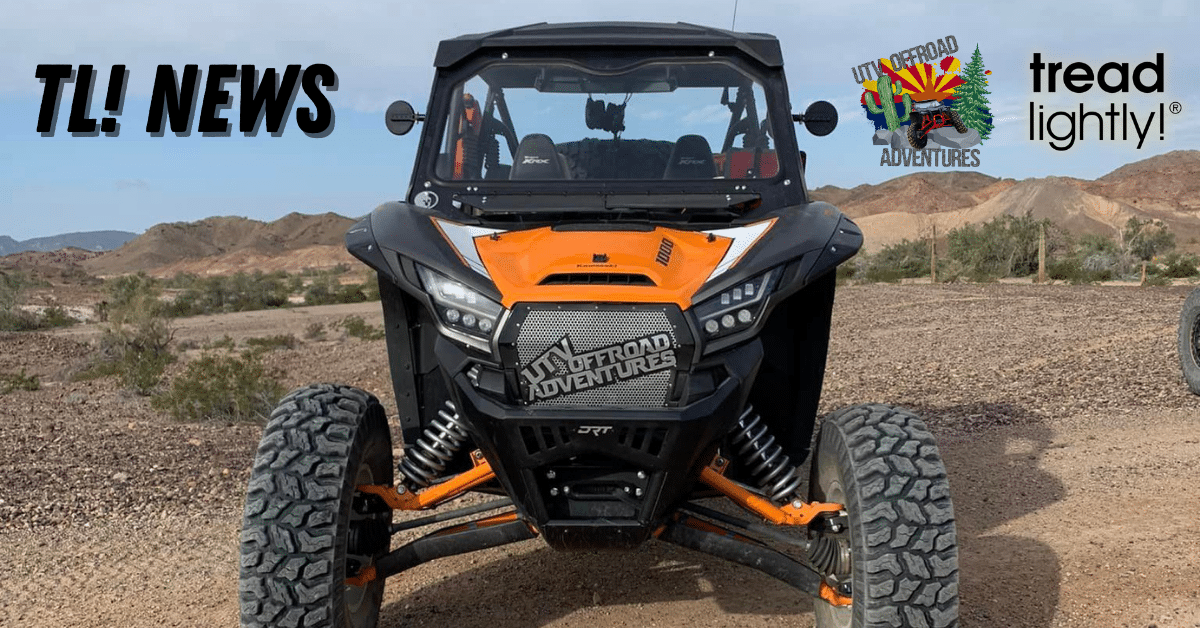 09 Mar
Tread Lightly! announces UTV Offroad Adventures as its newest Official Partner
NORTH SALT LAKE, UT. (Mar 09, 2023)— Tread Lightly!, a U.S.-based nonprofit dedicated to promoting responsible outdoor recreation through stewardship and educational programs, announced UTV Offroad Adventures its newest Official Partner.
As an Official Partner of Tread Lightly!, UTV Offroad Adventures will support Tread Lightly!'s mission to protect off-road trail access and public lands through stewardship projects and responsible recreation education.
"Thank you to UTV Offroad Adventures for helping us continue to Protect the Fun throughout Arizona," said Matt Caldwell, Executive Director of Tread Lightly!. "With their help, we can continue to keep our work of public lands stewardship and responsible riding education."
UTV Offroad Adventures offers panoramic, memorable guided tours of Arizona side-by-side and off-road trails for enthusiasts and beginners. Its events are guided, safe, designed for all age groups, educational and a great time.
"UTV Offroad Adventures is proud to announce that it will be partnering with Tread Lightly! on our events and future conservation efforts," said Kyle Krause, Owner of UTV Offroad Adventures. "UTV Offroad Adventures is not only about getting outdoors and seeing what Arizona has to offer but about education. We want to instill how to enjoy the great outdoors, have fun, be safe and do it responsibly so we protect the environment for future generations. The offroad SXS business is growing and the impact on our planet is great. If everyone learns to do their part, then we can ensure the offroad industry stays alive and active for all to enjoy. We at UTV Offroad Adventures are a strong believer in giving back to the community and each event will raise funding for local charities and will now be supporting Tread Lightly! through various events and activities. Stay tuned to see what we have in store for the future."

For more information on UTV Offroad Adventures, visit www.utvoffroadadventures.com. To learn more about Tread Lightly! Visit www.treadlightly.org.
About Tread Lightly!
Tread Lightly! Is a national nonprofit organization with a mission to promote responsible recreation through stewardship programs and ethics education. Tread Lightly!'s educational message, along with its unique training and restoration initiatives are strategically designed to instill an ethic of responsibility in outdoor enthusiasts and the industries that serve them. The program is long-term in scope with a goal to balance the needs of the people who enjoy outdoor recreation with our need to maintain a healthy environment. Tread Lightly!'s award-winning materials, programs and services are solutions to some of the nation's most pressing recreation issues. Individuals and businesses can commit to Tread Lightly! and protect outdoor access by becoming a member at www.treadlightly.org.
For more information contact:
Jerrica Archibald
jerrica@treadlightly.org
801-627-0077