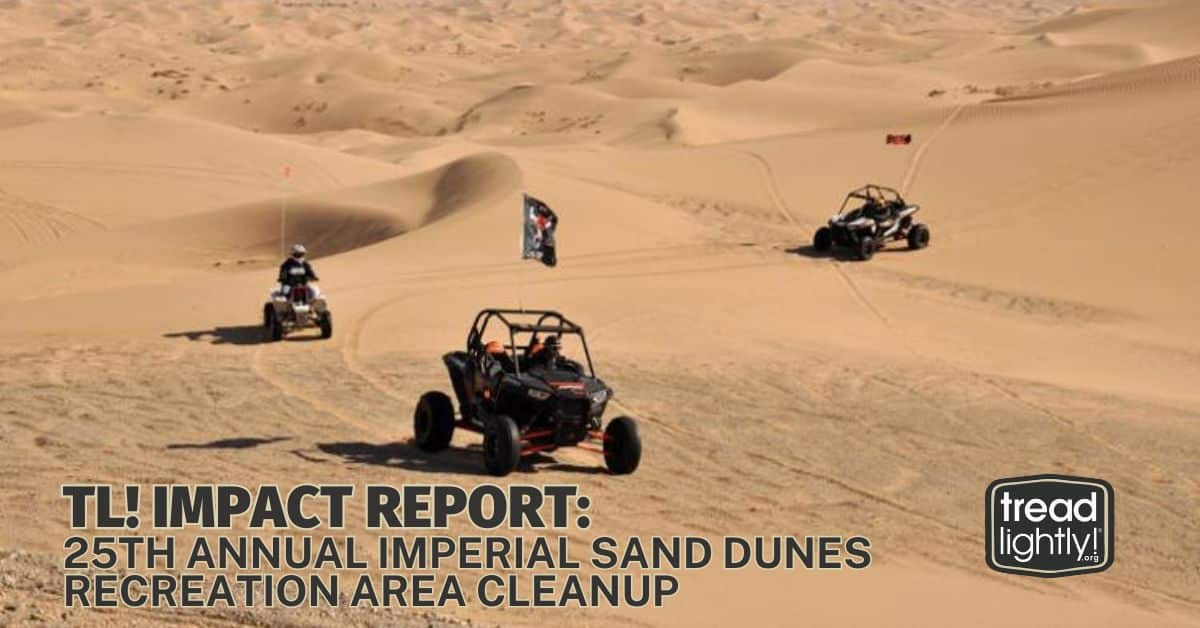 17 Jan

Tread Lightly! Impact Report: 25th Annual Imperial Sand Dunes Recreation Area Cleanup

Project: 25th Annual Imperial Sand Dunes Recreation Area Cleanup
Location: California

Description: The annual MLK Day Imperial Sand Dunes Recreation Area (ISDRA) Dunes Cleanup always draws a huge number of volunteers who want to do their part for the largest Dune Recreation Area in California, and the 2023 iteration was no exception.

On January 14th, nearly 500 volunteers met at 11 different staging locations to scour the dunes for trash. Several iconic dunes and areas that received help during the cleanup included Wash Road, Swing Set, Oldsmobile Hill and Buttercup. Over the course of four hours, volunteers collected 15 tons of trash. As a reward for their efforts, volunteers were treated to lunch and a raffle with a huge number of prizes.

Thank you to the partners who made this possible:
Republic Services
Coyne Powersports
Ace Hardware
De Anza Rescue Unit
Gilmore Offroad
LANDS
BLM
SDORC
ASA
Want to get involved in your own Tread Lightly! project? Find upcoming activities, events and grant opportunities at treadlightly.org.