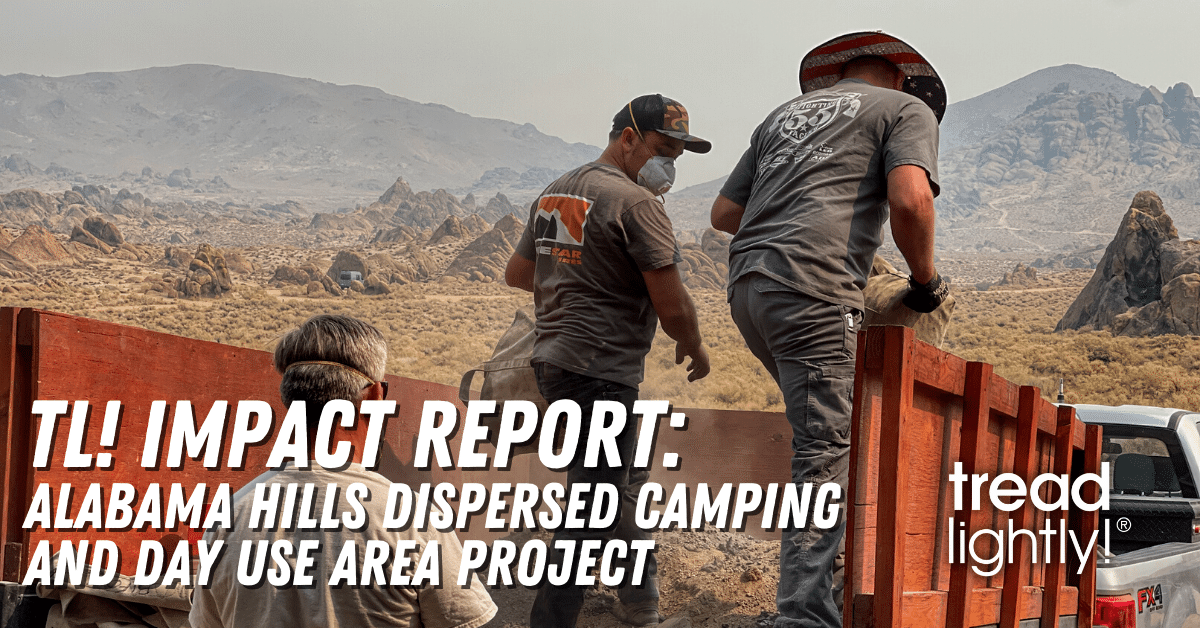 23 Sep

Tread Lightly Impact Report: Alabama Hills Dispersed Camping and Day Use Area Project

Project: Alabama Hills Dispersed Camping and Day Use Area Project
Location: Alabama Hills National Scenic Area, Bishop, California
Description: On September 16 and 17, 2021, Tread Lightly! the Bureau of Land Management Bishop Field Office partnered together to restore dispersed camping and improve day use areas.  Community volunteers, OHV enthusiasts and staff from Tread Lightly!, Milestar Tires, Stinger Off-Road, ESIA, and Project Heal the Land worked to improve this area. Together, over 50 fire rings and four tons of trash were cleared.  Removing these fire rings helped the BLM to delineate day-use areas from dispersed camping areas.

National Public Lands Day, celebrated this year on September 25, 2021, is a day dedicated to the stewardship of public land where volunteers gather across the country to restore and clean parks, forests and more. Tread Lightly! and its supporters hope this day helps motivate individuals and organizations to become engaged and commit to giving back to public lands.

Tread Lightly! would like to thank the partners and OHV enthusiasts, who worked on the Alabama Hills project, for their positive impact.
"Thank you Tread Lightly for this experience! What an amazing opportunity to work with other offroad enthusiasts, industry professionals, and government agencies all advocating for responsible public land access and use! The BLM staff were absolutely phenomenal people to work with and I can't wait to take part in this unique opportunity again. I recommend everyone reach out to Tread Lightly and get involved with some of these fun cleanup events!"

Jimmy Haughy, Fighting 55 Racing, Sonora Ca. Ultra4 Racing #55
"We are grateful for the opportunity to work on restoring well-trafficked public lands. To see the need that the Alabama Hills has for restoration really bolstered our justification to partner with Tread Lightly! Together, we were able to assemble a competent group of off-road enthusiasts and government employees that cleared over 50 illicit fire sites to improve day use in the area. Protecting public lands through meaningful work is where we are moving to at Milestar Tires and we are excited for what is to come in the future."

Martin Castro, Milestar Tires
"In just 2 days we were able to make a BIG difference that will hopefully last a long time. Nature gives us all so much and we should all return the favor. To be able to help cleanup such an iconic place was awesome. Looking forward to the next one."

Nathan Larsen, Stinger Off-Road Nor Cal/Nor NV Team
"Cleanups like this one in Alabama Hills are important to help keep trails, camping and day use open for all of us. It's not always enough to pack out your own trash when using the trails. I was glad to help out and improve a beautiful area that needed some extra TLC before the busy season hits. Tread Lightly and Milestar Tires coordinated a great event and awesome team that all jumped in to accomplish more work than expected."

Cory Elliott , OHV Enthusiast
"We have been involved in community service projects over the years, but nothing like this. It was fun. It was great to be outside giving back to the locals and hopefully providing an example for others who want to use the Alabama Hills in the future."

CA Community Volunteers
"This project exemplifies the vision of Tread Lightly! moving forward. Amazing projects are made possible when a great partner like Milestar Tires, amazing volunteers, land managers like BLM and Tread Lightly! come together with a clear plan and desire to do their part by giving back to public lands. The work that everyone working together was able to accomplish was incredible to watch and be a part of."

Matt Caldwell, Tread Lightly Executive Director
Want to get involved in your own Tread Lightly! project? Find upcoming activities, events and grant opportunities at treadlightly.org.