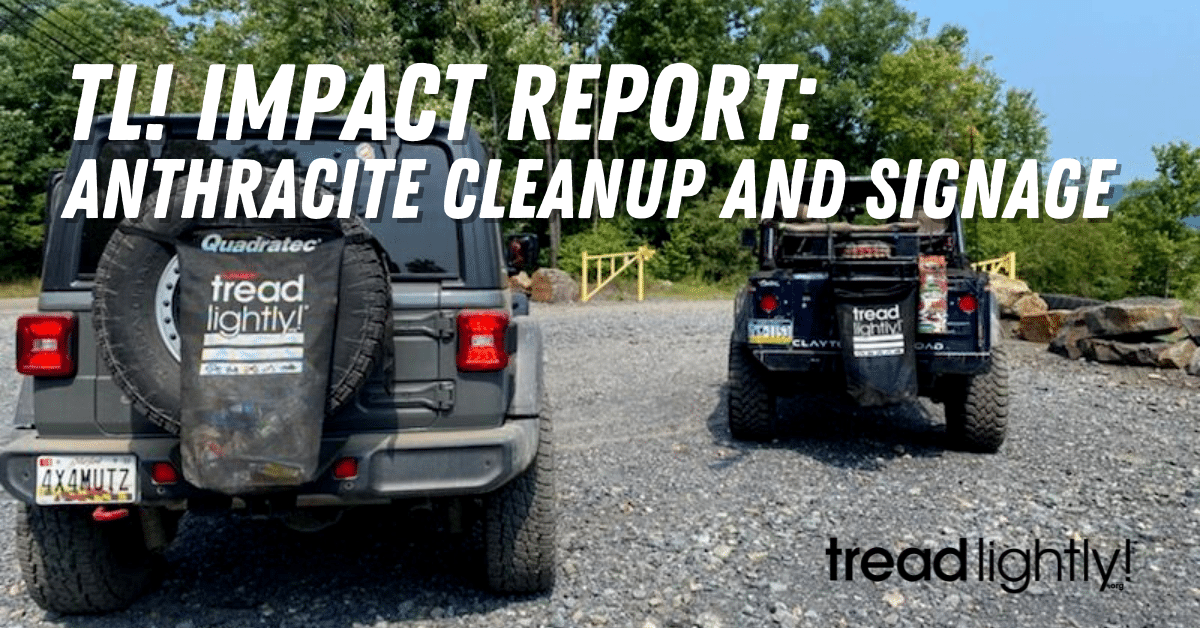 18 Aug

Tread Lightly Impact Report: Anthracite Outdoor Adventure Area Cleanup and Signage Installation

Project: Anthracite Outdoor Adventure Area Cleanup and Signage Installation
Location: Coal Township, PA

Description: From August 5-8, 2021, Tread Lightly! staff along with 7 dedicated TL! members worked with the staff at the Anthracite Outdoor Adventure Area in Pennsylvania to remove illegally dumped trash and install new trail ethics education signage. The volunteers removed over 500 lbs of trash, including 30 tires. Along with the trash removal, 20 new educational signs were installed throughout this premier off-roading destination to educate riders on how to Tread Lightly! and keep this area healthy. The TL! Team would like to Thank Dave Porzi, the AOAA staff, Quadratec, Go Fox Adventures, Ridgeback Guide Service, The Jeep Life Podcast, Off-Road Consulting for their on-site help and for being great examples of public land stewards and off-road educators.
"One of the most important things we can do as an off-road retailer is to give back to the trails that bring us and our customers so much enjoyment, we want future generations to be able to enjoy the outdoors just like we have been able to. Spending a few days out on the trails with the sole intention of leaving the trails better than we found them is something every off-road enthusiast should experience."

-Eric Ammerman, Quadratec
"I really love our home park at Anthracite Outdoor Adventure Area! It is the perfect place to participate in our awesome activity, but the site was property that was used by the general public for years. It is a massive property and is very well-maintained but years of abuse still leaves trash and debris off of the main trails. As a former Boy Scout, I always like to leave things better than I found them. By partnering with Quadratec and Tread Lightly!, we can really make an impact and set a good example for others to follow. I really want to protect the "great outdoors" for my daughter and others to enjoy for generations to come. We packed out over 6 full bags of trash and more than 20 tires. It is amazing what even a little effort can do!"

-Terry Pritchard, Jeep Life Podcast
"AOAA is a special place to a lot of us because of the access to terrain not available in public lands in Pennsylvania. Even though it is mostly reclaimed mining property, there is a massive amount of refuse left behind by generations of dumping before the gates went up. We can all do our part by packing out more trash than we create while we are there, but these more focused cleanup efforts are still needed to correct the misuse in the past."

-Scott Ammerman, Go Fox Adventures
Want to get involved in your own Tread Lightly! project? Find upcoming activities, events and grant opportunities at treadlightly.org.