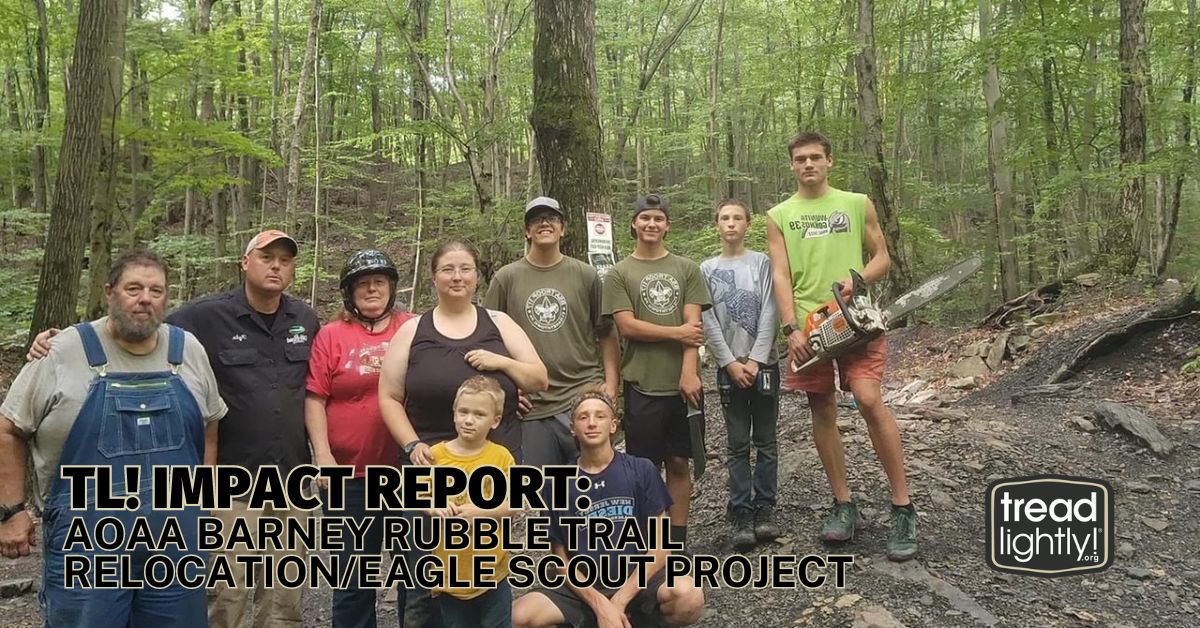 22 Sep

Tread Lightly! Impact Report: AOAA Barney Rubble Trail Relocation/Eagle Scout Project

Project: AOAA Barney Rubble Trail Relocation/Eagle Scout Project
Location: Pennsylvania

Description: On August 14, 2023, 14 volunteers gathered at the Anthracite Outdoor Adventure Area to support Trenton Kautz's Eagle Scout project. Trenton and the volunteers worked to protect a mountain stream at the base of the Barney Rubble Trail. They also cleaned up debris and installed educational signage informing trail users about the area being closed for re-naturalization purposes and the sensitive area. Volunteers used 600 linear feet of timber plus deadfall to create trail barriers to block off user created trails. They also removed 750 pounds of dumping debris and trash from the area, including old PVC water pipes used to collect spring water for buildings that no longer exist.

Thank you to the partners who made this possible:
Anthracite Outdoor Adventure Area
Off Road Consulting
Trenton Kautz
Boy Scout Troops 51 and 117
AWE Tuning
Colony Hardware
Milwaukee Tool
"This was a much-needed project to help clean up the trail usage up a stream. Trail riders have been driving up this stream instead of staying on the marked trails. This has led to erosion, contamination, and deconstruction of the natural area. This project repaired all of that and is going to really change the landscape. Trenton and his team did a great job and worked their butts off to get this done."-Kyle Buchter, Off Road Consulting
"The reason why I did the project was because I wanted to do more than just a bench like some other Eagle Scout projects. Benches may get used every once and a while. I wanted to do something that would have a longer effect and that had a deeper meaning."-Trenon Kautz, Scout
"Trenton and the other scouts did a great job building these barriers to keep people on the correct trail, and their contribution help nature heal the area over time and erase the damage that has happened to the resources in the area. As a fellow Eagle Scout, I was proud to assist Trenton for his Eagle project." Don Bray, Volunteer and Tread Lightly! Member
"Without the trails, what would we do? Maybe backgammon? The trails in the northeast – close to AWE HQ – are the literal arteries of this offroad community. Without Tread Lightly!, our world would be a lot smaller, and a lot less protected. AWE is pleased to support the Jeep Badge of Honor Trail, one of the northeast's crown jewels. We're honored to have participated in its rejuvenation." -Jesse Kramer, Vice President, Marketing, AWE-Tuning
Want to get involved in your own Tread Lightly! project? Find upcoming activities, events and grant opportunities at treadlightly.org.