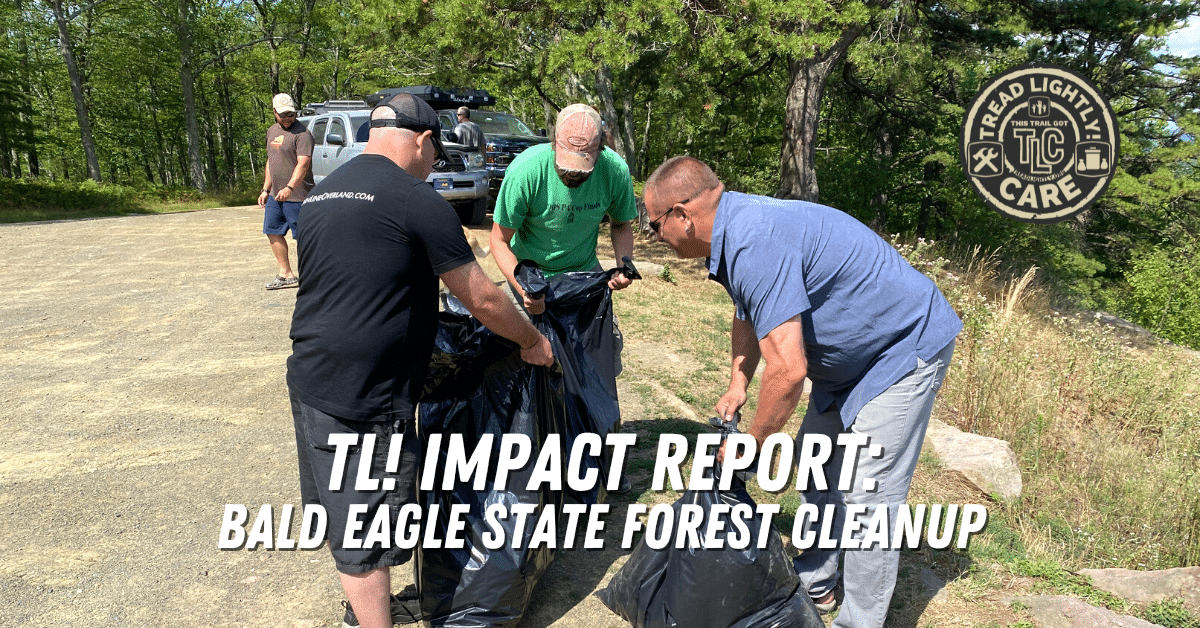 30 Aug

Tread Lightly! Impact Report: Bald Eagle State Forest Vista Cleanup

Description: On August 11, 2022, 11 volunteers removed 625 lbs of trash from the Bald Eagle State Forest in Howard, PA. Together, the volunteers improved 15 miles of trails in the forest. The project was in conjunction with the Mid Atlantic Overland Festival with special help from Main Line Overland.

Two vistas in the forest were the main sites of work. Volunteers not only removed trash from these areas, but four unauthorized firepits were also removed to help prevent potential wildfires in the area. It is estimated that wildfires in the state have doubled annually since 2019 with 99.8% of all wildfires in 2021 being human caused.

In addition to the fire pits, broken glass, illegal shooting trash, like empty casings, broken glass, cans, cigarette butts and other microtrash were removed.

Thank you to all of the partners that supported this project:
Main Line Overland
Go Fox Adventures
NE-OVEX
Ridgeback Guide Service

"The EPA and US Fire Administration estimates that fires can spread dramatically within 30 seconds. Ashes from an unattended / illegal fire in the woods can potentially spread so quickly that within five minutes the surrounding areas may be completely engulfed. It only takes a simple gust of wind to ignite the flammable materials such as papers or trash left behind in a fire pit, reigniting the flames again."- Ed Fermin, Director of NE-OVEX
"In the past two years alone, I have found more smoldering fires in campsites than I found in the rest of my lifetime combined. While the majority of those were in authorized campsites, they were far from safe. As Ed Fermin mentioned, an unexpected gust of wind can change the way an unprotected campfire behaves in an instant. In addition to making sure your campfire is in a safe place, with a fire ring made of rocks or other protection from wind, make sure it is fully extinguished before leaving camp."- Scott Ammerman, COO of Go Fox Adventures
"If you see an unauthorized fire pit in the backcountry, the best thing to do is completely remove its existence. Scattering the rocks is a good first step, but since this makes the situation even more dangerous if someone were to start another fire- removing the burned wood, extinguished coals, carbon and ash is the best thing you can do. To keep it from being a fire pit again, make sure it doesn't look like a fire pit."- Ron Harrington, Owner/Head Guide of Ridgeback Guide Service
"The recent fire in New Jersey's Wharton State Forest consumed more than 13000 acres and was caused by an illegal campfire. This underlines the importance of both education and outdoor enthusiasts speaking up to correct those less aware of the potential impact of their actions. The deterrent of removing unauthorized fire pits on vista cleanups like this one is another way for volunteers to do something positive to help protect our forests and access to them."- Dave Barker, cleanup participant and Tread Lightly! member
Want to get involved in your own project? Apply for a grant or check out the other projects at treadlightly.org.