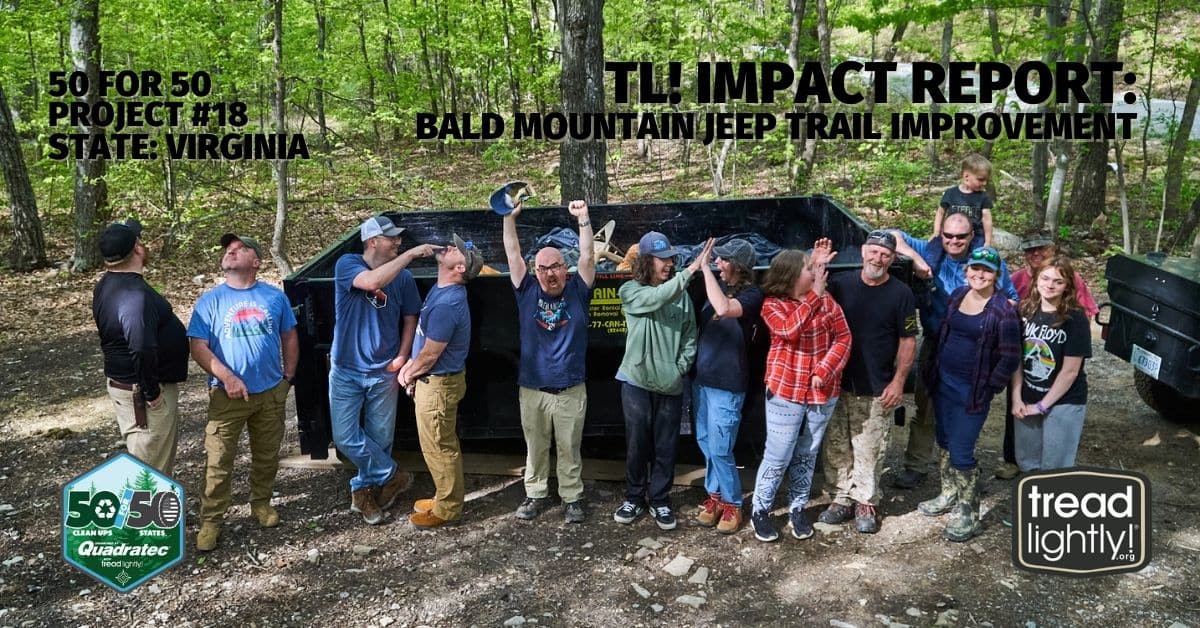 28 Jun

Tread Lightly! Impact Report: Bald Mountain Jeep Trail Improvement
Project: Bald Mountain Jeep Trail Improvement
Project #18/50
State: Virginia
Description: This project was funded by the Quadratec 50 for 50 Initiative. Together with Tread Lightly!, Quadratec has committed to fund a project to improve off-road trails and public lands in each state by December 2023.
On April 29, 2023, 52 volunteers from the Virginia Four Wheel Drive Association gathered for its annual stewardship project on the Bald Mountain Jeep Trail. In total 2,100 pounds of trash were removed from the Bald Mountain area, improving 22 miles of trail. Volunteers also worked to remove nails from trees, clean up campsites, clear drainage channels to prevent trails from flooding, and cleared and re-naturalized seven unauthorized fire rings to prevent wildfire.
To get a full play-by-play of the awesome work done by the V4WDA, check out this blog from East Coast Overland Adventures.
Thank you to the partners who made this possible:
Quadratec
USFS Glenwood-Pedlar Ranger District
George Washington and Jefferson National Forests
Virginia Four-Wheel Drive Association
Go Fox Adventures
Ridgeback Guide Service
East Coast Overland Adventures
Midland Radio
"The VA4WDA has been doing work in the GWNF for a couple of decades now. It started when a previous Land Use Coordinator approached the BOD about adopting a trail when that program first came about. He was able to maintain a great relationship with each of the Rangers in their districts and we asked each year what we could do for them to make OHV access better. We moved the event to April so it coincided with Earth Day about 12 years ago. We reach out to the different districts each year and ask if they want our help. Whichever district answers back first, we start planning. Since 2014 we have alternated between the North River and Glenwood-Pedlar Districts.
Our efforts create a sense of accomplishment for our volunteers, an amazing relationship with the Ranger staff, and provides better access to all trail users. Our goal is to keep public land accessible to all. The tasks performed include litter removal, repairing /installing signage, trimming brush and limbs from the trail path, and simple irrigation to prevent trail erosion and drain larger holes within the trail.
Our volunteers find some pretty interesting items on the trails -machetes, knives, clothes, compasses, cans of vegetables, lot of vehicle parts, lots of broken glass, mattresses, appliances, and other items that we cannot mention to keep this a family show."-Sandy Schneirla, VA4WDA, Vice President
"The collaboration between Tread Lightly!, the Quadratec 50 for 50 Initiative and local off road clubs is essential in identifying clean up and trail maintenance projects. Together we can work to keep motorized recreation sustainable and open for future generations to enjoy. Thank you to Virginia Four Wheel Drive Association for the collaboration and hard work on the trails."-Ron Harrington II, Tread Lightly! Ambassador of the Year 2022
"Immensely thankful for yet another opportunity with Tread Lightly's Scott Ammerman and Ambassador of the Year, Ron Harrington, to spread the word and clean up perhaps Virginia's most iconic trail, Bald Mountain Jeep Trail. This trail is my local favorite given the fun terrain and abundant hiking and camping nearby, so taking care of it is critical. Thanks to the dozens of volunteers that showed up, a massive amount of trash was removed and effective drains were dug out to reduce future wear and tear. Looking forward to the next project!"-Casey Arnold, Tread Lightly! Ambassador Member
Want to get involved in your own Tread Lightly! project? Find upcoming activities, events and grant opportunities at treadlightly.org.