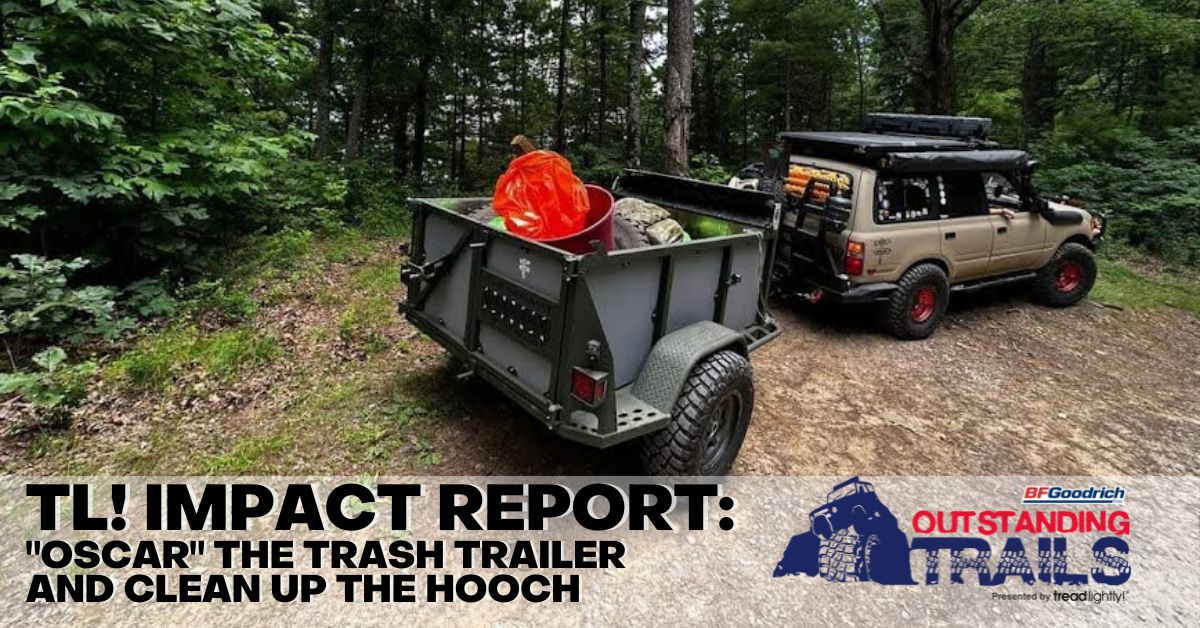 07 Aug

Tread Lightly Impact Report: BFGoodrich® Tires Outstanding Trails: "Oscar" the Trash Trailer and Clean up the Hooch

Project: "Oscar" the Trash Trailer and Clean up the Hooch
Location: Georgia

Description: This project was funded by a BFGoodrich® Tires Outstanding Trails grant awarded by Tread Lightly! Each year the Outstanding Trails program provides opportunities for off-roading clubs across America to nominate trails to receive grants for education and preservation. Since 2006, BFGoodrich has awarded more than $200,000 in grants to support organizations dedicated to conserving off-road trails. Past grant recipients have installed educational signage, improved infrastructure, and repaired local off-roading trails.

On July 8, 57 volunteers from Venture Unknown cleaned up 14 miles of trails and campsites along the Chattahoochee River, removing 3,056 pounds of trash.

Throughout the project day, Venture Unknown demonstrated to new volunteers what it means to Tread Lightly! when on public lands and how important it is to pack out what you pack in to help keep nature beautiful and trails open.  This was the first official cleanup project for "Oscar," Venture Unknown's trail Trash and Remediation Trailer. Oscar was built for extreme trail cleanups and repairs in locations where it is difficult to get lesser-built rented trailers.  Oscar has been a dream of Venture Unknown for a while and became possible largely through funding provided by the BFGoodrich Tires Outstanding Trails grant funding, trailer tires from BFGoodrich Tires, along with many others who helped make the trailer build possible through parts and fabrication.  You can follow the adventures of Oscar and the build details here. 

Thank you to the partners that made this possible:
BFGoodrich Tires Outstanding Trails
Venture Unknown Foundation
US Forest Service Chattooga River District
Trash Bandits of Georgia
"Everyone was very happy and felt accomplished with the amount of trash we removed in one day and to be able to drive back through and not see any trash on the trail." – Ben Skinner, Venture Unknown Coordinator
"Clean up the Hooch was a huge success and an example of how companies like BFGoodrich Tires, Federal agencies like USFS, and organizations like Venture Unknown Foundation can come together for the common cause to return beauty to our Forest Service Roads. This effort was largely made possible by having Oscar the trash trailer as a tool to help remove so much trash. Special thanks to Tread Lightly! and the BFGoodrich Tires Outstanding Trails grant for kick-starting Project Oscar. 3,056lbs removed and we are just getting started. If ever in Helen, GA, take a ride up Chattahoochee River Rd, it's a bit nicer thanks to some really amazing folks." – Sean Clark Lead Trail Guide / Event Planner @ Venture Unknown
"Through the tremendous efforts and coordination of Venture Unknown volunteers and the U.S. Forest Service, this clean up event allowed over 50 volunteers and U.S. Forest Service staff to remove over 3,000 pounds of debris and litter off of the Chattahoochee-Oconee National Forest within the Chattahoochee River roadways in Georgia. This immense effort has allowed the area to be improved visually and was a much needed cleanup for the overall health of the forest. It was quite an accomplishment to see such a devoted group of volunteers and agency staff come together to improve the land." – Sara Michelson, U.S. Forest Service, Chattooga River Ranger District
Want to get involved in your own Tread Lightly! project? Find upcoming activities, events and grant opportunities at treadlightly.org.