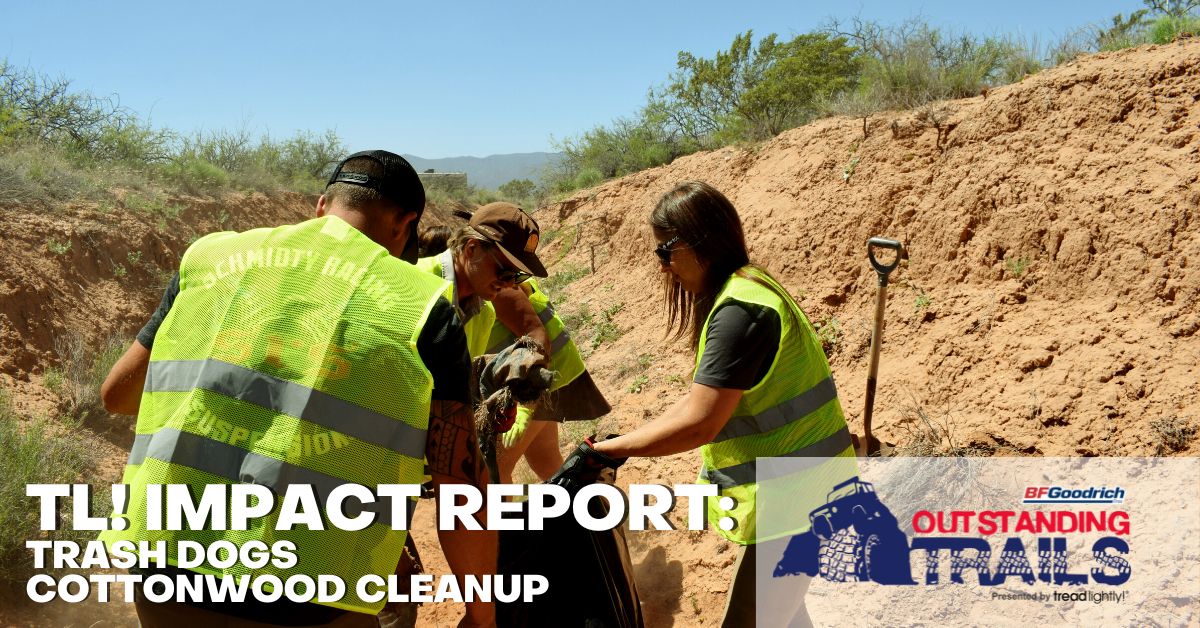 23 May

Tread Lightly Impact Report: BFGoodrich® Tires Outstanding Trails: Trash Dogs Cottonwood Cleanup

Project: Trash Dogs Cottonwood Cleanup
Location: Arizona

Description: This project was funded by a BFGoodrich Tires Outstanding Trails grant awarded by Tread Lightly! Each year the BFGoodrich Tires Outstanding Trails program provides opportunities for off-roading clubs across America to nominate trails to receive grants for education and preservation. Since 2006, BFGoodrich Tires has awarded more than $200,000 in grants to support organizations dedicated to conserving off-road trails. Past grant recipients have installed educational signage, improved infrastructure, and repaired local off-roading trails. 


On April 28, 2023, 15 volunteers gathered to cleanup recreation sites in Cottonwood, Arizona. Together, volunteers removed over 2,200 pounds of trash from Bill Gray road. This cleanup was part of a year-plus project to keep this area clean and litter-free by Trash Dogs, an Arizona non-profit with a mission to help clean up off-road, hiking, highways, and other roads/trail systems which have been polluted through the numerous ways of littering. Trash Dogs educates all volunteers on proper ways to clean up, enjoy, and respect National Forest and BLM land to continue to work towards a sustainable future. In total, Trash Dogs have removed an estimated 17,400 pounds of trash from the area since March 2022 and plan to continue to maintain and improve this area.


Thank you to the partners that made this possible:

"From start to finish, the organized trail cleanup on April 28th, 2023 was a huge success and couldn't be accomplished without Vortex ATV Rental, Tread Lightly!, BFGoodrich Tires Outstanding Trails Foundation, Natural Grocers, and Devil Dog Dumpsters. Thank you to all of our sponsors that support our efforts at Trash Dogs Inc."-Nate Collie, Trash Dogs

"I really enjoy being able to contribute to improving our trails with Tread Lightly! and Trash Dogs. Since I am an off-road enthusiast, it's rewarding to be able to give back and keep our trails open and beautiful for present and future generations enjoy."-Shane Marks, volunteer

Want to get involved in your own Tread Lightly! project? Find upcoming activities, events and grant opportunities at treadlightly.org.