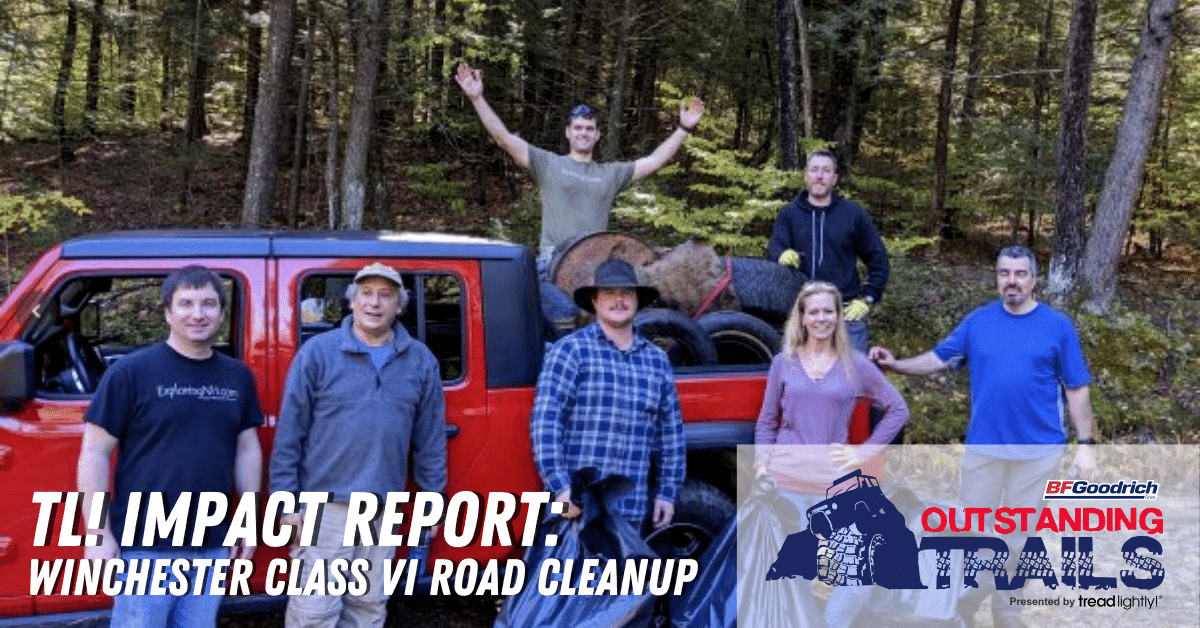 14 Nov

Tread Lightly Impact Report: BFGoodrich Tires Outstanding Trails: Winchester New Hampshire Class VI Road Cleanup

Project: BFGoodrich Tires Outstanding Trails: Winchester New Hampshire Class VI Road Cleanup
Location: New Hampshire

Description: This project was funded by a 2022 BFGoodrich Outstanding Trails grant awarded by Tread Lightly! Each year the Outstanding Trails program provides opportunities for off-roading clubs across America to nominate trails to receive grants for education and preservation. Since 2006, BFGoodrich has awarded more than $200,000 in grants to support organizations dedicated to conserving off-road trails. Past grant recipients have installed educational signage, improved infrastructure, and repaired local off-roading trails. 


On October 15, 2022, volunteers from ExploringNH, a 4×4 and outdoor recreation group, spent the day cleaning trash along Class VI roads in town. The project was funded by BFGoodrich Tires Outstanding Trails program and Tread Lightly!, with the intent to promote land conservation and responsible outdoor recreation.


In total, the cleanup removed approximately 2,300 lbs of trash from the roads, including: 37 tires of various sizes, 2 lawn mowers, 5 mattresses, 25 full (42) gallon contractor trash bags, and various other large items. Utilizing years of 4×4 experience and various tools and techniques, the volunteers were able to help remove larger trash items safely and efficiently, and ultimately help improve approximately 3 miles of scenic Class VI roads in the area and keep the trash out of nearby streams and ponds.


Thank you to all the volunteers for their time and effort, and to the Winchester Select Board and the Town of Winchester for their help and coordination to make this a successful event. Do your part and help keep Winchester clean and beautiful for all to enjoy.


"I participated in the cleanup and the group of ExploringNH members went above and beyond to clean up the Winchester Class VI roads. We had tons of trash, alcohol containers of all kinds, mattresses, lawn mowers, wheels, fence pieces, screen windows and much more. It took trash bags, rope, winches, trucks and brute force to get just a few roads clean. We made multiple trips to the transfer station and the tally came close to or over the allotted budget. None of this would've been possible without the assistance of Tread Lightly and BF Goodrich. The assistance provided by both groups coupled with the effort of John Gayton and the ExploringNH community shows that we care."-Paul Oulette, ExploringNH

"For me, this was a fun and impactful project to put together, and it makes me excited to get out there and try and do more, particularly in New England. I've enjoyed getting to work with Tread Lightly! and the various other towns and groups along the way, and I think we can make a greater impact that shows all groups and types of people care about nature and their favorite outdoor activities. I am looking forward to doing more in the coming years to do my part."-John Gayton, ExploringNH

"I always pick up garbage when we go off-roading in the Jeep, but we went down a few roads and we were horrified at how many tires, mattresses, lawnmowers, bags of trash and more! We decided to log those roads, so we could rally some of our peeps to go on these runs and pick it all up. We found out that someone has gotten in touch with Tread Lightly! so we collaborated on the roads we located and others to gather it all. We found much more than anticipated! So many beer cans everywhere. We all road through the woods with the beautiful Fall foliage and rallied together with smiles and fun collecting all that we could & load up pickup trucks. It was mentioned often, "How can people do such a thing? There is still so much left after we worked all day!" I said, "Sadly, not everyone cares about the woods and treads lightly on the roads like we do. All we can do is come together with smiles and make this one corner of the world beautiful right now."-Jennie Ankney, ExploringNH

"What a great bunch of enthusiastic people to have on such an ambitious cleanup project. We had a whole lot of fun and removed a whole lot of trash. It's definitely one to feel good about. Talk about leaving things better than we found them. I really appreciate all the help, from the grant to the people with their sleeves rolled up and I'm sure all who frequent these woods are now appreciating the environment as it should be. Great work everyone!"-John Shea, ExlporingNH

Want to get involved in your own Tread Lightly! project? Find upcoming activities, events and grant opportunities at treadlightly.org.