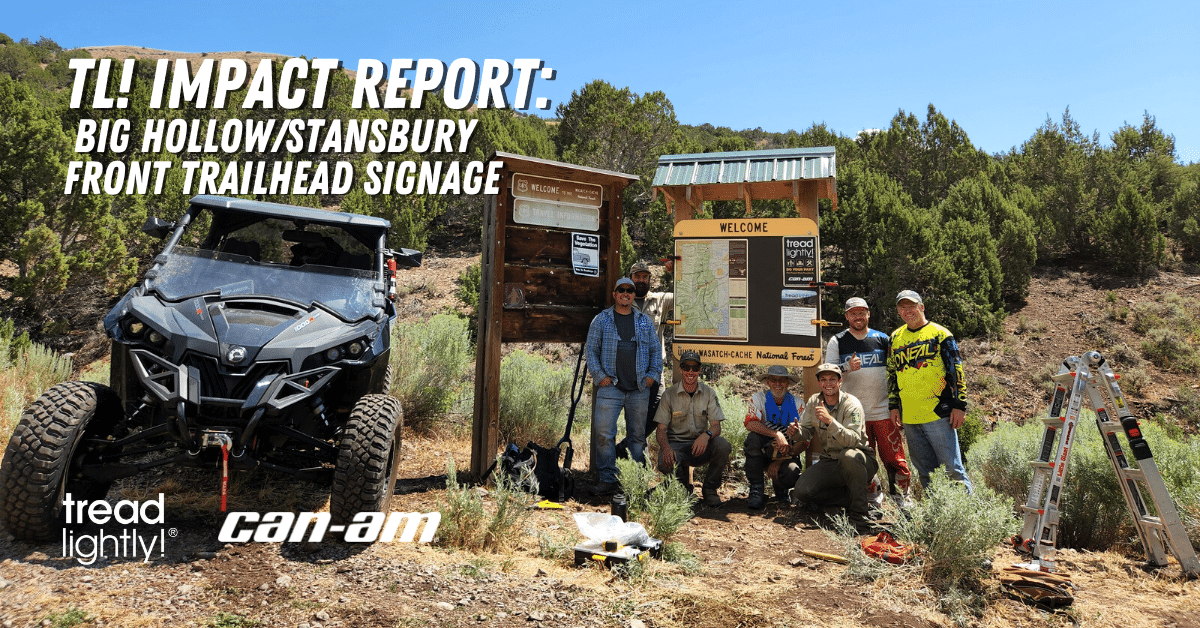 24 Oct
Tread Lightly! Impact Report: Big Hollow/Stansbury Front Trailhead Signage
Project # 2 of 12
Project: Can-Am Big Hollow/ Stansbury Front Trailhead Signage
Location: Utah
Description: This project was funded by Can-Am Off-Road. Can-Am has committed to funding twelve trail stewardship projects in the state of Utah in partnership with Tread Lightly! to help maintain and improve access to public lands and off-road trails.
On July 30, 2022, six volunteers from the community worked with Tread Lightly!, the United States Forest Service and the Desert Fox Motorcycle Club to install a new kiosk and signage at the Big Hollow entrance to the Stansbury Front Singletrack riding complex. This new kiosk signage included a new map and Tread Lightly! rider ethics messaging. With the growth in motorized recreation, it's important that we continue to educate all users on how you can "Do Your Part" to keep trails open and accessible for years to come. In addition to the signage work, the volunteers also helped repair a washout on Stansbury Front Trail.
Thank you to all of the partners that supported this project:
Can-Am Off-Road
US Forest Service, Salt Lake Ranger District
Desert Fox Motorcycle Club
"No matter what the project or where it is, I'm always amazed and incredibly appreciative to have volunteers from the motorized recreation community come out and give of their time to support public lands. This is what makes the off-road community so special."
-Evan Robins, National Stewardship Manager, Tread Lightly!