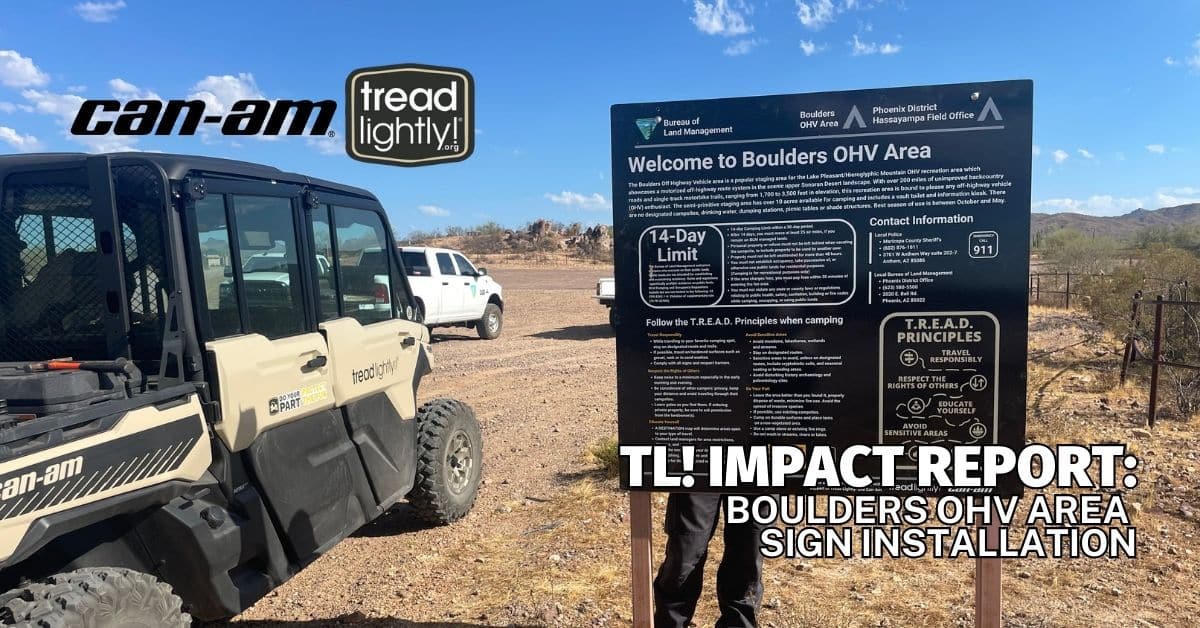 15 Sep

Tread Lightly! Impact Report: Boulders OHV Sign Installation

Project: Boulders OHV Sign Installation
Location: Arizona

Description: This project was funded by Can-Am Off-Road. Can-Am has committed to funding trail stewardship projects in partnership with Tread Lightly! to help maintain and improve access to public lands and off-road trails.

On August 29, 2023 the Tread Lightly! team worked to improve the Boulders OHV area, a popular staging area for the Lake Pleasant/Hieroglyphic Mountain OHV recreation area which showcases a motorized off-highway route system in the scenic Upper Sonoran desert landscape. In total, four signs were updated in different locations to help educate trail riders on responsible use to help protect the area. The signs relayed information about the area's 14-day camping limit, fire bans and historical location information. In total, five miles of motorized trail were improved.

"Updated kiosks at the Boulder OHV Staging Area are a welcomed sight for the nearly 35,000 visitors who recreate in the area. TL! tips on OHV ethics, camping, and general recreation increase visitor knowledge as well as increase the overall visitor experience."-Chris Gammage, Bureau of Land Management Outdoor Recreation Planner

Thank you to the partners who made this possible:
Can- Am
Bureau of Land Management

Want to get involved in your own Tread Lightly! project? Find upcoming activities, events and grant opportunities at treadlightly.org.