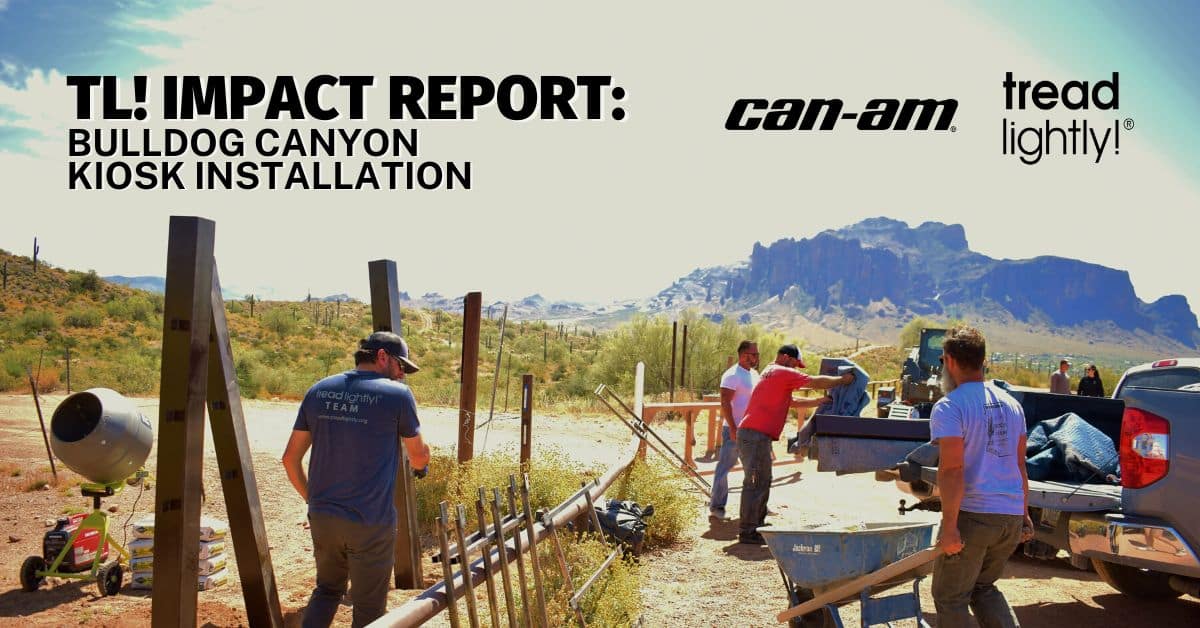 24 May

Tread Lightly! Impact Report: Bulldog Canyon Kiosk Installation

Project: Bulldog Canyon Kiosk Installation
Location: Arizona

Description: This project was funded by Can-Am Off-Road. Can-Am has committed to funding trail stewardship projects in partnership with Tread Lightly! to help maintain and improve access to public lands and off-road trails.

On May 1, 2023, 12 volunteers installed three kiosks and educational signage at the Hackamore, Wolverine and Dutchman OHV staging areas in the Bulldog Canyon OHV Area in Arizona. The signage included up-to-date OHV trail maps, camping information, permit information and responsible recreation educational messaging to help trail users. One of the kiosks was generously donated by Arizona Plasma. Special thank you to the Tonto Recreation Alliance (TRAL) for providing up to date OHV maps and being a thought partner on this project.

Thank you to the partners who made this possible:
Can-Am Offroad
US Forest Service
Tonto Recreation Alliance
Arizona Plasma
"It's a privilege to be working with Tread Lightly! and TRAL. We are excited to see the positive ways we can work together to improve OHV trails." Katie Hansen, Arizona Plasma
"The Mesa Ranger District is extremely excited to have such a successful install of new information kiosks at the Willow, Dutchman, Hackamore, and Wolverine access gates to the Bulldog Canyon OHV Area. We couldn't have done it without our partners and volunteers, and we know our visitors will appreciate these beautiful new signs!"-Kelly Araiza, Mesa Ranger District USFS Want to get involved in your own Tread Lightly!