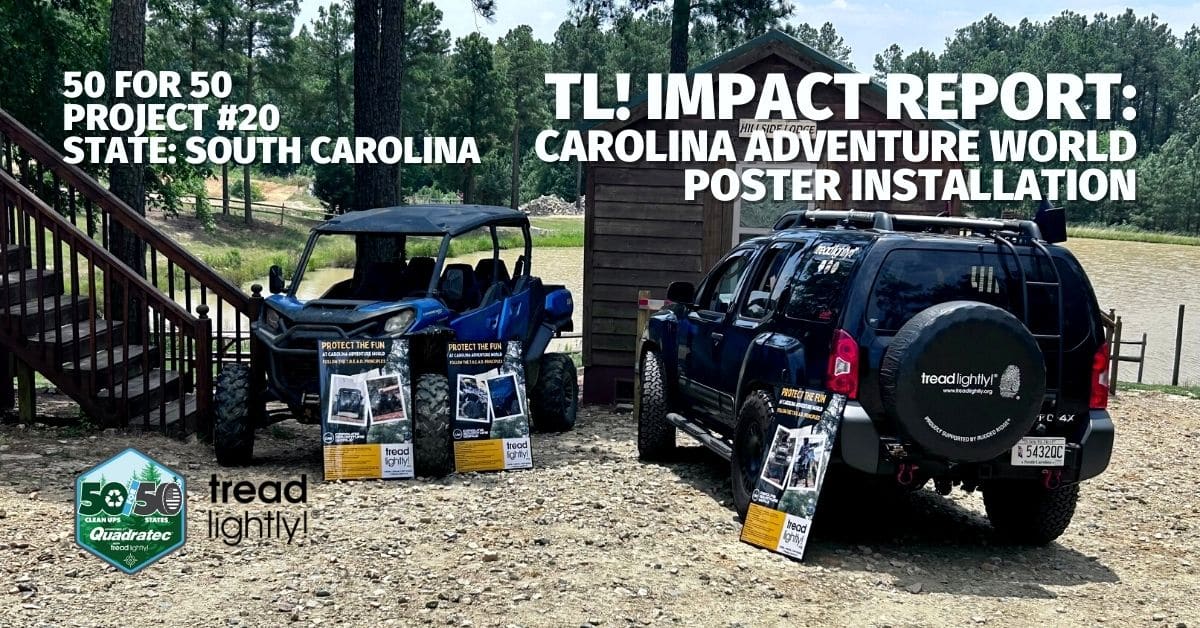 31 May

Tread Lightly! Impact Report: Carolina Adventure World Poster Installation

Project: Carolina Adventure World Poster Installation
Project #20/50
State: South Carolina

Description: This project was funded by the Quadratec 50 for 50 Initiative. Together with Tread Lightly!, Quadratec has committed to fund a project to improve off-road trails and public lands in each state by December 2023.

Carolina Adventure World is a private land OHV park with 100 miles of ATV, UTV and dirt bike trails covering 2,600 acres in Winnsboro, SC. To help promote responsible and ethical off-road behavior, Carolina Adventure World, in conjunction with Tread Lightly! and Quadratec installed 22 posters within all camping structures that encourage park riders to "Protect the Fun at Carolina Adventure World by following the Tread Lightly! T.R.E.A.D. principles."

Posters were installed in 19 cabins, a bathhouse, and a yurt gathering tent. Three different poster visuals were incorporated showcasing ATV/Motorcycle, ATV/UTV, and UTV/Jeep images, to represent the multiple kinds of off-road recreation that Carolina Adventure Worlds offers riders.

Thank you to the partners who made this possible:
Quadratec
Carolina Adventure World
"A heartfelt thank you to Tread Lightly! and Quadratec for their invaluable commitment and support in promoting ethical off-road behavior. Their support has been, and will continue to be, instrumental in fostering responsible and sustainable practices, paving the way for future generations of adventurers." – Jenny Eickmeyer, Southern Entertainment
"Thank you to Quadratec and Carolina Adventure World for helping us educate riders at the park. Public motorized recreation areas are not as common in the Southeast as they are out West, therefore it is as important to ride responsibly on private land as public lands to keep these areas open, well-maintained, and healthy."-Lowell Eckart, Southeast Program Manager for Tread Lightly!
Want to get involved in your own Tread Lightly! project? Find upcoming activities, events and grant opportunities at treadlightly.org.