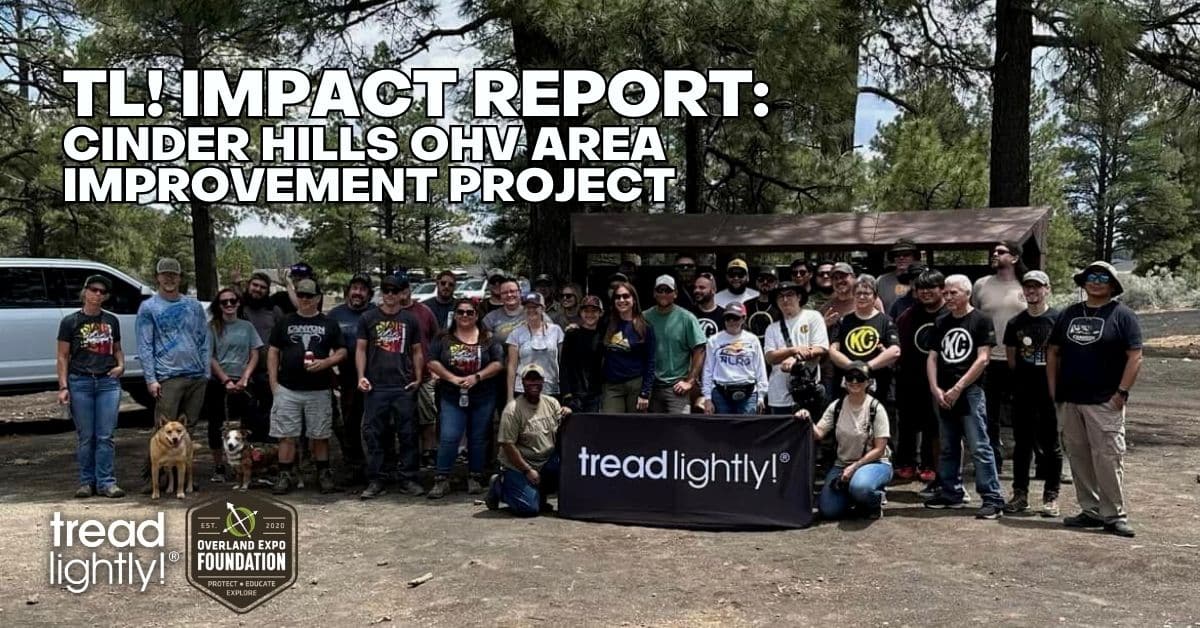 06 Jun

Tread Lightly! Impact Report: Cinder Hills OHV Area Improvement Project

Project: Cinder Hills OHV Area Improvement Project
Location: Coconino National Forest, Arizona

Description: The Cinder Hills OHV Restoration and Cleanup project is one of four Tread Lightly! stewardship projects funded by the Overland Expo Foundation in conjunction with Overland Expo events in 2023. The Overland Expo Foundation is dedicated to creating partnerships with people and organizations that protect and promote the interests of the overlanders, helping provide education and expert resources that enrich the community, and encouraging responsible 4x vehicle- and motorcycle-based exploration of our world.

On May 18, 2023, 85 volunteers gathered to cleanup and improve the Cinder Hills OHV Area in the Coconino National Forest. This event kicked off the 2023 Overland Expo West event in Flagstaff, Arizona. This was a multi-faceted project that included signage installation, the removal of old signage, brush removal and trash cleanup. Together volunteers removed 2,000 pounds of trash, improving the 13,500 acre area. Volunteers also removed dry brush and tumbleweeds from the area which acted as a potential fire hazard. Finally, volunteers replaced old signage and outdated trail markers with up-to-date, new signage and educational kiosks.

This is the second project in the Cinder Hills Area supported by the Overland Expo Foundation. In 2022, 26 volunteers joined in for the project. Thank you to the large number of volunteers and industry partners who showed up to grow and support this event in 2023, including KC HiLites, DMOS Shovels and Canyon Coolers who donated gifts and raffle items to thank our volunteers.

Thank you to the following partners for their support:
Overland Expo Foundation
KC HiLites
Canyon Cooler
DMOS Shovels
AZ Plasma
Drone30
AZ 4Runner Outsiders
US Forest Service
Matt Olson Construction
"Over the last two years the Coconino National Forest, Flagstaff Ranger District, has partnered with Tread Lightly! to help update visitor information and organize volunteer events in the Cinder Hills OHV Area. Most recently Tread Lightly! was able to recruit over 50 volunteers to attend a workday in the Cinder Hills. Work largely consisted of the removal of what turned out to be just under 1 ton of trash. Volunteers also removed old and out of date signage, addressed community concerns regarding built up vegetation along boundary fences to reduce the threat of fire, and installed new information panels at three locations. The panels that were installed were designed by Tread Lightly! in a larger effort to have consistent messaging about responsible use of public lands throughout the state. The Tread Lightly! folks always bring a positive and professional attitude towards their projects, and it has been inspiring to see the dedication to their work. We look forward to more projects with Michelle and the Tread Lightly! team!"-Matt Sommer, Volunteer Coordinator, Coconino National Forest
"It was amazing to see firsthand the impact the partnership between the Overland Expo Foundation and Tread Lightly! had on the Cinder Hills OHV area. I couldn't believe how many overlanders came out to help clean up the trails and replace informational signs. It was a group effort that will make an impact on the area for years to come."- Rachael Elseman, Overland Expo Foundation
Want to get involved in your own Tread Lightly! project? Find upcoming activities, events and grant opportunities at treadlightly.org.