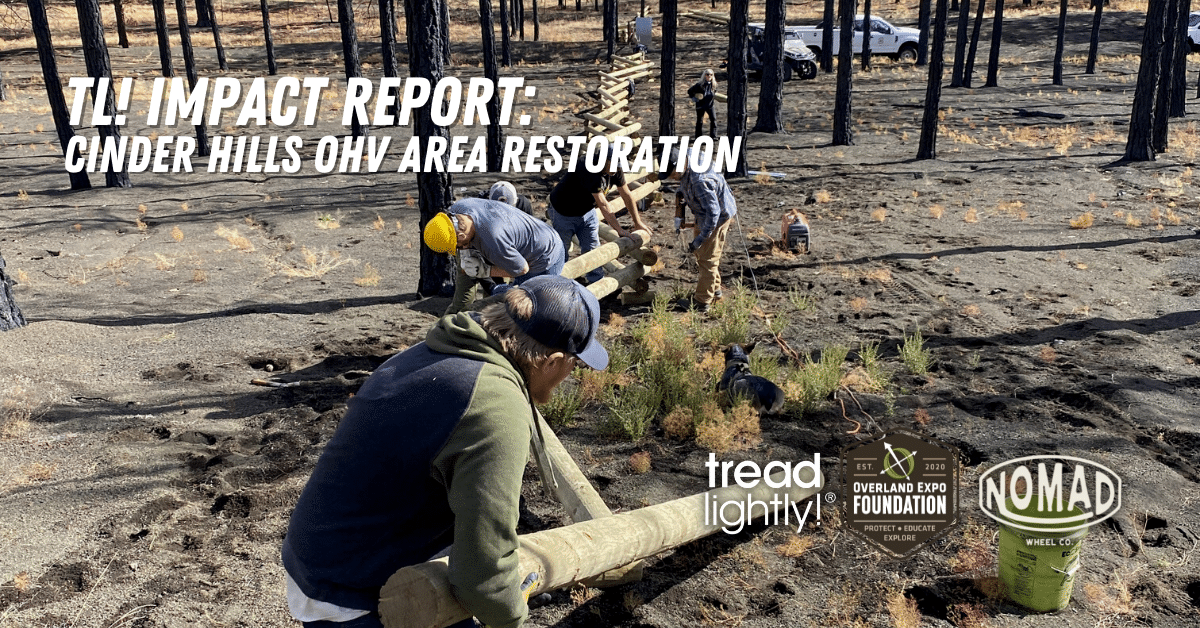 10 Nov
Tread Lightly! Impact Report: Cinder Hills OHV Area Restoration and Cleanup Project
Project: Cinder Hills OHV Area Restoration and Cleanup Project
Location: Coconino National Forest, Arizona
Description: The Cinder Hills OHV Restoration and Cleanup project is one of four Tread Lightly! stewardship projects funded by the Overland Expo Foundation and Nomad Wheels in conjunction with Overland Expo events. The Overland Expo Foundation is dedicated to creating partnerships with people and organizations that protect and promote the interests of the overlanders, helping provide education and expert resources that enrich the community, and encouraging responsible 4x vehicle- and motorcycle-based exploration of our world.
On November 5, 2022, 26 volunteers worked to restore and clean up the Cinder Hills OHV Area in the Coconino National Forest. Together the volunteers replaced fencing damaged by recent wildfires and cleaned up trash in the area. In total, they removed over 3,500 pounds of trash and replaced 300 feet of damaged worm fencing.
Thank you to the following partners for their support:
Overland Expo Foundation
Nomad Wheels
Canyon Coolers
Coconino National Forest
Arizona State Parks and Trails Off-Highway Vehicle Program
Drone30
CWG Plotting Evil Rebelle Rally Team
Want to get involved in your own Tread Lightly! project? Find upcoming activities, events and grant opportunities at treadlightly.org.
"We recently kicked off our Tread Lightly partnership with a trip to the 'Cinders OHV Area' just outside of Flagstaff, Arizona. Our Canyon Crew of about 8 folks joined up to make new friends and meet old friends. Together our band of 25 hardy folks braved the cold for what turned into a beautiful day in the popular OHV area. The unique black volcanic sand area, comprised of 13.000 acres of offroad fun, was in the process of being loved to death. We spent half the day digging through the brush that had done a wonderful job of catching various wind blown trash, while others worked on fencing that had been lost in the recent floods and fires that shape our landscape. Like most volunteer events we gained far more than we gave. The staff felt great about the Purpose Driven fun, the crowd was awesome, and we went home happy, a little dirty and plenty tired. Our favorite 'trash scores' were a wrist rocket, and a large BBQ Fork. Cheers to making a difference and keeping the good stuff pristine."-Jason Costello, Canyon Coolers
"All of these years, I have heard about Tread Lightly! and knew it was a great organization, but now that I've taken part in an event, I am ready to jump on board and help in any way I can! Thanks again for organizing the cleanup!"-Travis Blalock, volunteer
"It was great to meet up with other members of the off-road community who were equally motivated to be a part of maintaining and repairing our parks and lands. The Tread Lightly! team did a great job organizing and directing the volunteer's efforts. Doing all the coordination with the landowners and stewards and bringing the equipment and materials for the cleanup and repairs really allows for anyone and everyone to easily commit to showing up and doing their part. Your everyday person can make a much bigger impact when all the administrative tasks are already managed, and you feel good about what you accomplished. I am definitely looking forward to the next opportunity to participate in one of their events again."-Kristie Levy, CWG Plotting Evil
"Thank you so much for organizing this clean-up event!  I think we had an impressive show of volunteers last Saturday and it's exactly the kind of attention we need to raise awareness on protecting the Cinder Hills area!  I'm looking forward to next Spring's event."-Petra Robbert, local volunteer