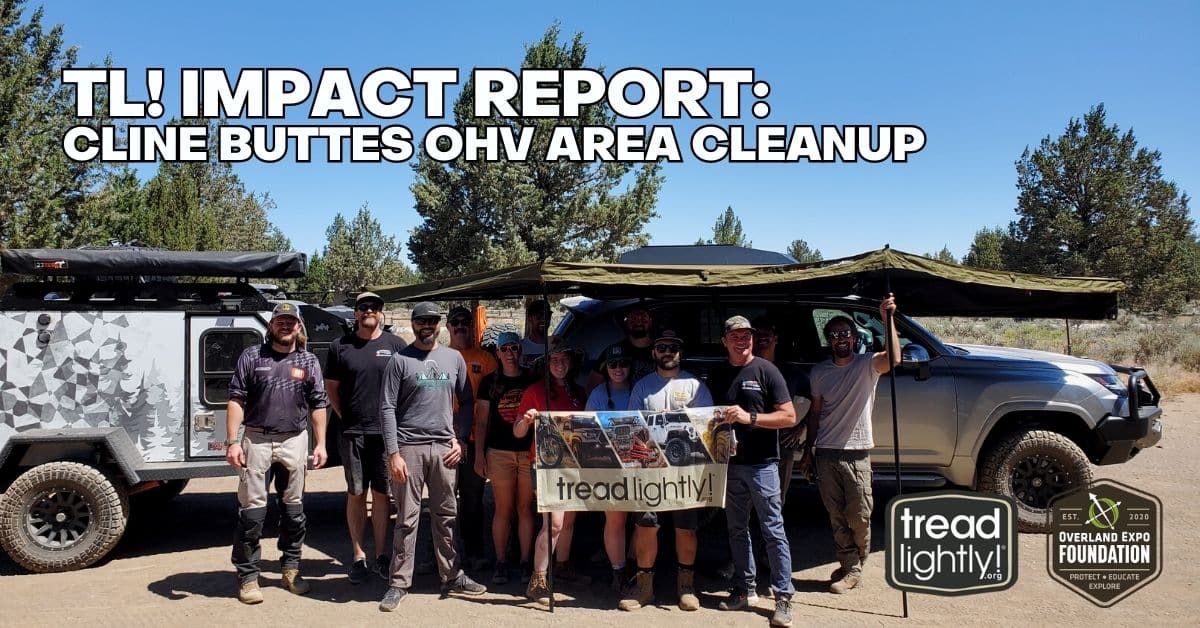 20 Jul

Tread Lightly! Impact Report: Cline Buttes OHV Area Cleanup

Project: Cline Buttes OHV Area Cleanup
Location: Oregon

Description: The Cline Buttes OHV Area Cleanup project is one of four Tread Lightly! stewardship projects funded by the Overland Expo Foundation in conjunction with Overland Expo events in 2023. The Overland Expo Foundation is dedicated to creating partnerships with people and organizations that protect and promote the interests of the overlanders, helping provide education and expert resources that enrich the community, and encouraging responsible 4x vehicle- and motorcycle-based exploration of our world.

On July 10, 2023, the Monday morning following the hustle and bustle of Overland Expo PNW, a group of 20 volunteers gathered at the Cline Buttes OHV Area to do their part and leave the public lands of Oregon better. Guided by representatives from the Bureau of Land Management and US Forest Service, volunteers were able to collect 4,000 pounds of trash over the course of 2.5 hours. Haul highlights included two water heaters, a cast iron bathtub, and a dozen tires. Volunteers also cleaned out six firepits near the staging area.

Thank you to the following partners for their support:
The Overland Expo Foundation
Bureau of Land Management
US Forest Service
PLS Bend
Rugged Radios
Volcon
Circle L Overland
Technique Evo
Alpha Wheels
"It's always amazing to see so many people gather together to clean up our public spaces. What made this project so unique was not only the people that showed up, but also how many different agencies that supported the project and worked together."-Rachael Elseman, Overland Expo Foundation
Want to get involved in your own Tread Lightly! project? Find upcoming activities, events and grant opportunities at treadlightly.org.