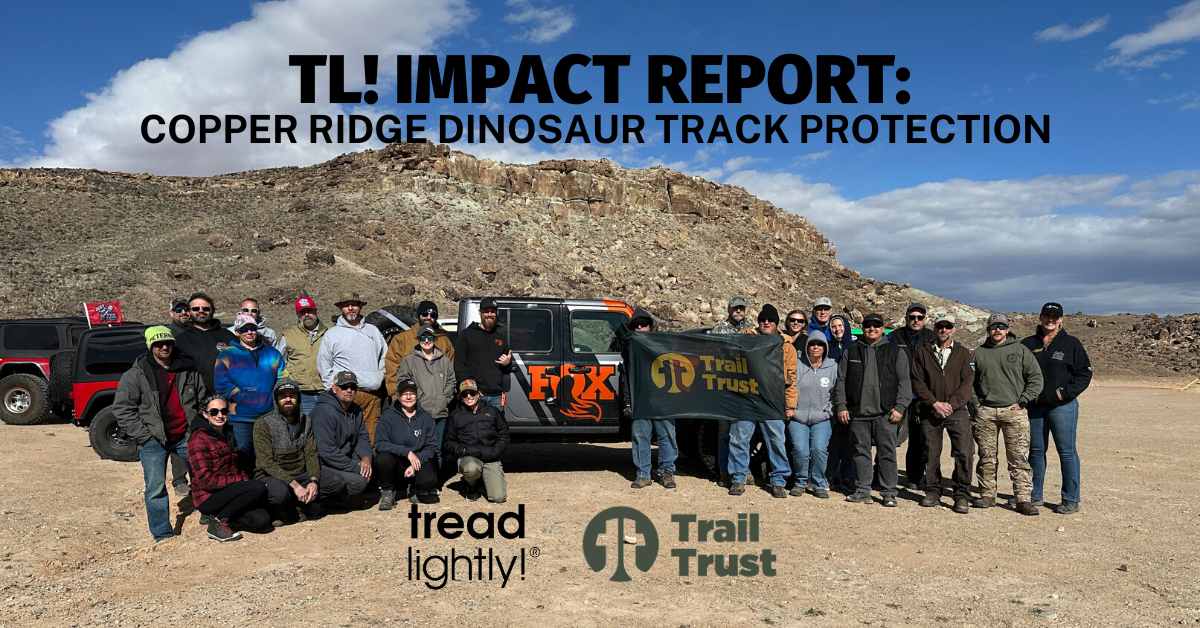 03 May

Tread Lightly! Impact Report: Copper Ridge Dinosaur Track Protection Project

Project: Copper Ridge Dinosaur Track Protection Project
Location: Moab, Utah

Description: Tread Lightly! staff along with support from the Fox Factory Trail Trust, Moab Bureau of Land Management, and off-road conservationists installed over 2,000 linear feet of fencing along a sensitive historical site. Together, volunteers worked to protect dinosaur tracks along the Copper Ridge off-road trail in Moab, Utah during Easter Jeep Safari by building buck and rail barriers to ensure the tracks are accessible and visible to all who enjoy this inspiring trail system. Along with these dinosaur tracks, this 35-mile route is known for its easy-to-moderate trail obstacles and beautiful scenery on the northern edges of Arches National Park. Not only did volunteers assist on the main project workday, but they also helped days before by hauling and staging materials at the work site and coming on an additional workday at the end of the week to finish the project. All told, the project took four days with the help of over 40 volunteers. Thank you to the Fox Factory Trail Trust and the volunteers who came out to make this work possible.

Thank you to the partners who made this possible:
Fox Factory Trail Trust
Moab BLM
Quadratec
Ladies Off-Road Network
4 Fest
2 Wolf Foundation
Armorlite
Midland Radio
Jeep Talk Show
"For nearly 40 years Tread Lightly! has been leading the way to promote, protect, and steward recreational land usage. Efforts like the one along the Copper Ridge trail in Moab go a long way to ensuring everyone can continue to enjoy these trails, scenery, and landmarks for generations to come. At Fox Factory and Trail Trust it's been exciting to not only partner with Tread Lightly!, but get out on the trail and do our part to support these projects."-Carter Reed, Fox Factory
Want to get involved in your own Tread Lightly! project? Find upcoming activities, events and grant opportunities at treadlightly.org.