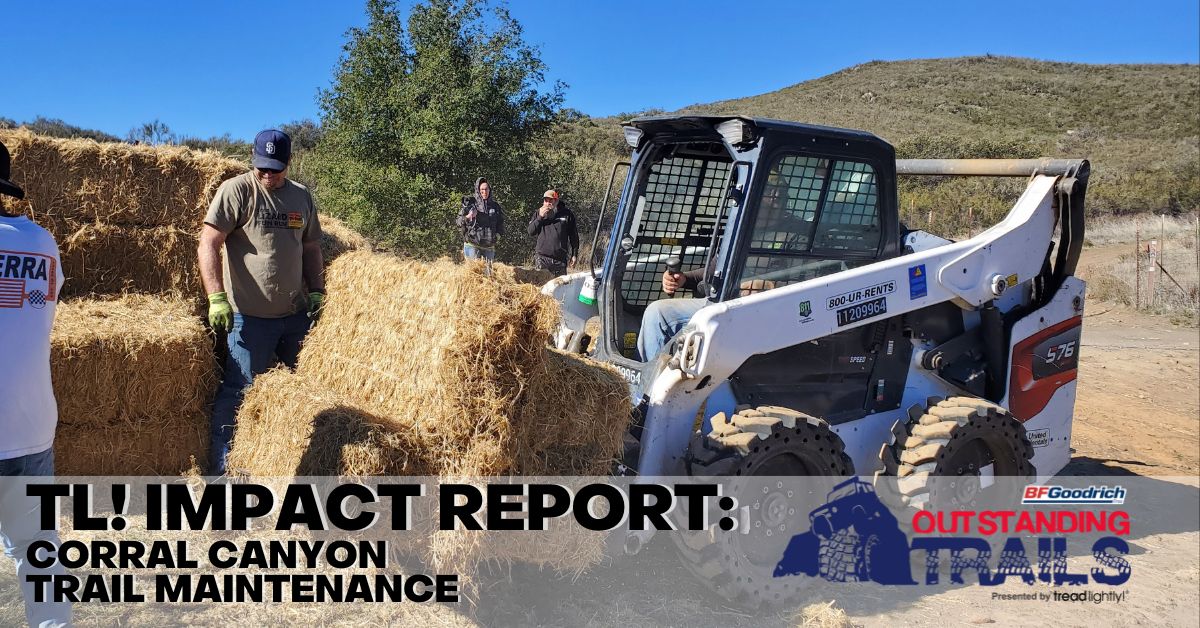 16 Dec

Tread Lightly! Impact Report: Corral Canyon Trail Maintenance and BFGoodrich Tires Outstanding Trails Project

Project: Corral Canyon Trail Maintenance and BFGoodrich® Tires Outstanding Trails Project
Location: California

Description: On Saturday December 10, 2022, 89 volunteers joined together and tackled several projects within the Corral Canyon OHV Area in California.

Chief among these projects was the installation of fencing and signage at the gatekeeper obstacle of the Gunslinger Trail. Gunslinger, one of the most technical trails in the area and the recipient of a BFGoodrich Tires Outstanding Trails grant, has seen several user-made bypasses created to skirt the harder obstacles. These bypasses damage the local ecosystem.

To combat this, volunteers installed fencing and signage encouraging recreationists to stay on the official trail. While one group tackled Gunslinger, several others split off to take care of trail brushing on Sidewinder and Bronco Peak, as well as picking up trash on the entire Los Pinos Mountain loop.

Another group set to task on re-lining the Kids Moto Training Track located at the Corral Canyon Campground. This training track affords kids a safe and approachable area to hone their riding skills before taking on other trails within the OHV area. All told, volunteers moved 340 bales, and re-lined 1,360 linear feet of track. Volunteers were rewarded for their hard work with a hotdog lunch and a small raffle.

Thank you to the partners who made this possible:
BFGoodrich Tires Outstanding Trails
SDORC
Tierra Del Sol 4×4 club
San Diego 4 Wheelers
Cal 4 Wheel
USFS
Want to get involved in your own Tread Lightly! project? Find upcoming activities, events and grant opportunities at treadlightly.org.