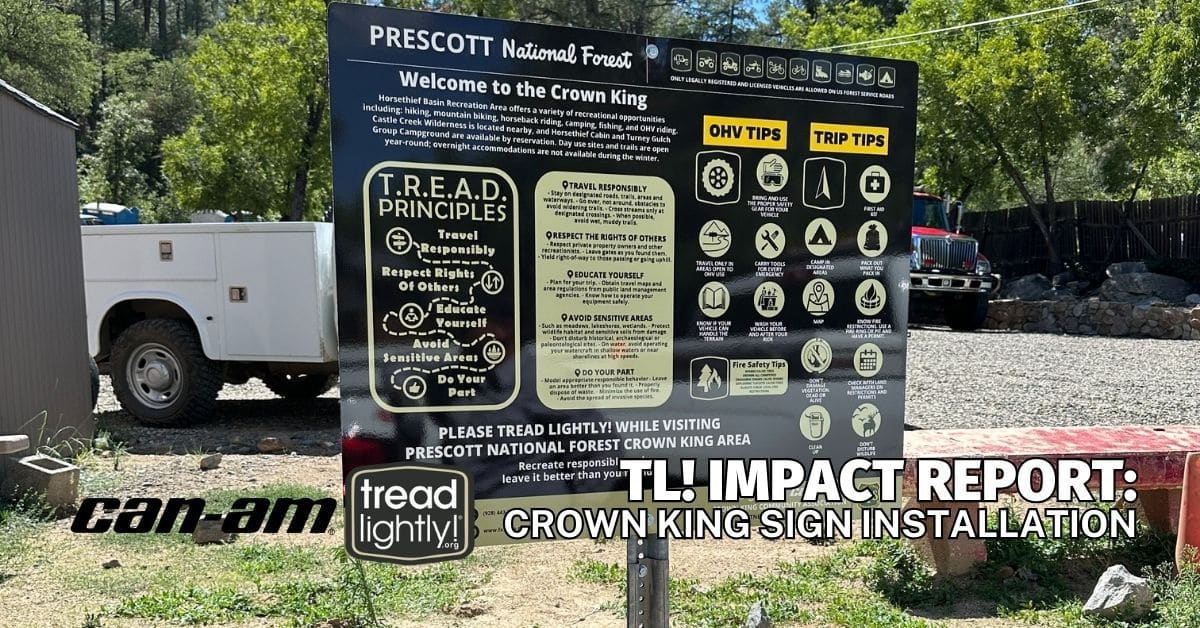 14 Sep

Tread Lightly! Impact Report: Crown King Sign Installation

Project: Crown King Sign Installation
Location: Arizona

Description: This project was funded by Can-Am Off-Road. Can-Am has committed to funding trail stewardship projects in partnership with Tread Lightly! to help maintain and improve access to public lands and off-road trails.

On August 29, 2023, the Tread Lightly! team worked to improve OHV trails in the small town of Crown King, Arizona, located in the Southern Bradshaw mountains. The team installed new signage throughout the community to showcase safe riding techniques and information about the area. In total, 30 miles of trail were improved by these signs.

Crown King welcomes OHV enthusiasts that travel responsibly. The town is home to 80 full-time residents, seven family-owned businesses, and many miles of beautiful OHV trails. Getting to Crown King can be as easy, or as challenging as a rider would like it to be. When visiting Crown King, please follow the T.R.E.A.D. Principles and adhere to rules implemented by the signs that were recently installed.

Thank you to the partners who made this possible:
Can- Am
US Forest Service
Yavapai County


"Tread Lightly! is a fantastic organization.  I've already seen people stopped on the road looking at your signs.  Hopefully this will educate people about the rules of our community and for riders to obey the proper speed in town.  We can't wait to add additional kiosks in town to supplement your signs."-David Drye, Crown King Fire District Board Chairman
"From the initial outreach regarding this project to the support from so many individual and government agencies along the way, it has been great to watch this project come together. A special "thank you" to our amazing partner, Can-Am, for making this positive impact on one of our amazing riding areas in Arizona."-Matt Caldwell, Tread Lightly!, Executive Director
Want to get involved in your own Tread Lightly! project? Find upcoming activities, events and grant opportunities at treadlightly.org.