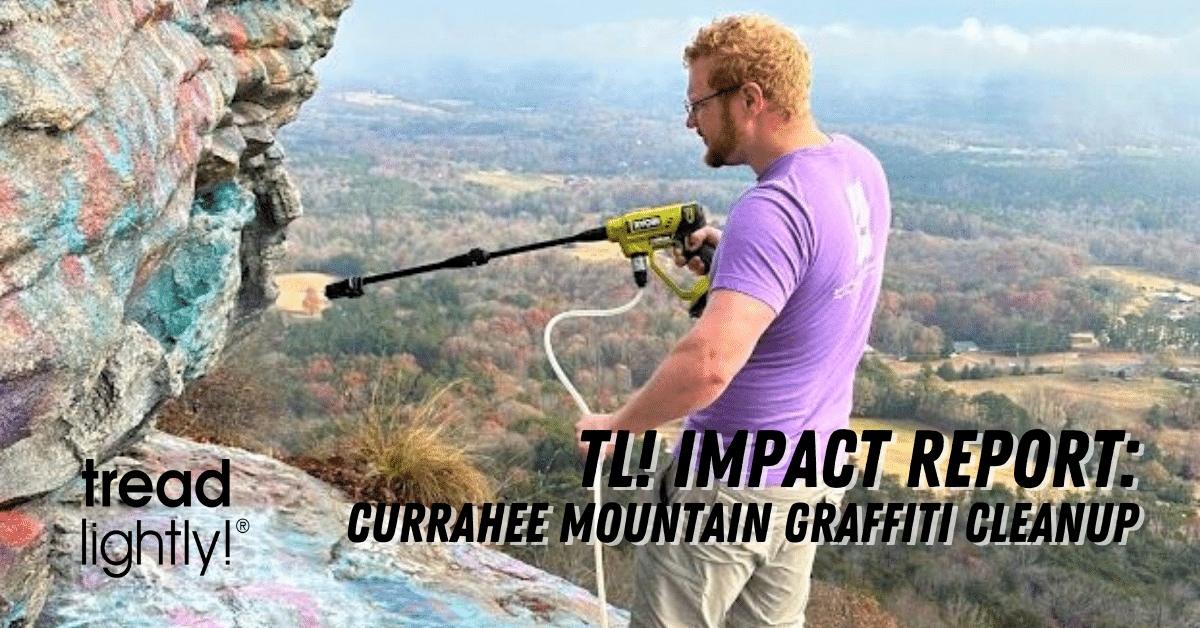 13 Dec

Tread Lightly! Impact Report: Currahee Mountain Graffiti Cleanup

Project: Currahee Mountain Graffiti Cleanup
Location: Georgia

Description: On December 3, 27 volunteers came together to remove graffiti and trash from Curahee Mountain, a historic site in the Chattooga-Oconee National Forest.
Currahee Mountain is the site of early WWII Army paratrooper training based out of Camp Toccoa. This historic landmark in Georgia has experienced graffiti vandalism over the years requiring removal of graffiti paint using special biodegradable cleaners. A local volunteer group called Currahee Cleanup Project and rock climbers in Georgia conduct cleanup events twice a year, however, it has been hard to keep this landmark clean of graffiti.

18 members of Venture Unknown Off-Road adventure group and Tread Lightly! joined the Curahee Cleanup Project removal team along with 5 support members of the US Forest Service Chattooga River District. Though rain slowed down the early morning progress, the group successfully removed graffiti from the area as well as removed 12 full bags of trash, totaling 225 lbs., improving 3 miles of trail.

Thank you to the partners who made this possible:
-US Forest Service Chattooga River District
-Currahee Cleanup Project
-Venture Unknown

"It's always an incredible opportunity when you get to connect with other passionate groups of folks. Despite a rainy start to the day, the volunteers from Venture Unknown and Tread Lightly! turned out with enthusiasm and energy. We can't get projects like this done without individuals willing to dedicate their time and energy to the dirty, grimy, tiring work of scrubbing graffiti and picking up trash. Everyone who helped made a big impact that will reach into the future as we continue the project of cleaning up Currahee Mountain!"-Sam Taylor, Currahee Cleanup Project & Southeast Climbing Coalition Representative

"It was an honor for us to get out and work with like-minded people in the beautiful area of Currahee removing graffiti from this beautiful and historic location in Georgia. We appreciate the opportunity to work and learn alongside Tread Lightly!, the USFS, and the Currahee Cleanup Project organization. In spite of the rain and wind, we made a real impact in the area and are excited to take this knowledge and experience into surrounding areas to clean up more of our beautiful scenic land vandalized by graffiti!" – Chris Wilbert, Venture Unknown

"This project was exciting for many reasons. First of all, Currahee Mountain is a historic landmark located within the Chattahoochee-Oconee National Forest and is accessed by a US Forest Service road. It is a popular drive for 4×4 users to take in the view from this mountain overlook where WWII paratroopers once practiced their jumps. But it is also a popular "hangout" spot where, unfortunately, trash is left behind. We executed a trash cleanup of this 3-mile forest road as part of the workday, but also found a few old tires and car parts ripped off during the drive to the top! Proper and responsible motorized recreation is always part of our Tread Lightly! education for motorized recreation users. However, today, we were the students, learning new skills to performa graffiti removal in order to use this knowledge in other state and federal forests and trails. Restoring this scenic area to its natural beauty was really gratifying. Tread Lightly!'s goal is to balance the needs of the people who enjoy outdoor recreation with the need to maintain a healthy environment. It's great to be part of the solution to protect the adventure for everyone. "– Lowell Eckart, Tread Lightly!

"The enthusiasm and grit of the volunteers from Tread Lightly!, Venture Unknown, and the Southeast Climbing Coalition made a rainy workday on Currahee Mountain incredibly productive. It was such a pleasure to see motivated individuals come together to learn how to clean graffiti off of natural surfaces. We appreciate the effort of those who volunteered their time and energy to help the Chattooga River Ranger District accomplish such a large task. This sort of task is time consuming and difficult for district staff to prioritize; but, with support from Tread Lightly! and dedicated volunteers, stewardship of this space becomes much more achievable. Tread Lightly! and their community has an impressive dedication to our shared public lands, especially unique spaces like Currahee Mountain. Additional support from Tread Lightly! in planning community outreach events to address the root of the problems at Currahee are ongoing and a crucial part of stewarding this space." – Sara Michelson, Forestry Technician (Recreation), US Forest Service, Chattahoochee-Oconee National Forest

Want to get involved in your own Tread Lightly! project? Find upcoming activities, events and grant opportunities at treadlightly.org.