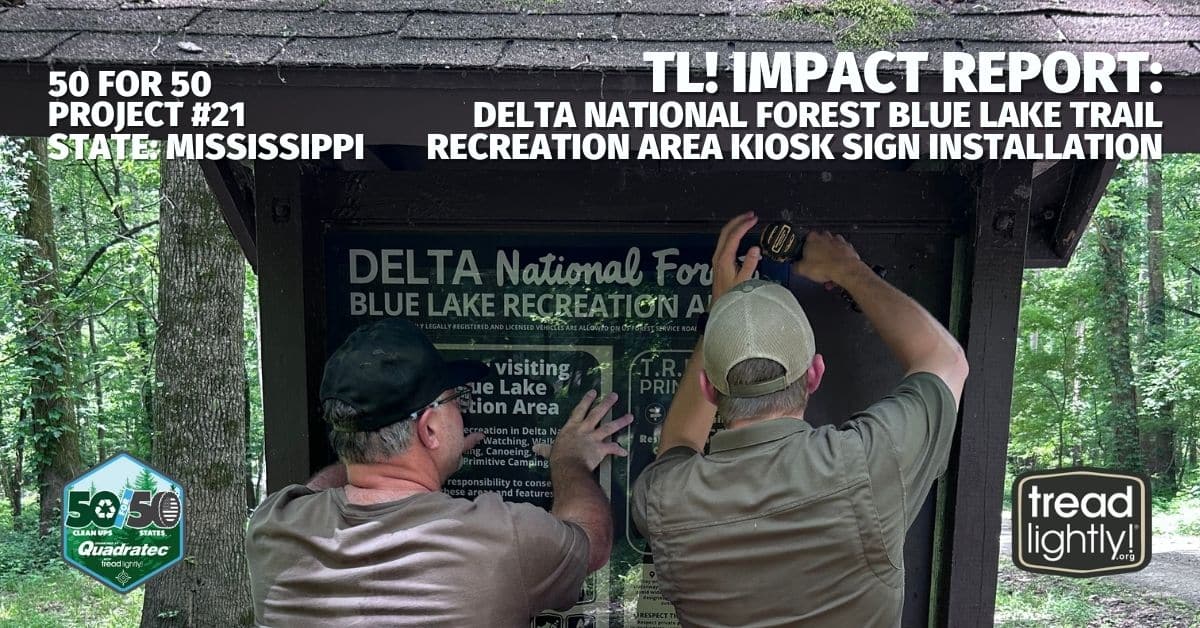 16 Jun

Tread Lightly! Impact Report: Delta National Forest Blue Lake Trail Recreation Area Kiosk Sign Installation

Project: Delta National Forest Blue Lake Trail Recreation Area Kiosk Sign Installation
Project #21/50
State: Mississippi

Description: This project was funded by the Quadratec 50 for 50 Initiative. Together with Tread Lightly!, Quadratec has committed to fund a project to improve off-road trails and public lands in each state by December 2023.

On June 2, three volunteers installed new kiosk signage on the Blue Lake Recreation Area kiosk in the Delta National Forest. The Blue Lake Recreation area is one of the most beautiful recreation areas within the Delta National Forest with multiple campsites, a scenic and informative hiking trail, and a boat ramp for boating and fishing.

Thank you to the partners who made this possible:
Quadratec
United States Forest Service
"We are so thankful for Quadratec and Tread Lightly! for their help in creating new kiosk signs for our Blue Lake Recreation area. This area is one of the most frequently used locations in Delta National Forest for both camping and day-use picnicking. The new kiosk signage welcomes users, identifies what motorized and non-motorized activities are in the surrounding area and how to recreate them responsibly. Unfortunately, this kiosk has been empty after the numerous years of flooding destroyed our previous signage, but it is now informative and beautiful!" – John Wesley Crews, ACTING District Ranger, USFS Delta Ranger District
Want to get involved in your own Tread Lightly! project? Find upcoming activities, events and grant opportunities at treadlightly.org.