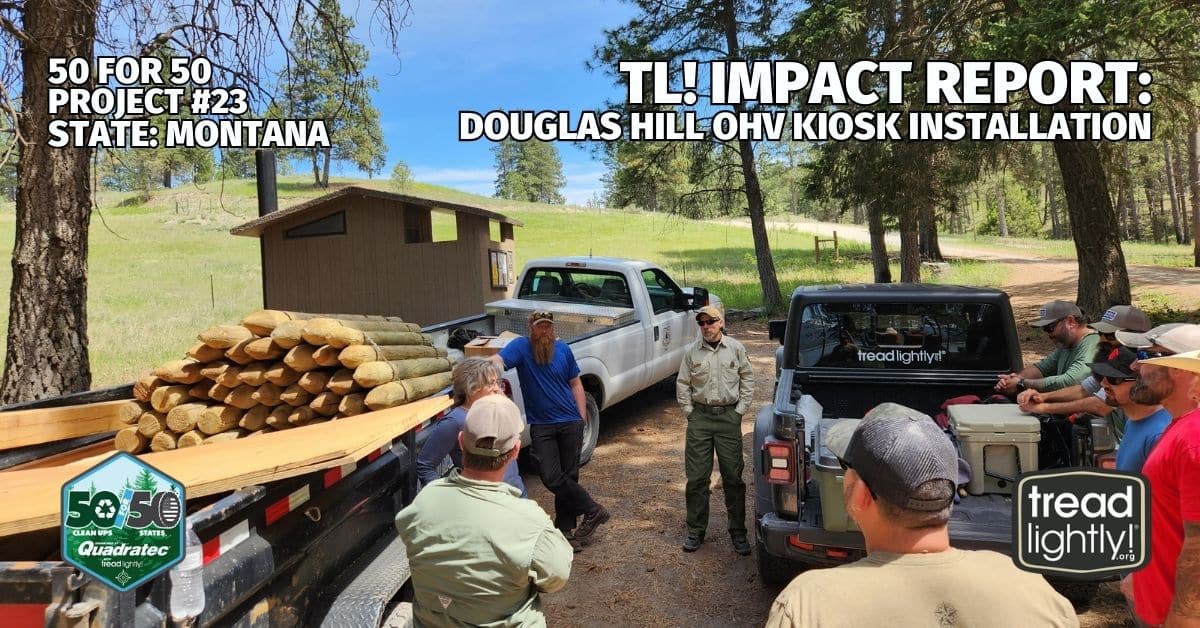 17 Jul

Tread Lightly! Impact Report: Douglas Hill OHV Kiosk Installation

Project: Douglas Hill OHV Kiosk Installation
Project #23/50
State: Montana

Description: This project was funded by the Quadratec 50 for 50 Initiative. Together with Tread Lightly!, Quadratec has committed to fund a project to improve off-road trails and public lands in each state by December 2023.

On June 6, 2023, six volunteers from the Two Wolf Foundation worked alongside the U.S. Forest Service and Tread Lightly! to install a new educational kiosk at the Douglas Hill OHV Area in the Kootenai National Forest in Montana. This unique riding area is one of the only open riding areas in Northwestern Montana and Lake Koocanusa which provides riders of all skill levels a chance to explore this beautiful area on various types of motorized vehicles.

Thank you to the following partners for their support:
Quadratec
Ksaka Ranger District
Two Wolf Foundation
onX Offroad
"Thank you to Quadratec for helping us educate riders on this beautiful trail system. We are very grateful to our awesome friends and volunteers from The Two Wolf Foundation, and the Forest Service, who were the boots on the ground that got this work done."-Evan Robins, Tread Lightly! National Stewardship Programs Manager
"We are very appreciative of Tread Lightly! for facilitating this partnership with Two Wolf Foundation on the Douglas Hill Work Project.
With the work put forth by the volunteers we were able to complete important projects in order to protect the interests of user groups both past and present. We look forward to continuing this partnership in order to get good work done for years to come."-Marcy Butts, USFS
"Two Wolf Foundation is grateful for the opportunity to work alongside Tread Lightly! as stewards of our public lands. Our involvement in the Kootenai National Forest project was a special and impactful mission for the members of Warrior Stewardship Team 002.
All of our team members (comprised of veterans and first responders) have found moments of peace and healing in the outdoors during the journey to overcome post-traumatic stress. By teaming up with Tread Lightly!, our participation in land stewardship is how these Warrior Stewards give back to the lands that provide that healing space. It is our opportunity to deepen that connection to the land and to serve again with meaning and purpose."-Brian Flynn, Two Wolf Foundation Executive Director
Want to get involved in your own Tread Lightly! project? Find upcoming activities, events and grant opportunities at treadlightly.org.